A wild story involving a dead fish, a cult movie, a boat theft and a death-defying rescue at sea has culminated in a wanted Victoria man being locked up in Oregon.
It all started Wednesday, about 6 p.m., when Astoria police received a call from a concerned citizen telling them that Jericho Wolf Labonte had posted a disturbing video on his Facebook page showing him putting a dead fish on the porch of The Goonies house, Police Chief Stacy Kelly said Saturday.
The house, where the 1985 movie The Goonies was filmed, has become an unofficial tourist attraction in a residential neighbourhood, Kelly said.
"People live there. It's not a museum. However, we get visitors constantly who go up there, take pictures in front of it. … It's like the movie that doesn't die," Kelly said. "It has quite the following."
Labonte put the fish on the porch, covered the security cameras with stickers, then danced around the property and the property next door, "just acting really odd," said Kelly.
Police began looking for Labonte to arrest him and charge him with criminal mischief.
Then Friday, the U.S. Coast Guard Pacific Northwest posted videos on Twitter of an amazing rescue. The posts said two air crews were on a training mission at the mouth of the Columbia River when they received a mayday call from a yacht, floundering in the surf.
Lifeboats were launched but the ocean swells made it too dangerous to attempt a rescue. So the air crew lowered a swimmer by cable to rescue a man on board.
As the swimmer neared the vessel it was struck by a 10-metre wave. The boat rolled over, throwing the man into the rough sea. The swimmer pulled the man to safety and he was flown to Coast Guard Base Astoria, where paramedics were waiting to take him to hospital.
When the Port of Astoria security chief saw the videos, he recognized the $160,000 yacht and contacted the owner to let him know it had been stolen, said Kelly. The security chief also called police, who saw the video, recognized Labonte and put it all together.
Police called the coast guard and found out that Labonte had already been discharged from hospital.
Later Friday evening, police received a report that Labonte was at a warming shelter for the homeless in Seaside. Seaside police, Oregon State police and Clatsop County Sheriff found him and took him into custody.
On Jan. 19, Victoria police issued a public alert for Labonte, who is wanted B.C.-wide on charges of criminal harassment, mischief and three breaches.
"It is believed that Jericho Labonte is travelling to the Victoria area and that he may pose a risk to public safety. If you see Jericho Labonte, do not approach him and call 911," said the alert.
Kelly said he didn't know if Labonte would be handed over to Canadian authorities.
The U.S. Coast Guard contacted Immigration and Customs Enforcement and they are "very interested in him because he is in our country illegally. He did not enter through a port correctly," said Kelly. "They actually have a history on him. They know where he enters and how he enters so they were very interested in getting hold of him."
Police have reports that the boat broke apart. Pieces have washed up on a beach in Washington, directly across from Astoria.
Astoria police are charging Labonte with theft, endangering another person, unauthorized use of the vessel, in addition to criminal mischief relating to the dead fish.
"It's been one crazy couple of days," said the police chief. "It's been non-stop and it's a crazy story. … We'll deal with it."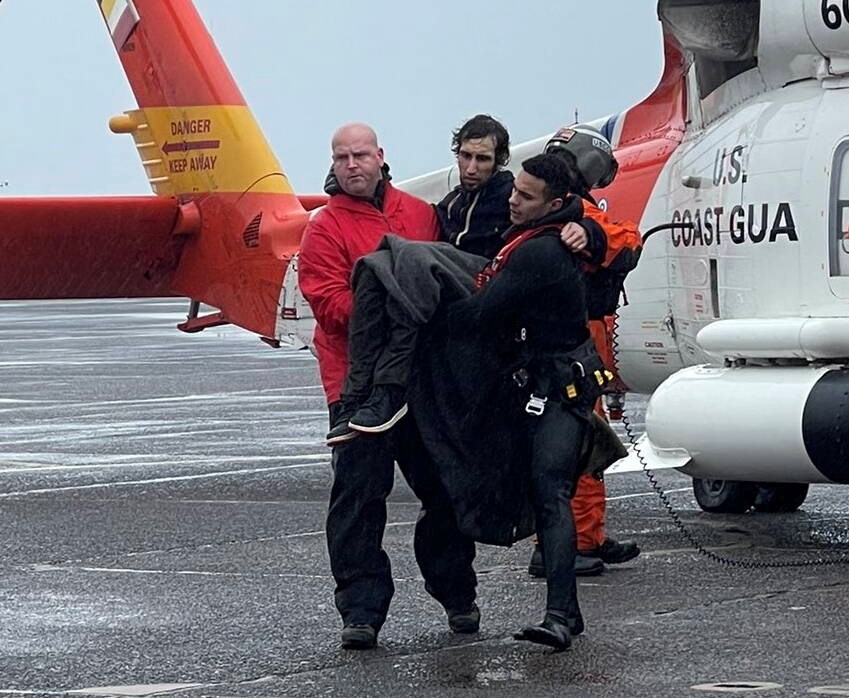 ldickson@timescolonist.com