Gas prices have dropped to an all-time low for the year in Metro Vancouver, marking a welcome relief at the pumps following several months of recording-setting highs.
On Wednesday, Dec. 7, gas prices across the Lower Mainland fell below 155 cents per litre, marking a significant drop from only a week earlier, when prices dropped down to just above 163 cents per litre.
In mid-November, petroleum analysts called for gas prices across Canada to drop below ones not seen since before Russia's full-scale invasion of Ukraine. Due to its drastic increases earlier this year, B.C. gas prices were expected to see the most significant drops.
In June, gas prices climbed to an eye-watering average of 224.3 cents per litre. As global fuel prices came down, the price of gasoline in Metro Vancouver dipped in late summer.
Metro Vancouver to fall heading into holiday season
Patrick De Haan, head of petroleum analysis at GasBuddy.com, tells Vancouver Is Awesome that the region will likely see less extreme prices in the weeks to come.
"We are likely to continue to see moderating prices," he explained, adding that "refinery issues are behind us, and with oil falling there is still room to decline further."
Heading into the holiday season, Metro Vancouverites could see prices dip below 150 cents per litre, or even lower, added De Haan.
According to GasBuddy.com, the cheapest option as of noon on Wednesday is a Fox station in Burnaby, which is selling gas for 152.6 cents per litre. After that, the next cheapest option is either a Husky in Surrey or a Super Save in Langley, each selling gas for 153.9 cents per litre.
While there aren't any other options under 155 cents per litre, there are several options for 155.9 cents per litre, including a handful in Vancouver.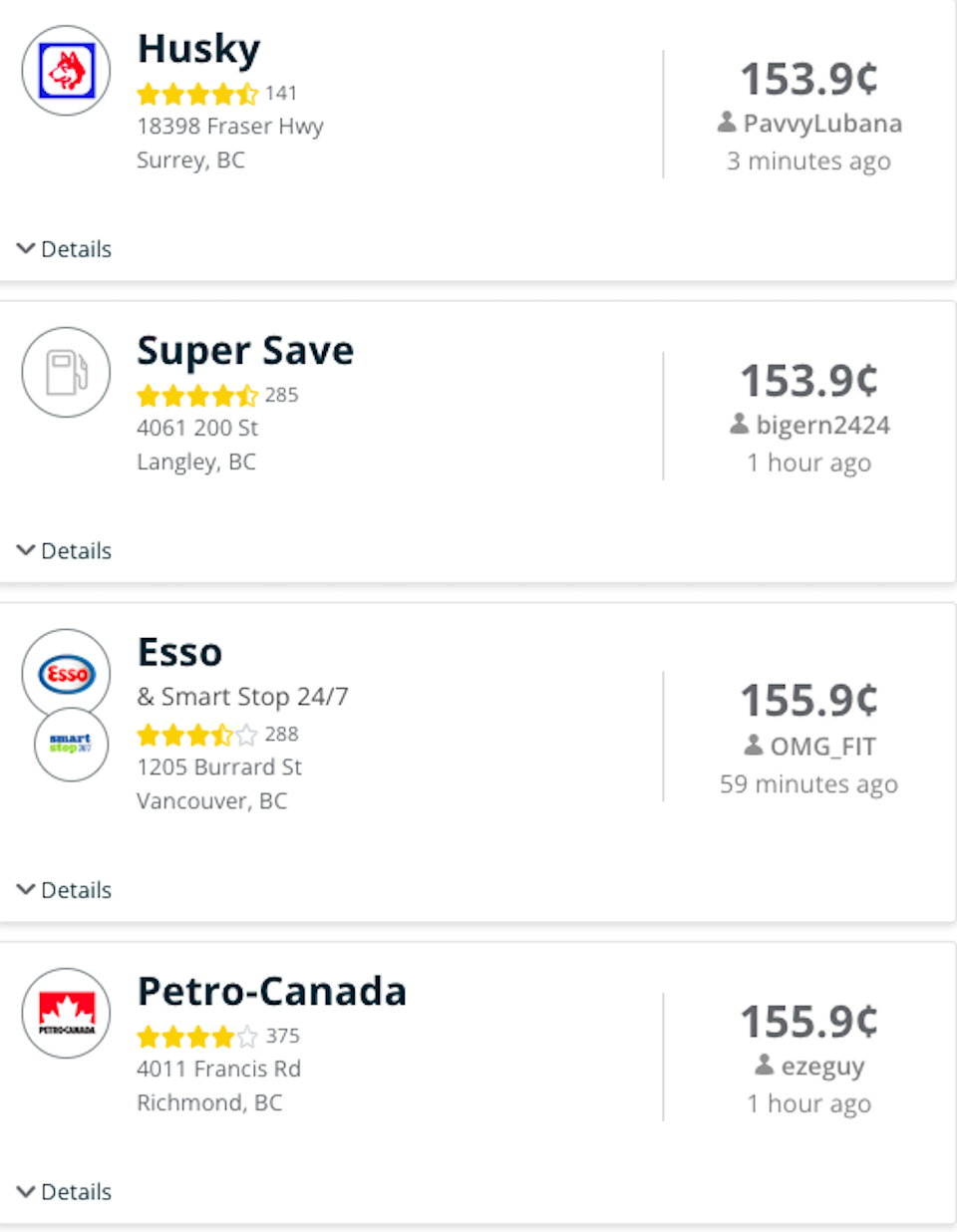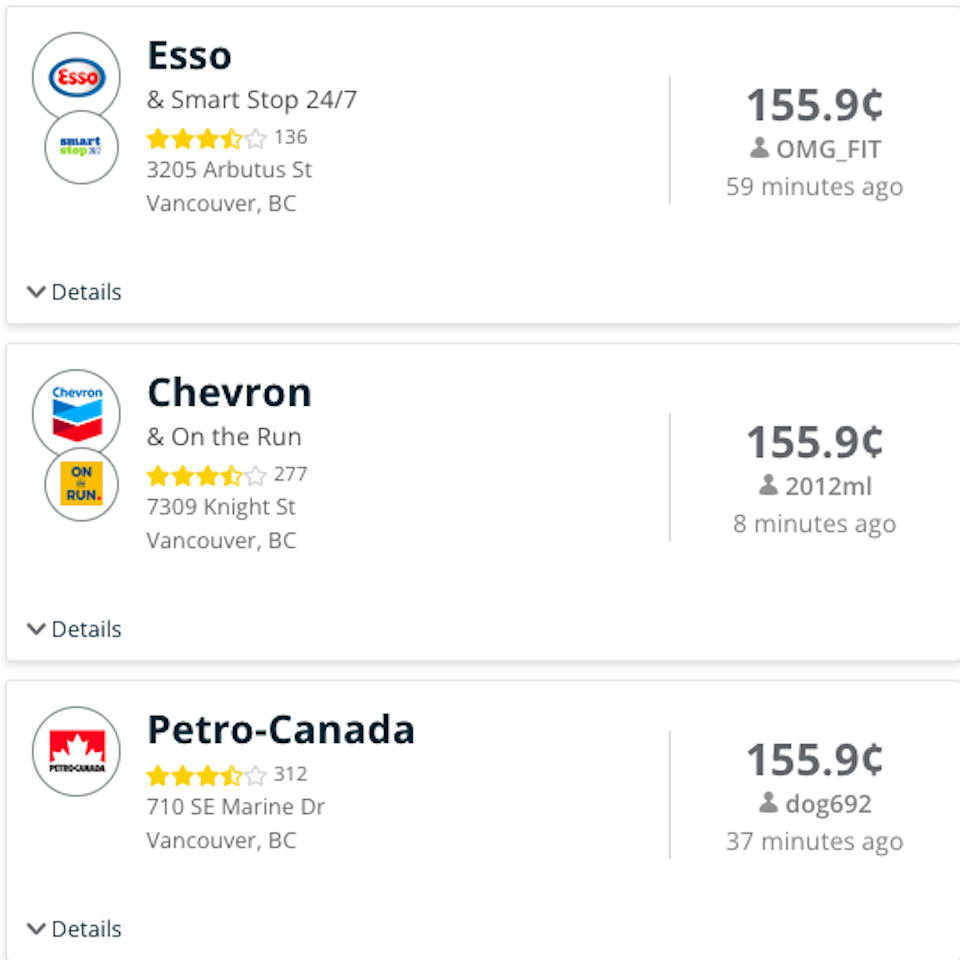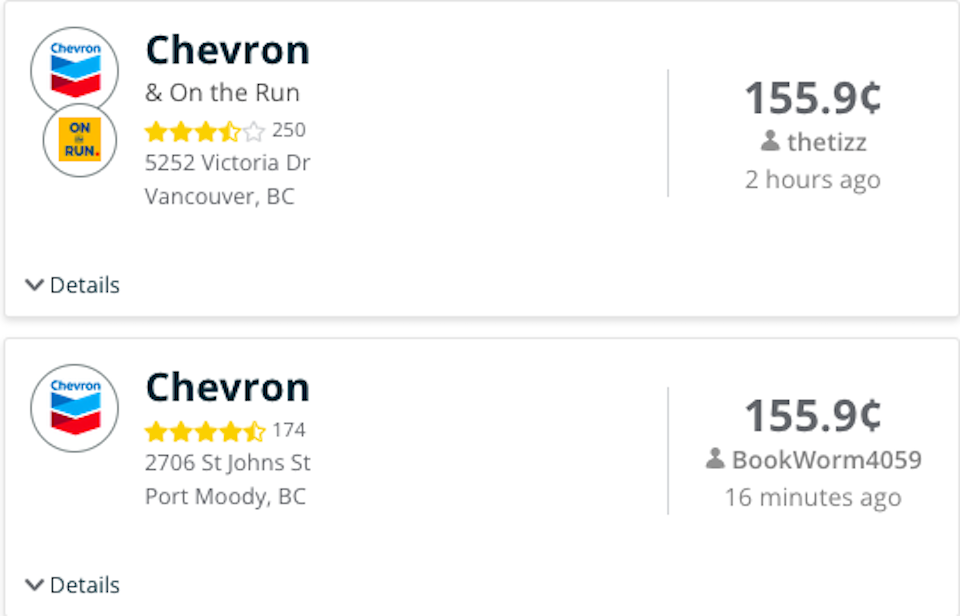 With files from Stefan Labbé.