The next generation of wireless internet technology has led to some big promises — more bandwidth and faster response times are expected to be crucial to technologies such as autonomous vehicles and remote medicine.
Often overlooked in popular imagination is the so-called "Internet of Things," technology that allows for the deployment of a vast array of low-powered digital sensors that live-stream large datasets to a cloud.
Such low-cost sensors have allowed people to monitor everything from the ideal fermenting temperature at a brewery in Port Moody to how much electricity British Columbians use at home.
After the worst flooding event in B.C.'s modern history, could it also save lives?
According to University of British Columbia researcher and engineer Nemy Banthia, that answer is a resounding 'yes.'
Together with his doctoral student Mohammed Farooq, Banthia has developed a real-time monitoring system that detects flood-triggered mudslides and bridge failures before it's too late.
It starts with dielectric sensors placed at the foundation of a bridge. That's where rising floodwaters can scour the soil and gravel from underneath the structure, leading to collapse.
At their essence, the sensors measure water — the more it fills soil, sand or gravel, the more it changes the material's electromagnetic field. The sensors can sense that change and detect how close the morass is to barrelling down a hill in a mudslide or getting scrubbed away during extreme flooding.
All that streaming data gets automatically sent to a digital cloud where researchers can monitor and visualize the information in real-time.
In 2018, the two researchers successfully measured foundation scour with prototype sensors in Burnaby's Guichon Creek. And in Winnipeg, Man., the team had a prototype prepared for a highway bridge, though its deployment has been delayed due to the ongoing COVID-19 pandemic.
Banthia says the technology has already proven itself and could easily be adapted to monitor an impending mudslide threatening homes, or flood damage in dams, pipelines and roadways. In some cases, that might mean monitoring over decades to make sure the march of seasons doesn't lead to a slow collapse.
"If we're monitoring year-over-year, we would have enough time to retrofit that bridge," says Farooq. "Even if, let's say, a 500-year flood was to occur."
As more data comes in the researchers are looking to integrate artificial intelligence into their analysis to create more accurate early warning systems. The sensors could then keep tabs on a potential sudden catastrophic collapse and send a warning signal to highway or emergency authorities.
"We would be able to prevent any loss of life," says Farooq.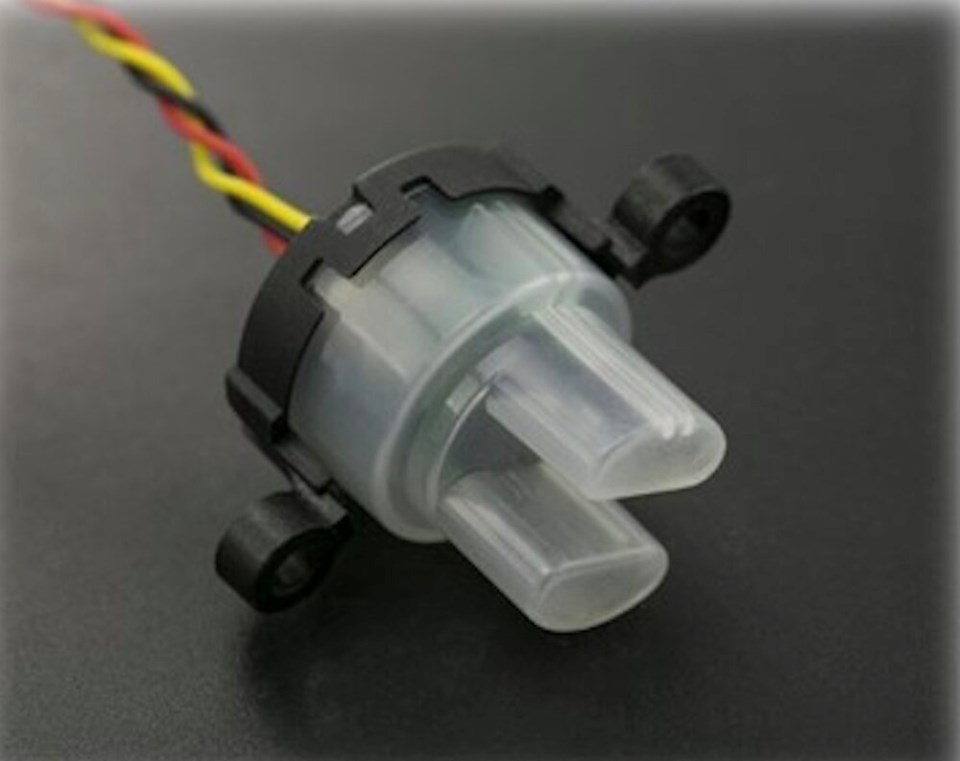 There are some limitations to the widespread adoption of the technology. Any warning system is as good as its weakest link, and if authorities don't act to warn the public, its real-time advantages are wasted.
At scale, it could also be a pricey system to maintain — though likely a fraction of the cost of inaction. In the case of a bridge, roughly 20 sensors, a micro-controller and a power source are estimated to cost just shy of $1,000, plus a $5 per month SIM card bill to beam data into the cloud. Once installed, Farooq says the sensors should last 25 years before they need to be replaced.
Installing the sensors across British Columbia's critical infrastructure would require backing from the province. Since the November flooding, Banthia says that proposition has quickly advanced and he's been in regular talks with the Ministry of Transportation.
"My phone has been ringing off the hook," he says. "There's this, 'Can we put these sensors in quickly?'"
Banthia says the emergence of cheap, cloud-based sensor technology has vast potential to safeguard everything from railways to buildings and human health. That could mean developing other kinds of sensors to measure other threats to a highway or building. Keeping tabs on the oxidization of a bridge's metal components, such as rebar, could help authorities triage repairs to infrastructure at risk of failure if a major earthquake were to hit Metro Vancouver.
For others, the technology goes even further.
"Humans are bad at preventative reactions. We're pretty bad at seeing incremental change," says Trent Shumay, a tech entrepreneur who develops micro-sensors for several industries at his 3D printing farm in Coquitlam.
The sales pitch on these devices, he says, is removing that crutch from under humanity.
Banthia is the first to admit rebuilding B.C. after November's floods and landslides will require more than high-speed, broadband internet and a new generation of sensors.
The engineer and researcher says he recently pitched the Ministry of Transportation a three-prong strategy to rebuild: first, build back to a much higher standard so infrastructure can withstand the growing impacts from climate change; second, to avoid making the problem worse, build back with carbon-neutral materials.
"One tonne of cement actually leads to one tonne of carbon," Banthia recently told BNN Bloomberg. "If the cement industry was a country, it would be producing more GHGs than the United States and China."
Only then, he says, can sensors start to understand how climate change is threatening everything British Columbians have built.