I've just returned from the Nexwlélexwm sign blessing ceremony, and I want to share my experience with you and what I learned. 
Because of the pandemic there was no physical contact, but I witnessed what I can only describe as a formal handshake between Skwxwú7mesh Nation and islanders. 
Four members of the Squamish Seagoing Canoe Family (Alroy "Bucky" Baker K'etximtn, Stewart Sempulyan Gonzales, Mary Capilano, and Dennis Joseph) arrived off the noon ferry to do the ceremony. The first visit of the Canoe Family was in 2006 for the Voices in the Sound Festival and they paddled over in their 45-foot cedar dugout canoe. What an honour it was today, to place the red blanket on my friend "Bucky,"  the speaker for the Squamish Nation, placing it in the traditional way so his heart would be protected, the headband around his forehead keeping his mind focused on the thoughts of the host family.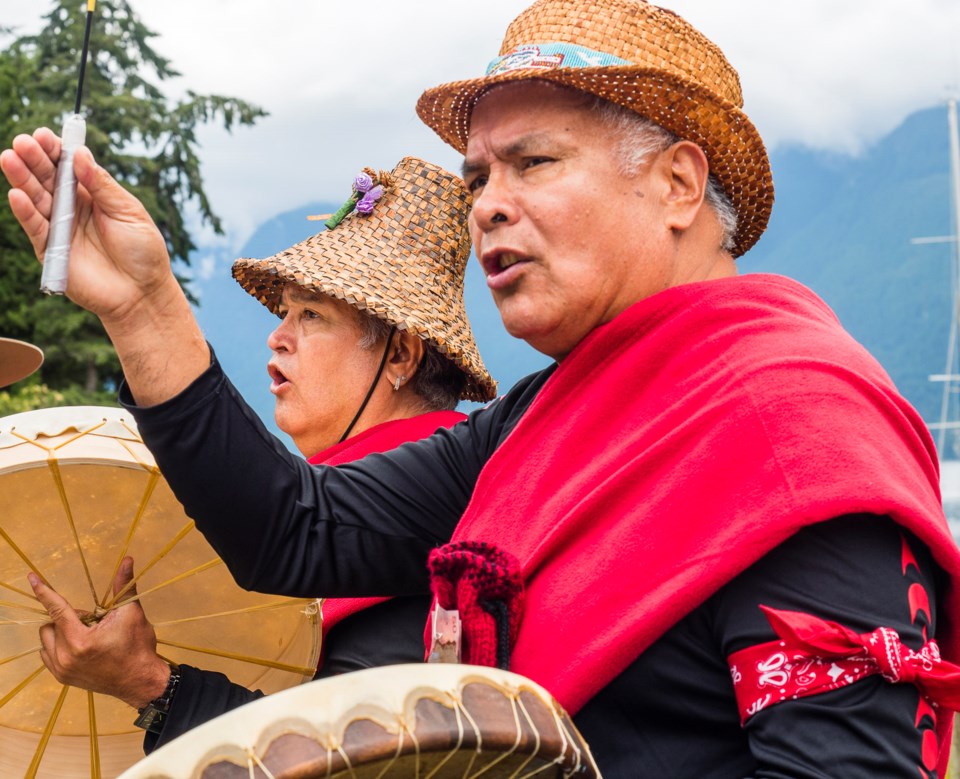 The purpose of the ceremony was to separate the carver - Coral Louie - from the sign, which now belongs to the community. This also frees Coral to work on her next project. I placed the blanket, according to tradition, around her shoulders for protection and recognition. The blanket says we love her and want to care for her. The Coast Salish take their artists seriously. 
According to Squamish Nation tradition, witnesses are invited to take in the ceremony and bring it back to their communities. Near the conclusion of the ceremony each spoke from the heart about what it all meant to them and how they will bring it back to their people and their communities. 
The sign, described by Bucky as "a beautiful spirit" for which we are all responsible, is a visible manifestation of the desire for restoration with the people on whose unceded land we thrive.
"A powerful reminder of where we live," said Chris Corrigan, a friend whom I called as witness to the ceremony.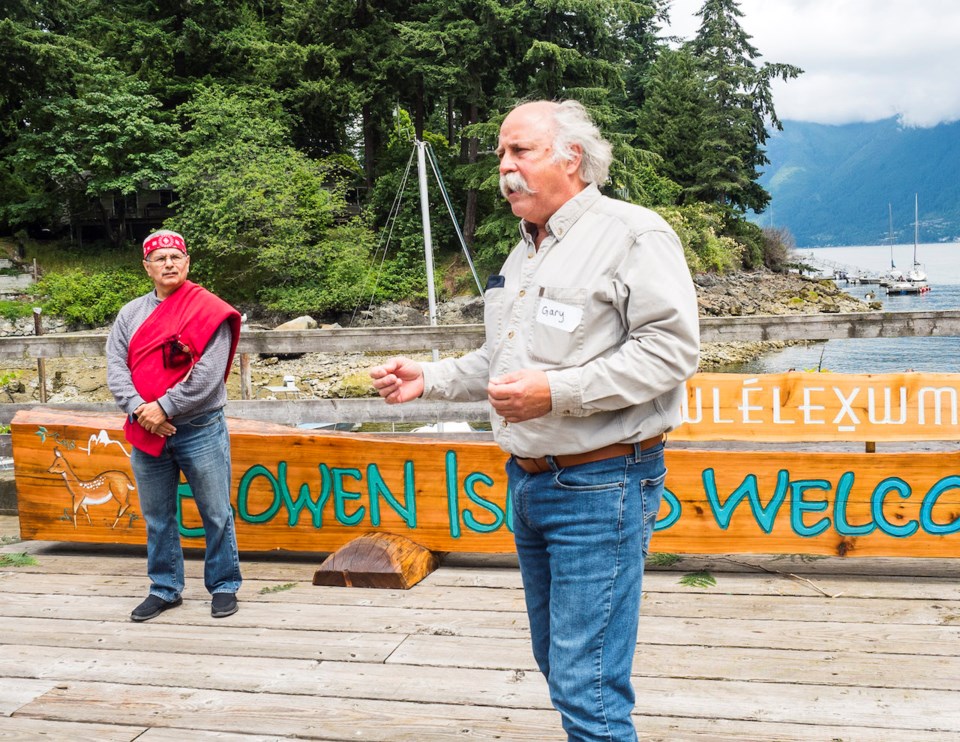 "An amazing statement," said Mayor Gary Ander, another called to witness. "As we invite people onto the island, it says we are together on the sign, together in our thoughts." Next time you go to the Cove, pause and gaze at the two names for our island - Bowen and Nexwlélexwm - co-existing. 
As a witness, Michael Yahgulanaas, called the sign "a big step forward, with another step to follow, I hope to be around for that next step." I hope you are, Michael, and me too. We still have lots of work to do.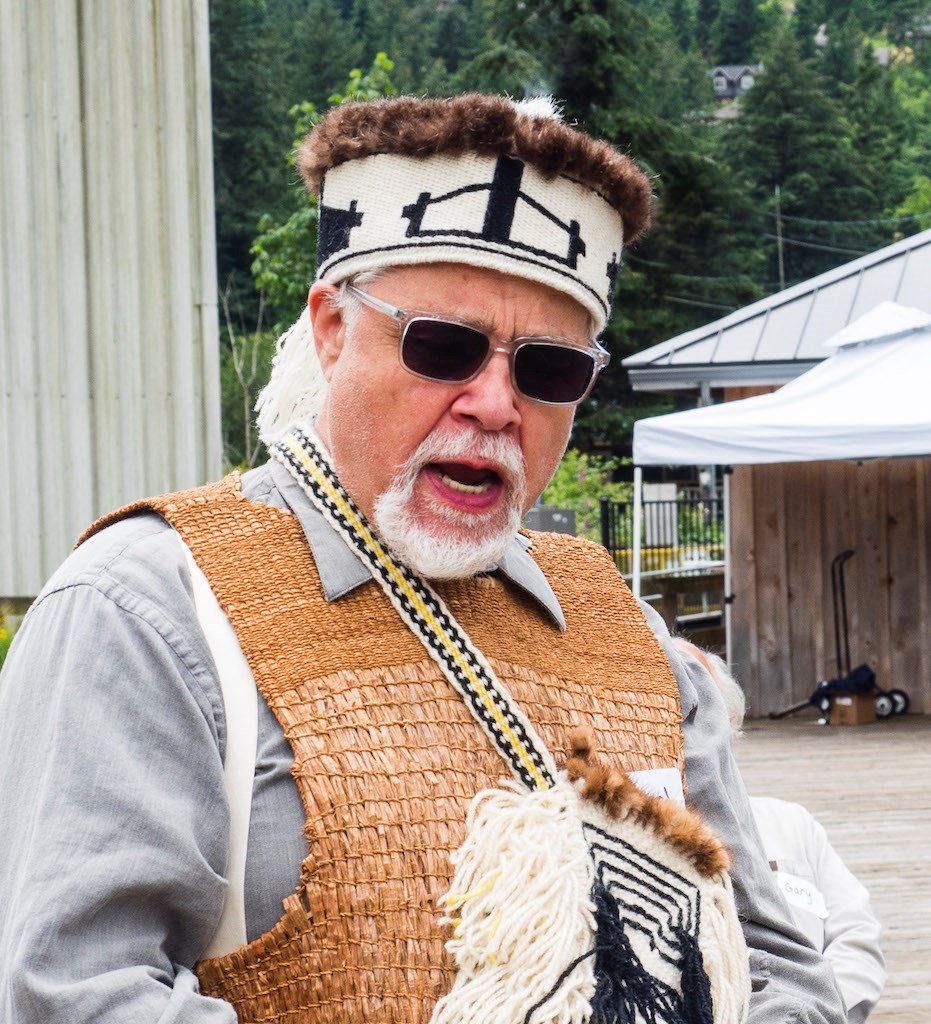 If only there was some kind of medicine to keep your eyes dry at times like these. I managed –– with some difficulty –– until Dennis Joseph spoke as a witness. I will leave the last words to this Squamish Nation Elder and Knowledge Keeper, who carries two traditional names: a Hawaiian name meaning man with a strong heart and Xwechtàal, a Squamish name meaning serpent slayer.
"A healing journey has begun with this sign," Dennis said. "We are no longer strangers. By sharing our ancestral name, our ancestors will know you from this day forward… A mighty bridge is being built and we have a foundation to work from." Dennis expressed gratitude for the invitation, for being part of the ceremony. "It's like coming home," he said. "We are home together."