The Bowen Island Community School students and Student Garden Club students have enthusiastically stepped up to help create a new Bowen Island seed library as an extension of the school's garden programs. The idea of having a seed library has been in the works for some time, with students learning how to plant, grow and then harvest seeds. A traditional seed library involves people going to a public library and signing out a package of seeds instead of a book. The loan of the seeds is for approximately a year and a half; long enough for a gardeners to grow the plants, let some go to seed, save the seeds and then return the seeds to the seed library for the next person to check out. 
Students hand coloured seed packages and many students took seeds home with them to start their own gardens, as well as creating packages of seeds to share with the community. It is important to encourage gardeners to learn to save seeds in order to keep locally-adapted plants as well as heritage varieties growing.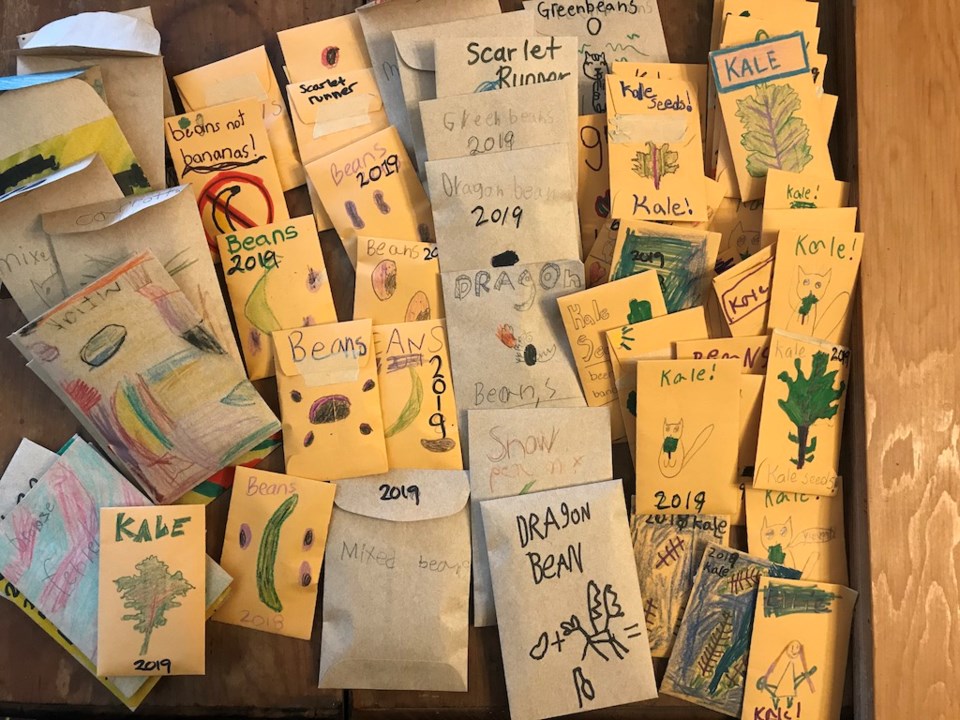 Students have been making community connections and learning about biomes, which has included learning about local agriculture and mapping out where we can grow food on Bowen Island. A few years ago students went on a walking field trip to the site of the old Collins farmhouse and met the daughters of the original pioneer farmers who grew up in the farmhouse. Students helped to harvest kale seeds from plants that have been grown successfully for over a century at Collinsia. This local heirloom seed stock is made possible thanks to the Collins family, and is a 'Ragged Jack' Brassica Oleracea type of kale that isn't seen very often in grocery stores because it is a tender, soft-leafed kale that is best eaten fresh out of the garden. Small leaves can be treated like spinach and can be put directly in salad mixes, and larger leaves can be steamed, sautéed or cooked in a variety of ways. The buds and flowers are also delicious, and taste like their close relative: broccoli. The plants can often survive our local winters, and can live for up to two years, producing many pounds of edible greens from a single seed.  Often called 'no fail kale' the seed stock was collected from Collinsia Farm, where it has been grown successfully for over a century. This local heirloom seed stock is made possible thanks to the Collins family, and is a unique opportunity to grow some local heritage in your garden!
  This project has been made possible thanks to a grant from the Knick Knack Nook Sustainability grant, as well as garden program funding from the BICS PAC and CSA to support community engagement in food sustainability issues. The BICS Garden Club has been in the process of growing open pollination plants and collecting the seeds to create a seed library which will, in the future, be located on a shelf at the Bowen Island Public Library (a very exciting project that we will complete in the future!) 
In the meantime, the BICS student Garden Club wishes to offer the seeds from their seed library to the community for free, in the form of mini library seed packs, and to invite everyone to start growing food as well as plants for pollinators. We want to encourage everyone to learn how to grow and to save seeds!
The Ruddy has graciously volunteered to be the distribution point of the seed library. The mini seed libraries will be handed out on a first-come, first-serve basis. There are approximately 50 mini seed library packages to give away. Each mini library features the Collinsia Ragged Jack Kale, and 2-3 other seed packages of easy to grow local seeds that were grown at BICS, and donated by Bowen Island Public library employee and keen gardener Marysia McGillvray.
Resources: 
How to grow and local planting guide and information: westcoastseeds.com/blogs/how-to-grow
How to save seeds: howtosaveseeds.com
Local gardening tips and a regular email newsletter: To receive email gardening tips for south coastal British Columbia please email info@lindagilkeson.ca or check out http://www.lindagilkeson.ca/. 
Lind has helped many beginner gardeners to understand the local conditions and to garden more successfully.
All-ages gardening activities: There are many resources in books and online, here is one that is local:
ediblegardenproject.com/monthlyactivities/