The Community Foundations of Bowen Island, Squamish, Sunshine Coast, West Vancouver and Whistler have been collaborating for the past few years to share learnings and look for ways to work together for the mutual benefit of the communities we serve. This year, the foundations collaborated to produce a report, A Vital Exploration, comparing the realities in each of our communities based on information from Vital Signs and Conversations learnings, the Canadian Census, and the BC Adolescent Health Survey.
The report can be downloaded at this link.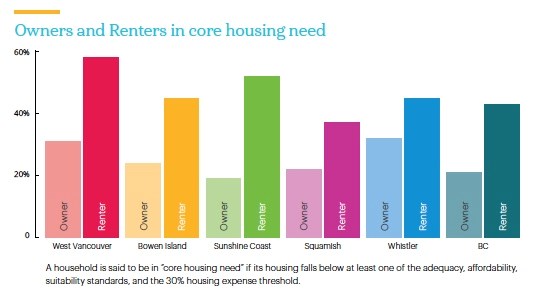 In the introduction, the report recognizes: "The population centres of the Greater Sea to Sky and Howe Sound region differ significantly in size and demographic characteristics. However, the residents of the area share a strong connection to place and a common desire for a welcoming, livable community where everyone can thrive. Residents move throughout the region, for work, recreation, shopping, services, or visiting family and friends. Many government agencies, health, and social services, as well as arts and cultural organizations, span the region with their programs, services, and participants.
"Residents of the region also share pressures – incomes that don't keep up with living costs, lack of housing diversity and affordability and concern about the effects of climate change. While the highway and ferries connect our communities, they also contribute to traffic congestion and affect air quality. And with limited public transportation options in the corridor, there are few alternatives to private vehicle use. Due to water and mountain barriers, the geography of the region also contributes to common challenges around emergency preparedness, with the potential to be isolated for a longer period in a natural or human-caused disaster."

The recommendations of the report encourage service providers, community members, and all levels of government to look at these findings and consider how they could work together to address these challenges, in particular:
• Break down barriers to ensure that vulnerable and marginalized populations are understood, involved in decision-making and have equal access to solutions
• Support those addressing housing needs through improved choices, partnerships and diversity within our communities
• Help to find improved and dedicated health solutions for all ages, especially youth, young adults, and seniors.
• Support communities to address emergency preparedness, environmental protection, racial injustice, economic vitality, and sustainability
• Help build the capacities of charities and non-profits in our communities
• Advocate with government and others for improved transportation options connecting our communities, and progressive climate action initiatives and investments.