It is hard to resist a cup of warm and tasty squash soup on a cold day. Especially when it was made using organic ingredients grown on Bowen. Islanders will have the chance to buy and enjoy two different squash soups while supporting their neighbours at a drive-through soup sale benefit on Saturday, Nov. 14. 
A delicious, curried squash soup and hearty roasted squash and potato soup will be sold for $10 per litre from 2 p.m. to 4 p.m. at Grafton Agricultural Commons across from Grafton Lake. 
Both soups were made with vegetables grown by Bowen Island FoodResilience Society (BIFS) volunteers at the Commons. Two and three-pound bags of 'Bowen Grown' potatoes will also be sold at the drive-through event, along with some delicata and kabocha squash, pumpkins, beets, and garlic.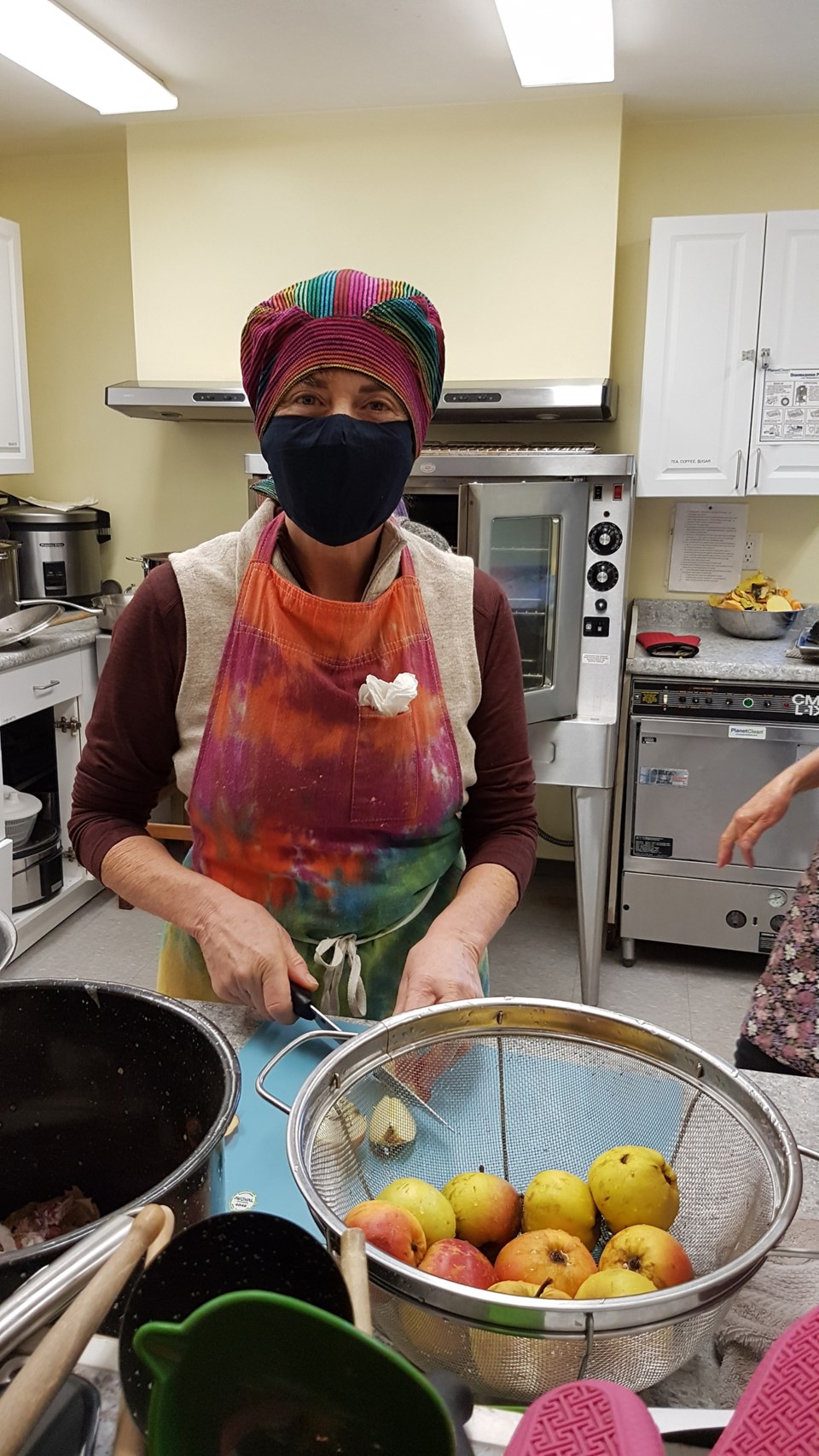 Both soups are vegan and will be sold "freshly frozen." 
Payment by cash, cheques and e-transfers will be accepted.  A couple of dozen litres will be set aside for the food bank, while proceeds from the sale of soups and produce will be split between the Christmas Hamper Fund and the Community Foundation's Helping Hand Fund. 
The soup recipes include a combination of kabocha, pumpkin, and butternut squash as well as a broth made from organic vegetables including onions and garlic grown at the Commons.  
All ingredients are listed on the labels and the soup was made according to Vancouver Coastal Health's food safety guidelines in the kitchen at the Legion.  
In May 2020, BIFS began working with a cadre of volunteer gardeners to  grow food during the pandemic. 
"We had lots of goals this year, including teaching people about regenerative agriculture while safely supporting social connection. But mostly, we wanted to grow healthy food to meet our community's needs," says Jackie Bradley, a member of BIFS.
BIFS gives thanks to local growers and purveyors for donating or discounting additional ingredients like apples and onions (Collinsia Farm, Frances Frost, and the Ruddy Potato). 
A special thank you goes to our soup makers: Elaine Cameron, Shasta Martinuk, Rabia Wilcox, Erik Miller, Jackie Bradley, Meribeth Deen and Phil Day. 
Other supporters of the  project include The United Church, B.I.Legion, Caring Circle, John Reid, Island Pacific School, IDLC, Belterra Cohousing, and the many volunteers who have worked more than 1,000 hours at the garden this season. 
BIFS wants to acknowledge BIFS' volunteer coordinator Jen Zdril and the following garden volunteers for their many hours of service, your efforts are much appreciated: Ross Bragg, Atom Brooke, Wendy Cellik, Martin Clarke, Harrison Cormier, Carsten Crolow, Claire Dennis, Candy Ho, Michal Holben, Lisa Holland,  Brian Hoover, Hasan Hutchinson, Rachel Klingler, Qurban Naismith, Xiomara and Kira O'Brien, Rob Pineau, Caelan and Jeni Redekopp, Skylar Robertson, Hayden Szetot and Tania Webb.
This weekend's drive-through soup sale is a tangible outcome of the Resiliency Fund Grant awarded to BIFS by Bowen Island Community Foundation with support from Bowen Island Municipality.