Matt Matheson isn't far from where he grew up, in a manner of speaking. 
The chef was raised  behind a deli counter (his mother ran Springfield Meats and Sausage in Kelowna) and grew up foraging with his mother. So perhaps his path was inevitable. 
Matheson is one of three men behind Orbaek Farm to Table Takeaway & Meats. Along with head chef Jak Hedley and salumist (maker of charcuterie and sausages) Dylan Ricci, Matheson operates the food lounge at Meadowbrook Corner. (Orbaek is not a restaurant as it's on provincially designated agricultural land reserve and therefore under  certain restrictions).
Last June, Orbaek opened as a reservation-only, word-of-mouth dining lounge for groups of between eight and 25 people. "We were going to build the brand from there," said Matheson, "And then COVID happens." 
The hours-long sit-down Scandanavian-style meals of last year didn't suit the COVID environment so Orbaek pivoted to Japanese-Danish fusion take-out. "Which is bizarre to think about," said Matheson. "But it actually works really well because they're two very similar cuisines when you look at the aesthetic of the food."
"The two cuisines, the two aesthetics of the  people, how they live their lives, how they set the table, how they view food, how they view family…the Danes and the Japanese have a lot of similarities," said Matheson. "For us, it was just a natural combination."
The team also wanted to make sure that Orbaek's new model would suit whatever's to follow with COVID-19. "We thought about that for a while and were like, 'Hey, let's just do some fun food really easily.' 
"Quickly prepared… but it's all fresh made."
One can either order from Orbaek online or in person at the Grafton Rd. property.
"Our ideas to  give people a lot of options so they don't have to go to the cove if they just want to grab a few things for dinner," said Matheson. 
There's the fresh menu with five different rice bowls and three salads (including an octopus seaweed salad), there are sourdough breads from a rotation of local bakers, broths and "comforting Danish-style" desserts (which are Matheson's specialty). There's a selection of meats from Ricci, which in the right season includes lamb raised on the property. 
"We're just going to develop the menu as it goes along," explained Matheson. 
Most of the greens are grown on the Meadowbrook property or sourced from local farms. "It's as local as it can get," said Matheson. "It's very farm to table."
Also featured (when in season) are wild mushrooms and wild strawberries. 
"I was raised in a very traditional Danish household so food was such a big deal and foraging wild goods," said Matheson. (Matheson was out in a chanterelle patch with his young daughter when we chatted.) "It's just part of my lifestyle," he said. "And then I just work it into putting stuff on the menu."
"Orbaek" Matheson's Danish clan––a name that dates back to the 10th century. It's also a long-standing family tradition to name businesses Orbaek. Matheson's grandfather Ove Orbaek Larsen was a well-known furniture maker in Vancouver in the 1950s.His shop on Hastings Street? Orbaek Designs.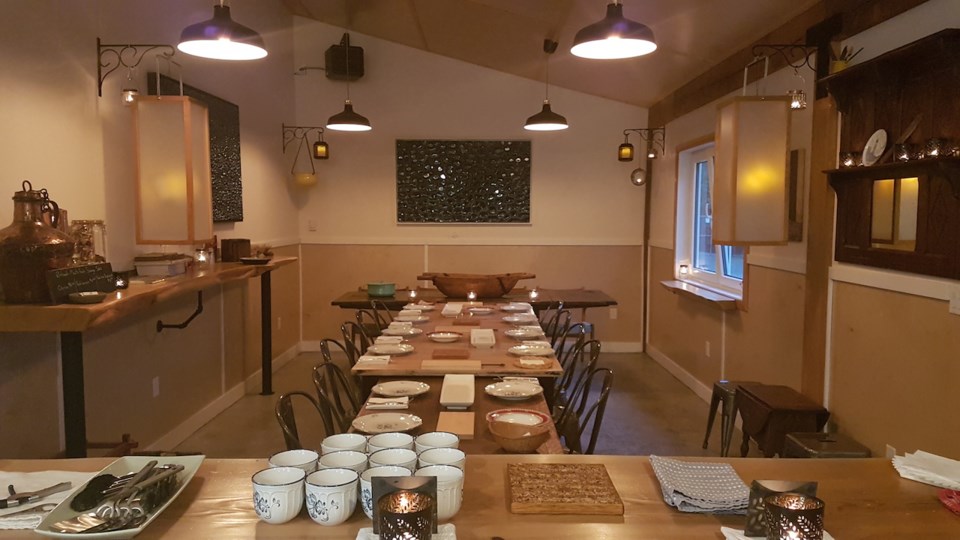 "It's very much my homage to my heritage," said Matheson. "I was taking the whole history of everything and just presenting it in a culinary way and giving people a taste of what my upbringing was."
In that vein, the lounge space features family heirlooms, paintings from Matheson's grandfather and dishware from Denmark. 
Accompanying his Danish upbringing, Matheson was classically trained as a chef and has for years also run Vine & Garden Catering (which he started as a project in school. "It was a passion project," he said. "It was my romanticism of what I wanted to do with food.")
With the three partners, Matheson and Hedley work the weekends (desserts and salads are Matheson's domain and the rest is Hedley's) and Ricci prepares the meats during the week. "It's just magical what we actually created here," said Matheson.  "Jak is very much the art of the projects, I guess I would be the romanticist…Dylan has the mastery of the meats."
Orbaek also just became one of a handful of non-deli or meat producers in Metro Vancouver to hold a charcuterie ticket said Matheson. 
As for what the future holds, later this summer there could be opportunity for more dining for little groups on the patio and for future years, this isn't the last of what's to come on Meadowbrook Corner. 
Hours are noon to 7 p.m. Saturdays and Sundays. 
More information at orbaek.com.