"I look in the mirror and wonder who's looking back/She looks familiar but I'm not quite as old as that," sings island songwriter Shari Ulrich in Back to Shore, her ninth solo album, released this week.  
"Like all my albums it reflects where I am now," says Ulrich a JUNO Award winner, islander of 26 years and founder of Bowen's Trust Me concert series. Forty-five years into her career, this is Ulrich 26th album, if one includes her work with Pied Pumkin, The Hometown Band, UHF (with Bill Henderson and Roy Forbes), BTU (with Barney Bentall and Tom Taylor) and The High Bar Gang.
The California-raised Bowener says the song on the album that's probably most specific to where she is now is "These Lines."
"I find myself saying exactly what my mother said as she aged, that she would see the reflection and just be shocked because it's not who she felt like inside," says Ulrich. "Most of us still feel like we're 20-25, only fortunately a lot wiser and dealing with the fact that we don't look that the way we feel on the inside."
Reflection abounds in Back to Shore's 12 songs.
There are toe tappers ("Canada" brings an East Coast vibe to the Salish Sea in a tribute to our country), speculative melodies ("Mars" explores the absurdity of humans visiting another planet) and a lullaby ("Goodnight" is a lament for our planet).
"When I'm putting together an album, I like to make sure that it has a kind of flow that keeps it interesting so there's no two songs that sound the same," says Ulrich.
"I don't know if that's true of my entire career, if no two songs sound the same, but it's a goal," she laughs.
But one thing that all of Back to Shore's songs have in common, is that they all feature Ulrich's daughter Julia Graff, who was raised on Bowen.
"She's been playing with me since she was 12," says Ulrich. "She plays fiddle and mandolin and guitar and piano and sings with me and it has that wonderful familial resonance between the two of us. I love singing with her."
Julia has a master's in music and sound design from McGill University and met her partner, James Perella, in the McGill program. The couple recorded, mixed and co-produced Ulrich's album.
Beyond Julia and Ulrich, Bowen is well represented in Back to Shore. Parts of it were recorded at Ulrich's home on Bowen (though the bed track was recorded at Monarch Studios in Vancouver). Cindy Fairbank, the BICS music teacher and accomplished musician in her own right, plays on the album, as well as former islander Michael Creber. And the album art is by Bowen artist (and Julia's father) David Graff of GILT Studio.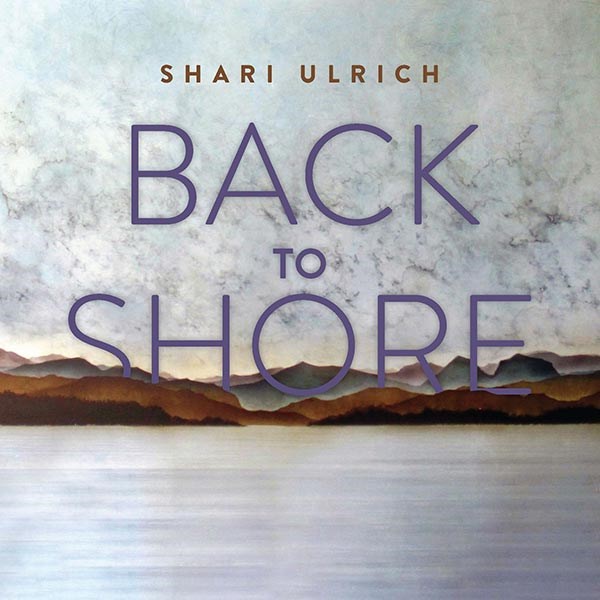 Distant misty hills are a copper and chrome strip in the expanse of sea and sky on Back to Shore's cover. It looks like it could be a view of Bowen as one does the Queen of Capilano crossing (though Ulrich says that David's piece was called "Lakefront"). But Ulrich says she just loved the work and incorporated it into the physical aspects of the album.
"I know people consume music, primarily digitally now, but the whole package is part of the artistic expression. And I like that," she says.
is playing a show at Tir-na-nOg Wednesday, June 19, at 7:30 p.m. a release concert for islanders who can't make it to the show in town (or for non-islanders who want to make the commute to Bowen). The main show is June 18 at the Centennial Theatre in North Vancouver. Get tickets for Ulrich's show here.