The artwork currently hanging in the Gallery at Cove Commons has come a long way. 
The canvases of Behind the Lines: Contemporary Syrian Art Exhibition were smuggled out of Syria in 2015 and have been touring Canada since 2016. 
The show is curated by Paul Crawford of the Penticton Art Gallery in collaboration with Syrian architect and art advocate Humam Alsalim and will be running at the Gallery at Cove Commons until June 17. 
Behind the Lines wasn't Crawford's first show dealing in conflict.
"In around 2013, or there abouts, I started looking at other ways that we can engage our community and the gallery in a larger global dialogue," says Crawford. "I was always curious about these countries that our country, our government, was engaged in militarily or otherwise.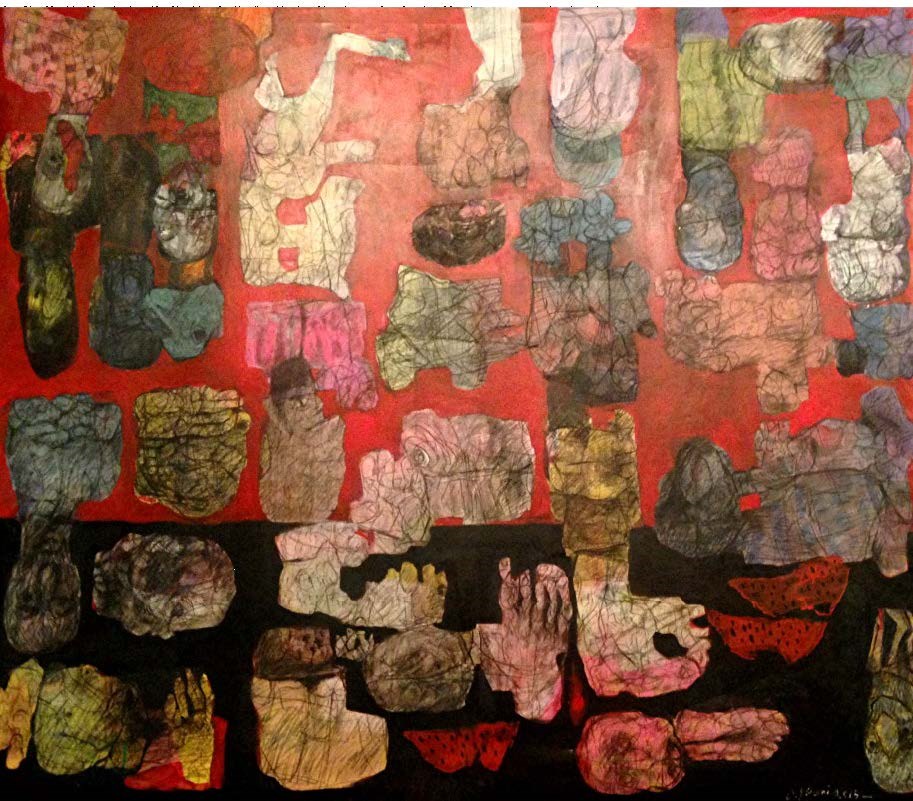 "Everyone I knew had an opinion about Afghanistan and Syria and all these countries, but very few people had actually ever been there, let alone knew much really about the country and its history."
First Crawford did a show of contemporary art from Afghanistan. After its success, he kept going. 
In 2015, Crawford was amazed by the lack of international engagement in Syria and so he started poking around online. He found (then) 24-year-old University of Damascus architectural student Humam Alsalim.
Alsalim and another young Syrian, Danii Kessjan, had built first a Facebook page and then an online gallery of Syrian art as a means of sharing the work with the world. 
Over six months, Alsalim and Crawford worked together to select 18 artists and their works for a show. They met some difficulty getting the art of Syria as no shipping companies operate out of the country. Crawford had to pay $5000 to have the work smuggled out of Damascus, through Kuwait to Bahrain and to Canada.
But once it got here, the response was immense. 
"As a curator you can only ever hope to have a show that sort of resonates,  as much as this show has," he said. "It's been incredible."
The show's made more than a dozen stops in Western Canada, including the Yukon. 
When the show started, of the 19 artists, only six didn't live in Syria. Today, all but six of the artists have left. 
Alsalim moved to Berlin two years ago, where he now works as an architect and for his non-profit Syria.Art based out of Nice, France (where the co-leader of the non-profit lives).  
Alsalim describes Syria.Art as a platform to support artists by any means possible. And working with other organizations, it has facilitated shows in the U.S., South Korea, Wales, Romania and Italy over the past three years.  
"[Art] is a noble way of communicating between two cultures," said Alsalim. 
He said that the Canadian show is their biggest so far and that he never expected it to go on so long. 
"This really means a lot to us, that there's continual interest in our work and what we're trying to do as artists," said Alsalim. "It is a tool to show a lot of people in Canada another part of the human community."
Crawford says that each artist attacks their worldview and engages in deep political commentary.  
"There's a real beauty and hope in the work. And there's real darkness in it as well," he said. "They may be sublimely beautiful works but each of them comes with a very dark message or a very heavy message of what the world is like."
"I guess there's one overarching sadness in the fact that, here we are three years later, and this show is no less relevant today," he said. "The situation is no better today than it was when we started. And that's really something that weighs quite heavily on me.
"And I think all the artists as well, I know if they all had the choice, they'd all be back in Syria."
The Bowen show, though a somewhat "Coles Notes" version due to space constraints, opened earlier this month and runs until June 17. The reception is May 24 between 4 p.m. and 6 p.m.
Crawford said that he'd like to encourage people who see and are moved by the work to reach out to the artists.
"It's so important, just to let them know that people are paying attention, and especially for those six artists that are still living in Syria, it really does give them hope that there is more beyond the boundaries they're sort of living within."