The Milky Way erupts from the cracks in the floor of Terminal Creek Contemporary. Eighty-two million stars contained in the white cube of a gallery in Artisan Square.
The Space out of Time is from U.K. artist Julie Hill, Terminal Creek Contemporary's first artist-in-residence. It is also presented as part of Vancouver's 2019 Capture Photography Festival.
The work is site-responsive, meaning that each time it is shown, it adapts to its environment. One piece has hung in a forest, another down a spiral staircase. For the Terminal Creek exhibit, there are three sculpture-esque pieces protruding into the gallery from the (pre-existing) cracks in the floor.
Totaling more than 60 square metres of paper, these are one of the largest photos ever taken of the Milky Way, cut into three. The photo is printed on a type of Japanese paper that lends the work an almost-geological texture. Like cosmic igneous.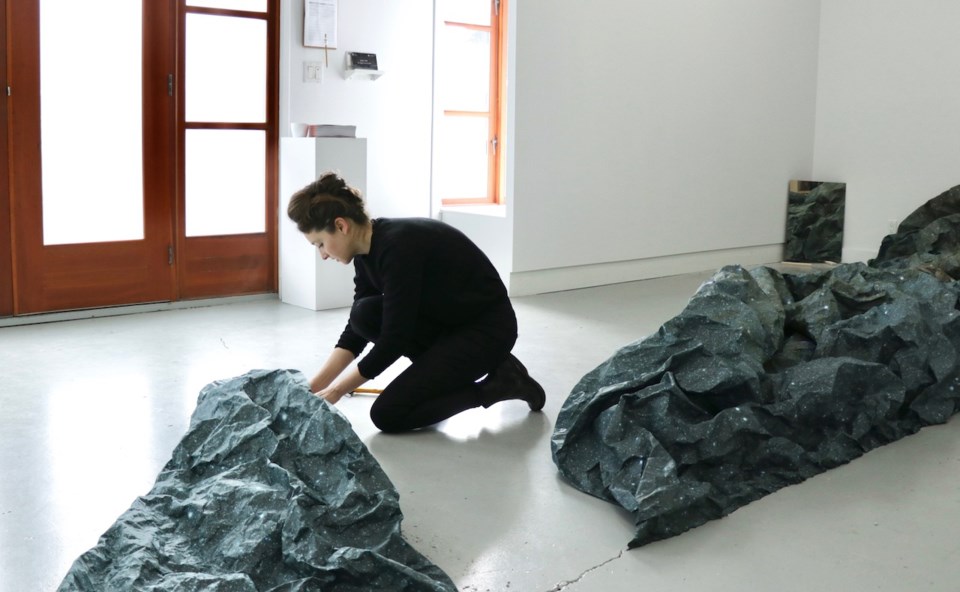 "There's a lot of crossover between the language astronomers use and those geologists use," explains Hill. "Coming off the Milky Way, [astronomers] can trace filaments of stars, which they call [stellar] streams and things like this.
"Sometimes people think of outer space as something completely separate. But it's all made of the same sort of stuff. Like whatever you find on Earth is coming in and made of explosions of stars."
Mirrors spot walls of the gallery, hearkening in part to mirrors being the primary light-gathering component in many telescopes.
"And I quite like the fact that in literature and folklore, mirrors will quite often be illusory and magical. I like that kind of duality of the material," says Hill. "And as you walk around you get bits reflecting back into each other, so it makes it feel like a landscape that you're amongst as well."
While Hill's fascination with the cosmos dates back to her childhood, it has dominated her work since around 2013. Hill says that she enjoys exploring the limits of comprehensibility and the sublime. She is also trying to challenge a scientific artefact with art.
"Quite often the image is taken as something objective and true – it's knowledge," she says. "[But] theres been a lot written about Hubble images, and actually, they're false coloured.
"They're wavelengths you can't see, so you have to attribute a visible light range to them.
"There's a lot of subjectivity that goes into creating those images," she says. "How they're framed to look like a landscape perhaps. But then there's no direction in space, why would they be that way up?
"There's all these kind of things that are really interesting and then the knowledge starts to seem less stable.
"Which is, I guess, what maybe I'm trying to explore in a physical environment."
Julie met Terminal Creek Contemporary's owner, Scott Massey, who too explores and challenges scientific ideas in his work, at a residency in Italy three years ago.
After launching Terminal Creek Contemporary, Massey invited Hill, currently a fellow in digital print at the Royal Academy Schools in the U.K., to be the art space's first resident artist. This is her first trip to Canada.
"It's exciting for me to kind of have a whole space to kind of play with for a week and try some new ideas out and it will generate sort of material that can probably use in the future," she says.
This residency is the first time Hill is showing the entire Milky Way picture.
"It's a nice opportunity to bring the whole image together and maybe conclude it as a piece of work as well," she says.
The opening reception for The Space out of Time is April 13 from 12 p.m. to 4 p.m., with open studio visits Friday, Saturday and Sunday (12 p.m. to 4 p.m.). Hill will be on Bowen until April 17.