Emilie Kaplun had just started as the Gallery curator for Bowen Island Arts Council when it put on the Sea to Sky art show in 2016 in collaboration with the Sea to Sky Arts Councils Alliance. 
It's perhaps fitting then, that she's ending her time as curator with that show's successor: Saving Sea to Sky, showing at the Gallery at Cove Commons July 8 to Aug. 10. 
The homage to the spectacular corridor includes 23 artists from Bowen, Lions Bay and West Vancouver. 
"The idea is for artists to showcase the beauty of the region and for people to visually be able to see what inspires us all as artists in the area," said Kaplun. "With the hope of preserving it and keeping it beautiful and safe."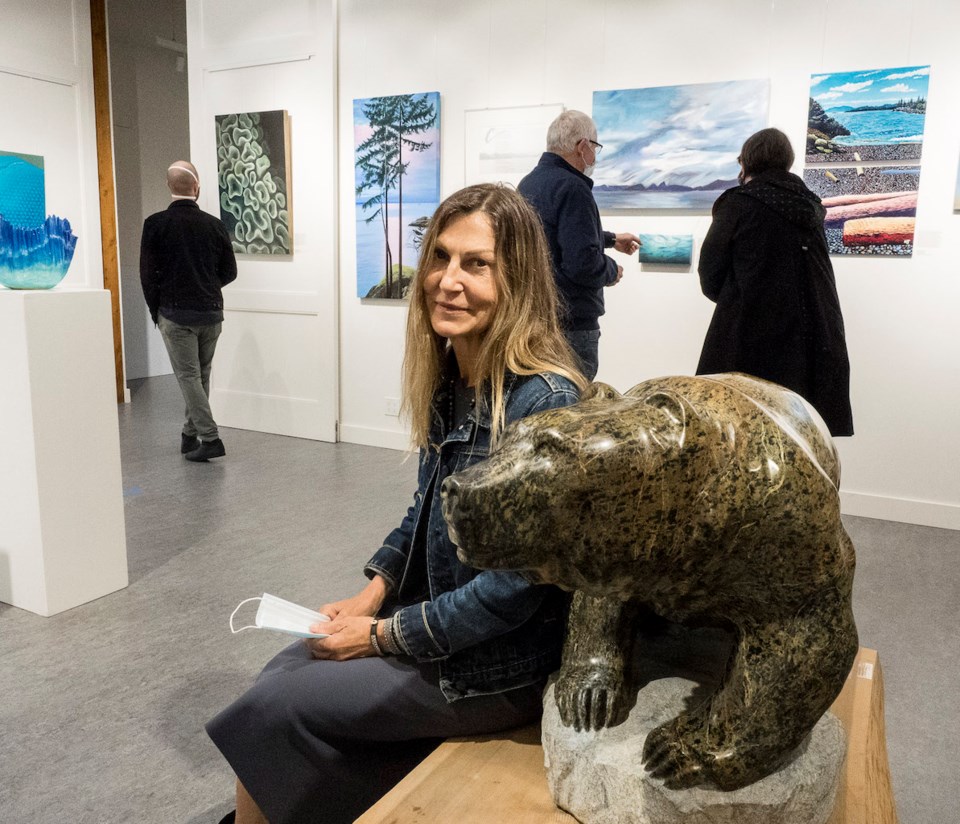 "Each artist has such a different take," she said.  "A show like this you have one theme and everybody's got a different viewpoint of what they see as beautiful in the area or what represents Sea to Sky for them."
Scenes range from a ferry crossing at dusk to waves crashing over the Bowen shore in a storm, to a close-up of a sea sponge, to a multi-panel whale, to a serpentine stone bear glancing up as it heads to a berry patch. 
The bear, prominent as one enters the gallery, is by Bowen artist Cathryn Jenkins.  "Cathryn's mother was a prospector and also a sculptor so that's where she learned about where to find different stone and how to do sculpture," said Kaplun. "Sadly her mother just passed away but obviously she's left this amazing gift with her of sculpting."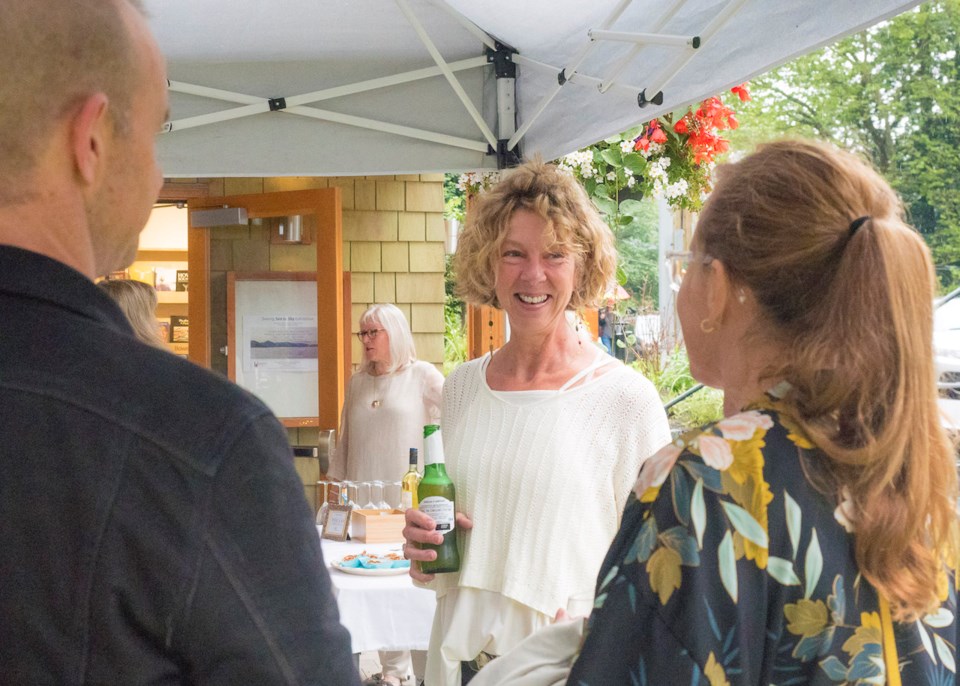 A resin bowl with a sandy bottom, soft green jewellery, a familiar view from Bowen Bay beach, an anchovy dance inspired by Bob Turner's videos and a special appearance of the Marine Atlas of Nexwlelexwem/Bowen Island too present perspectives of the wonders of the region. 
The exhibit of 2016 travelled around the corridor, but the 2020 iteration is only at the newly reopened Gallery at Cove Commons. 
"We started it here in 2016. Because it went so well, they thought we'll just do it on Bowen Island versus having to travel," said Kaplun. That decision was made before COVID, though the pandemic perhaps affected the number of participant artists (lower than last time) said Kaplun. 
While Kaplun didn't have a hand in naming the exhibit, she sees it as speaking to current regional concerns. 
"Four years ago it was just called Sea to Sky so to celebrate the beauty of our region," said Kaplun. "I think Saving the Sea to Sky came in more as a bit of a commentary around the need to protect this area…with LNG, with different issues around keeping the whales, keeping our ecosystems healthy."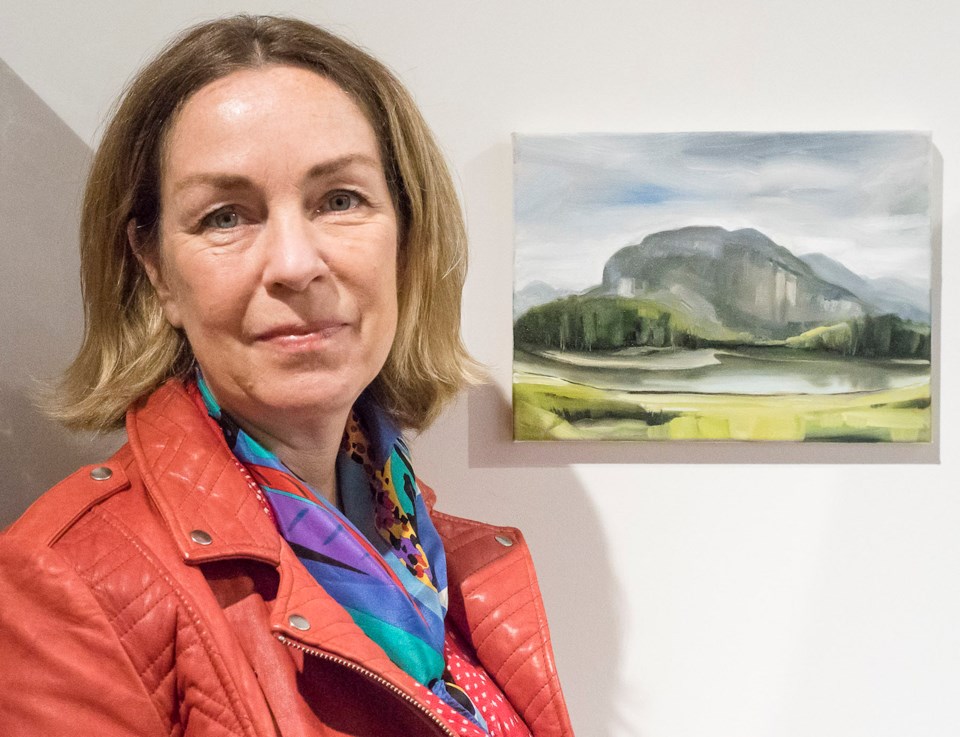 On this theme Kaplun pointed particularly to Susan Alexander's poem "Canticle for Sea Lions in Howe Sound" (part of Alexander's award-winning collection of poems Vigil and to be included in her upcoming book Nothing You Can Carry).  "A commentary about industry that's taking over or threatens to take over the region," explained Kaplun. In the exhibit, the poem is set against a Kathleen Ainscough painting (and available as limited-edition prints). 
"So I think the word 'saving' Sea to Sky is just about preserving this region, keeping it safe for the marine life that inhabits the region," she said.
Some artists in the exhibit have chosen to donate the proceeds of their work to conservation causes, such as the Bowen Island Conservancy and the Howe Sound Biosphere Region Initiative. 
As for Kaplun herself, as this is her last week as an arts council employee (but she's not leaving the island and is looking forward to drinking a glass of wine instead of serving it at the next exhibit reception), this was a bittersweet show to put together. 
"The original Sea to Sky was one of my favorite shows," she said. "So it feels like a bit of a trip down memory lane."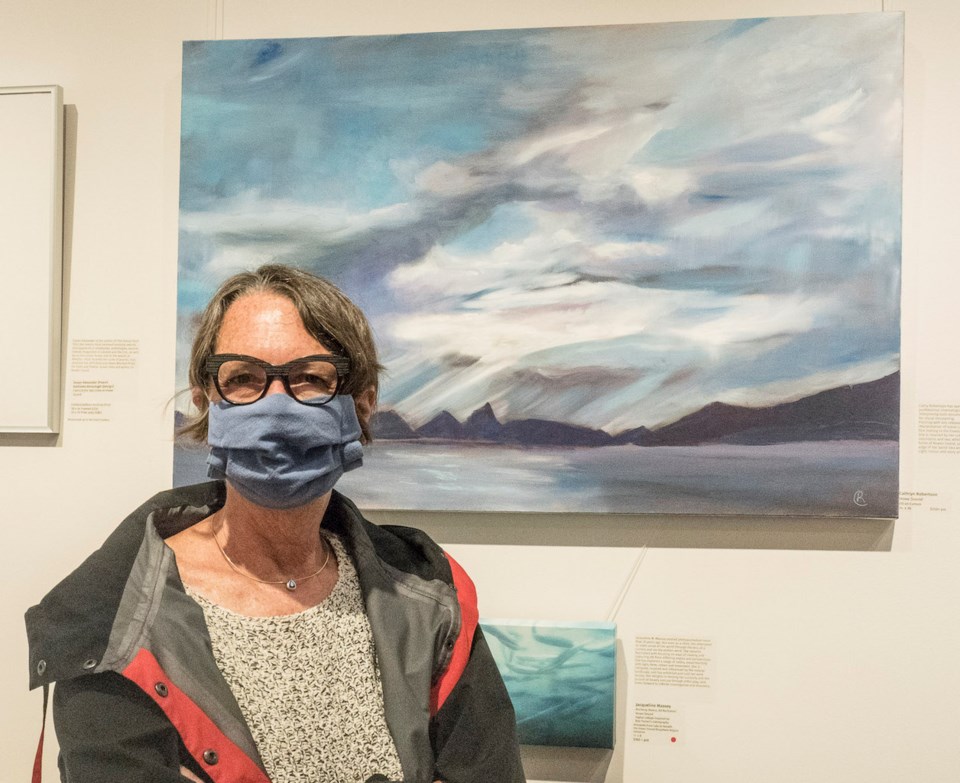 "I love group shows because there's so many different artists that you're working with and seeing so many different styles and piecing it together is always a little bit more of a challenge," she said. "You want everything to flow and complement each other in some way. 
"I feel excited about the show," she said. "I think there's been some really good feedback and some sales already."