By necessity, Alex McNeill has been waxing herself for years. 
Now, she's started a waxing business, Peach Fuzz, so other islanders won't have to do the same. 
"My husband I moved here because we wanted to grow old in a small community," explained McNeill. "With people that you almost forcibly have to be close to."
"We both came here with our own businesses, and life happens, things change. And then COVID happened and I had to reinvent myself."
As McNeill considered ventures she could pursue, she started looking at what was missing for her as a woman on Bowen Island: hair removal.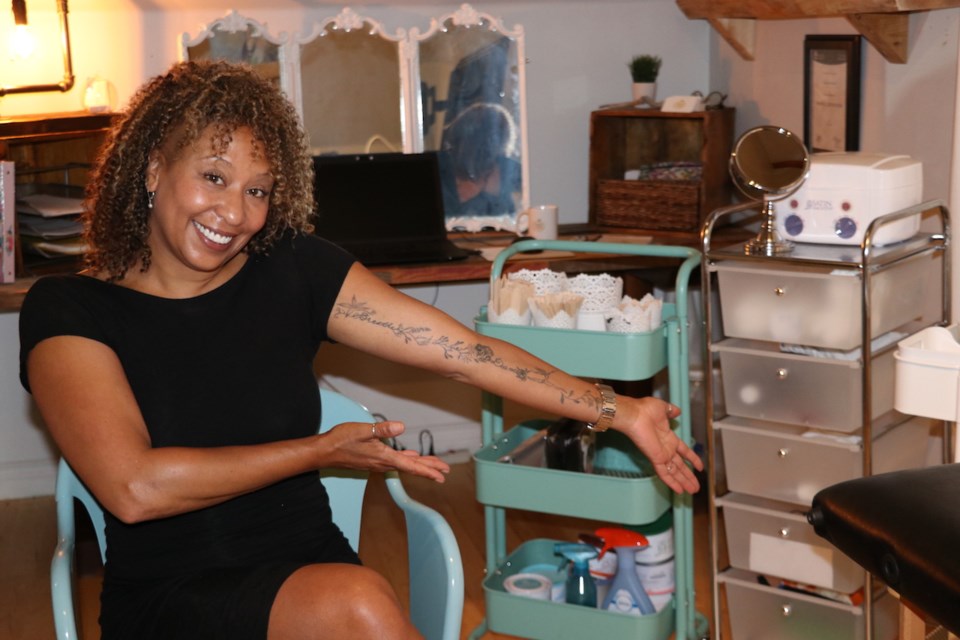 "I thought, 'Wow, my girlfriends have to take a ferry to get this self-care service,'" she said. "That's a bit ridiculous."
"I think it's hard enough for us already, especially such a personal service.
"I only trusted one woman to wax me a long time ago. And when she stopped doing it, I was lost."
On Bowen there are services for hair, eyelashes, nails, massage, but none for facials and none for hair removal. 
Inspired, McNeill got to work. She took an accredited waxing course by distance (attending a school with the ferry and COVID-19 wasn't feasible) and got set up in her Miller Rd. home. 
McNeill got her certification June 20 and within hours she had appointments lined up. 
"It's a very intimate process but I absolutely love it," she said. "And I'm really good at it."
Women as well as men are McNeill's clients. She'll do all sorts of hair removal –– eyebrows, under arms, face, full Brazilian, legs, back, butt. 
McNeill also works in insurance and at the pub, but with this business, it's all hers. "I'm a very tactile person. So COVID has been terrible for me, not being able to even shake hands, let alone hug someone."
While she's been waxing herself for years, the transition to waxing other people was interesting. "For me to get certain areas and to hold my skin taut to create the least amount of pain was challenging," she said. "So working on someone else, I'm like, 'This is great. I have both hands available and I can just work in whatever direction I need to.'"
COVID has naturally shaped the beginning of the business. 
"Luxuries are no longer a thing for people around times of COVID," said McNeill. "But some people budget to take care of themselves and they put me in that budget. And that's pretty special."
There's also the extra cleaning and mask precautions. 
"I'm very, very careful, not just because of COVID though," said McNeill. "I'm dealing with intimate areas of your body, dealing with open follicles and I know how my body has reacted to not being absolutely pristine with that."
With a facials course on the go,  McNeill hopes that will be the next addition to her passion project, though it's not in place yet. 
For now, Peach Fuzz is by appointment, which potential clients can set up by texting or calling 604-612-5226  (though texting is preferred).
"I'm shamelessly talking to everyone about their body hair and when can I take it off," said McNeill. "And promising them peach fuzz in the end."