It was a wait worthy of Godot, but unlike in the famed play, it arrived. 
Buried in a slew of federal and provincial grant announcements this morning was news of $7.96 million coming to Bowen Island for a community centre.
The announcement draws the decades-long endeavour to build a dedicated community facility one large step closer to fruition.  
Following a local fundraising and awareness campaign, Bowen Island Municipality applied for the Investing in Canada Infrastructure Program in January 2019. Friday morning, the community centre was among 92 projects that the federal and B.C. governments announced would receive funding.
"Local infrastructure is the bedrock of any community," said West Vancouver-Sunshine Coast-Sea to Sky Country MP Patrick Weiler in a press release. "The Bowen Island Community Centre Project will build a top-notch facility that will serve as a hub for the community and provide access to recreational and arts activities on the island."
"We are pleased that senior levels of government have recognized the value of investing in our community," said Mayor Gary Ander in a press release. "This will enable us to achieve the long-term goal of a dedicated public building for Bowen Islanders."
That's not to say that the work is done for community centre proponents. The infrastructure grant is to cover half of the estimated $14.5 million needed to construct the multi-use facility––a Bowen Island Municipality and Hearth partnership. With this project funding, reserves and donations, there's still a $4 million shortfall.
To that end, BIM will hold a referendum to ask for approval from electors to borrow up to $4 million (this referendum was initially scheduled for spring 2019 but was put off until the funding was announced.)
Of the $4 million needed, $2 million is "tax neutral" as the rent money the municipality pays (it doesn't own many of its currently used spaces) would be redirected to financing the hall. Borrowing the other $2 million would result in a two per cent rise in property taxes BIM staffers estimated in 2019.
In Friday's press release, BIM poised the project as an "economic stimulus…creating jobs in an uncertain economy, bringing traffic to local businesses, and ultimately creating our own facility that will develop community resiliency over the long term."
In the economy of a year and a half ago, there were community members and councillors raising concerns about the number of capital projects the municipality is taking on, including the water treatment plant now under construction and the proposed fire hall on Lot 3 of the community lands.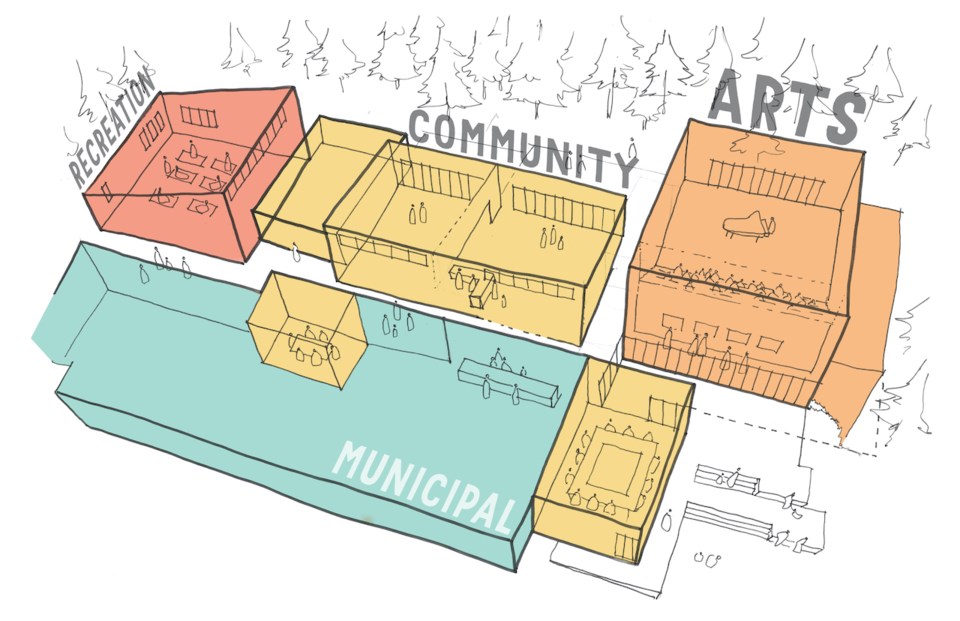 A community centre has long been a topic of local attention: as far back as 1993 islanders were trying to build a Community and Performing Arts Centre. Municipal council set aside a slice of Lot 2 of the Community Lands (beside the BICS soccer field) for a community centre in 2006. And BIM issued the building permit for the now "shovel-ready" project in 2018.  
"This is excellent news for our community," said Rob Gloor, chair of the Hearth. "We are now very close to realizing our dream of a place where the entire community can gather and re-connect in a myriad of ways."
The facility itself is 16,000 sq. ft. and includes municipal offices, council chambers, multi-use rooms, a fitness room and recreation and arts space. 
BIM is still collecting donations for the community centre––donations that've included million-dollar pledges in the past––through the project website.