It's probably not the honeymoon they envisioned.
Bowen's latest business owners are not only starting their marriage during a global pandemic but a tourism-based business. So as one might expect, this is a love story.
Angela Saunders and Brendan Robertson opened their e-bike rental company, Bowen eBikes, from their Cates Hill home last week.
"E-bikes was always a thought for us that would make Bowen quite a bit more accessible to anyone," said Saunders. "That coupled with COVID, as people get concerned about tourists coming back onto Bowen and all the tourists end up getting stuck at the Snug because without a vehicle you're not really going too far out there." There was also the bonus that biking can be a socially distanced activity.
Neither has a background in tourism: Saunders works for a tech company that makes software for designing custom prosthetics and orthotics. Robertson runs a small web shop on the island.
But both have a background in cycling: they're triathletes who've competed at multiple world championships, which is where they met.
"We kept missing each other year after year after year," said Robertson. They'd heard rumours of one another and had at least one friend in common but hadn't yet crossed paths.
"So many races that we both competed at and never met," said Saunders.
But after missing one another at world championships three times, they finally met in London in 2013 and exchanged information.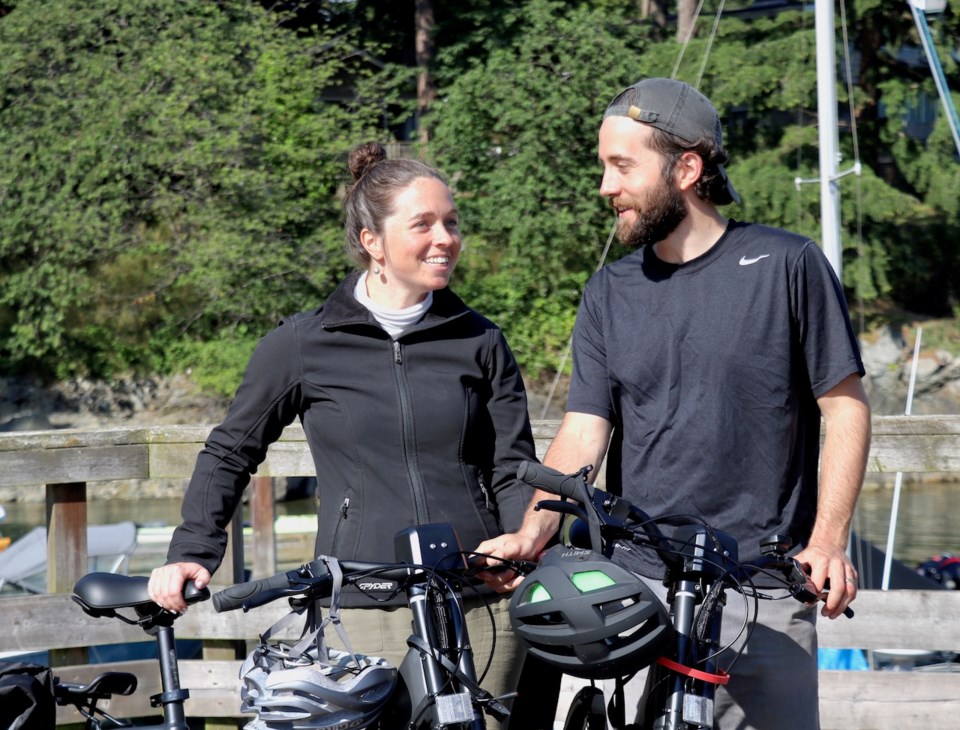 Two years ago the couple moved to Bowen –– "We came over for just a weekend and we were like, 'Yep, this is where we need to be," said Saunders.
"We are not in the same shape as we once were but we still enjoy community races here and there," said Saunders. "Obviously the race season is completely shut down this year so we are just enjoying trying to do our training outside and to make the most of our own backyard."
Robertson also for a while had a YouTube channel to try to help people get into triathalon and for a time was a triathalon coach at UBC.  "I think that whole notion of how to help people get outside and get physical is part of who you are," Saunders told her new husband, noting that he was being humble in listing his credentials.
While both used to be e-bike skeptics, they have since recanted their no pedal assist stances.
For Saunders it was watching fellow commuters pedaling out to UBC or South Vancouver instead of driving. For Robertson it was jealousy. "As an athlete you can get to be very competitive," he laughed recalling other people on e-bikes passing his non-motorized but long-training self. "A little bit like, '…that's cheating; that shouldn't be allowed!'
"Then of course then we get them and we try them out and it's like, 'ooh, but I love cheating.
"I love being one of those guys with the e-bikes passing everybody. It feels good in a bad way."
E-bikes also deal with the post-winter hurdle of getting back on the bike and out training noted Saunders. "It's just about getting people back outside and in whatever weather conditions and with these bikes you have to pedal to engage," she said. "You do have to pedal up the hill, you're just getting that little boost to help you up there."
"You see families of older generations or younger generations trying to figure out what they would do all together and e-bikes are a great way to normalize that," said Saunders.
Another bonus for the couple is that it's a car alternative.
"That's thing that drew us to cycling in the first place," said Saunders. "It's human powered."
To say that Bowen eBikes is something new in the Saunders and Robertsons' lives could be an understatement.
It was two weeks ago that Saunders was in London Drugs when she overheard someone say that there was a good price on e-bikes. Sparing a glance at the bikes, she agreed that they were a good price.
A few days later the couple had four bikes and a few days after that they had eight.
Last weekend they had their first group out on the bikes.
 "Everyone has been so supportive," said Saunders. "They're just like, this is really something that Bowen could use."
The e-bikes are class one, meaning they have pedal assist, so you have to pedal to enable them, but there's no throttle. Each is rented out with a charger, lock and pannier.
Customers can come to the couple's home or Bowen eBikes can also drop-off bikes. But everyone needs to bring a helmet for COVID-19 safety reasons.
As the business is new, Saunders and Robertson are still working out some details such as how to do bike drop-off in the cove.
"The main thing is just to provide a different way for people to be out and social distance too," said Saunders.
"The nice thing with the e-bikes is you don't have to have a driver's license so we can offer it to youths," she said. They don't currently have child-sized e-bikes.
"I think it's evolving a little bit because of what the feedback that we are getting from different people that are renting," said Robertson.
The bikes aren't just for tourists noted Robertson, there's also the potential for locals to rent them.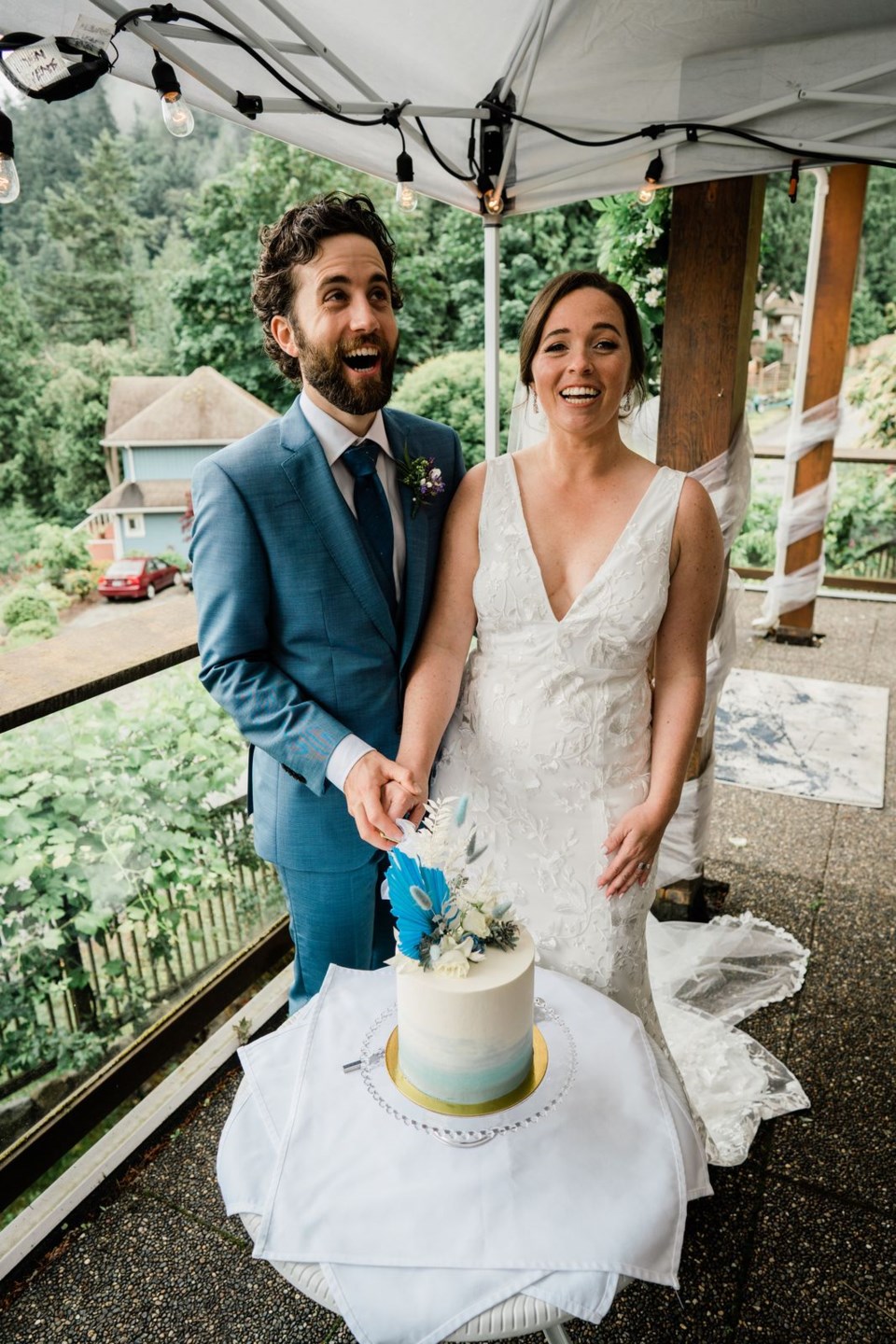 And the couple has already met the pandemic head on: they'd been set to get married in a big wedding on June 20.
"We had this really grand plan," said Saunders. But with the virus, they pivoted. Just their immediate family came to the wedding at their home on Cates Hill and they sourced on-island help for event rentals, flowers, food, invitations and music.
"It was so nice to just be in the backyard," she said. "And then it was so perfect because when we finished the ceremony, we peaked around the corner and a whole bunch of neighbors had gathered to watch."
"You have to kind of adapt to things as you go along. Not everything is just how you think it would be," said Saunders. "It's the same with our wedding and it turned out really great."
Though that was their wedding, they'll still have a celebration when the spectre of COVID lifts.
"It's a year-and-a-half long delayed reception," laughed Robertson.
The roles of Robertson and Saunders in the business are quite clear: "He's the dreamer, I'm the pragmatist," laughed Saunders. (Robertson spent much of the interview bouncing with new ideas––Saunders spent much of the interview reigning in expectations.)
That's not to say Robertson can't be pragmatic: he added at the end of the interview a note that those renting bikes should pack a lunch.
Bowen eBikes is online at bowenebikes.ca and on Facebook @bowenebikes. Hours are 7 a.m. to 7 p.m. daily though are negotiable and prices start at $40 for two hours.