From the Nov. 23 regular council meeting:
Bowen Island neighbourhoods wanting passing traffic to slow down now have a roadmap. Council adopted a traffic calming policy Monday.
The policy lays out procedures for Bowen Islanders to request traffic calming measures and how staff would go about approving or rejecting said requests. (Measures can cost up to $5,000; spending more than that would need to go to council.)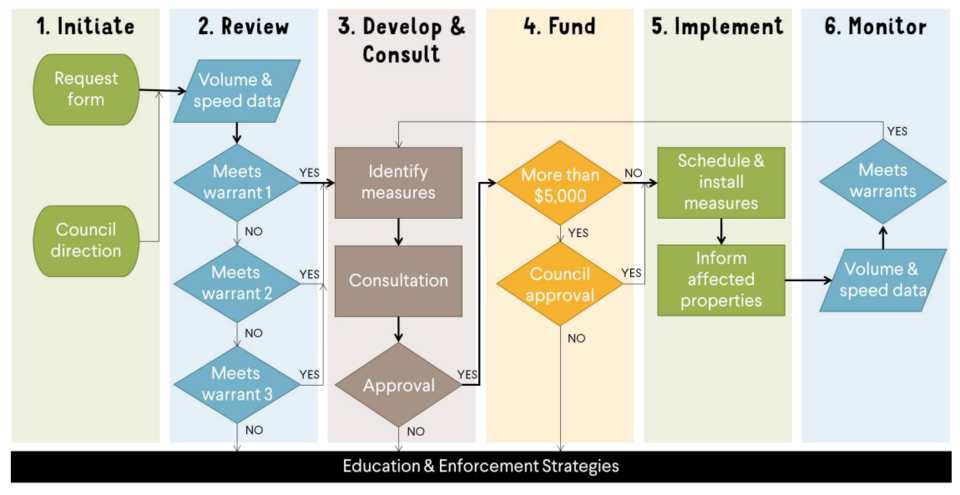 Speeding and road conflict are "major concerns" on Bowen as traffic volume is lower, curbs are few and active transportation facilities are lacking, says the policy. 
Council saw the policy last month but asked for more community consultation before passing the island-sweeping policy. Under the policy, affected properties would submit a request form showing the support of a minimum of five affected properties or 60 per cent of affected properties (whichever is less). Staff then review traffic volume and speed data in the area for at least one week to see if calming is warranted (judged by volume of cars, percentage excessively exceeding the speed limit and proximity to schools, playgrounds or senior-oriented development.) Staff then consult on the appropriate traffic calming measure, fund, implement and monitor it. 
The policy notes that the much-desired speed bumps aren't good on Bowen as they're not for grades over eight per cent or emergency or transit routes and make snow clearing difficult. Speed tables (longer raised area) are more desirable on-island.
Mayor Gary Ander was on the fence in his support of the policy. "I can drive from [home] to the Cove sometimes and not pass a car," he said. "So we don't have any issue with traffic currently on Bowen."
Ander said he was concerned about cost to the municipality but that he also didn't think there would be much uptake with Bowen's current population and traffic levels. 
Ander was willing to support the policy with the understanding that it's revisited in a year's time to see how relevant it is and how much it's costing. 
Coun. Rob Wynen was in full support of a "consistent policy," noting that Bowen doesn't have off-road facilities – bike lanes, sidewalks, curbs – so everyone uses the road. "I do think there are areas where we need to start looking at some ways of slowing some of the speeders down," said Wynen, adding that he thinks most people on Bowen are "pretty good."
Coun. Sue Ellen Fast voiced similar sentiments to Wynen. "I'm somebody who's ridden horses and pushed those strollers and I still ride my bike," she said. "We're all traffic participants. And I think this lets us have a more safe and equal kind of travel experience."
Coun. Alison Morse was the lone vote against the policy, citing lack of data or proof of excessive speeding on Bowen and calling the policy "a citified traffic management report for a rural community." She also had concerns about budget allocations for calming measures. 
While Coun. Maureen Nicholson said she shared some of Morse's concerns, they could be dealt with within public works, and the policy offers a framework that's not yet in existence. 
Coun. Michael Kaile supported the policy with the understanding that it be brought back to council in a year's time. 
Ecclestone Beach
The matter of public access to a pocket beach on Miller's Landing dominated the public comments and delegation sections of the council agenda. Two homes back onto Ecclestone Beach with a road right-of-way skirting one side of one of the properties. Neighbourhood members say that they'd been able to access the beach via the public access until a few years ago when a structure was built in the way. Others say that the road access has been little used in recent years and that the only way to the beach has been through private property. The current owners of the land abutting the right-of-way are applying to the province for permission for a dock, which has raised questions about whether said dock would divide a public beach (which is not allowed under bylaw). The dock application didn't come before council Monday as the applicants are looking at the dock design and balancing interests. "We wish to further investigate with the municipal staff if there's a way to construct the dock and allow for passage, so interested parties can access the pocket beach," said applicant Tim Klauke at the meeting. 
The Undercurrent will revisit this story in more depth in a future edition.  
Development permit
In a five-to-two vote, council opted to issue a development variance permit for a Tunstall Bay waterfront property that seeks to reduce the sea setback by five metres. (Sea setback DVPs are fairly common.)
"Several key concerns did come up and they were mainly around…potential environmental impacts from this reduction in sea setback," said community planner Emma Chow. "There were also concerns on community impact to the recreational use of the surrounding area, the very popular Tunstall Bay Beach and the bay itself."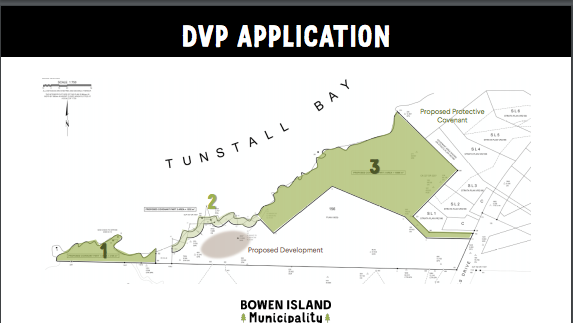 In exchange for the setback and to address the concerns, the property owner agreed to a restrictive covenant over much of the property to protect it from development, including along the shoreline. 
BIM's Parks, Trails and Greenways Committee was unanimously opposed to the DVP, as were five of the six letters sent to council on the matter, and several speakers in the open comment section of the meeting citing environmental and recreational concerns. 
Chow noted that the location of the house is mostly hidden from view of the beach and without a restrictive covenant, the property owner could have blasting, tree clearing, fence building and structures smaller than 10 metres all the way up to the shoreline.
"If the house were to be sited further away from the sea…it may entail significantly more tree removal for views and for access to water," said Chow. "Therein lies the value of the proposed covenant."
Without the covenant, the municipality doesn't have the tools to restrict the type of development that was of concern during the referral process Chow conveyed.
In the public comments section of the meeting, former mayor Bob Turner noted that covenants aren't monitored or even digitally accessible, making them weak environmental protection tools.  
Coun. Fast was against the DVP, pointing to the Official Community Plan as a guide to be followed and agreed with Turner's assessment of covenants. "I can't see the value that's coming to the community, I don't see why this proposal should lead me to vote against our policies," said Fast. 
Councillors Hocking, Kaile, Morse and Mayor Gary Ander pointed to the environmental protection benefits of the covenant and the muni's lack of control without them. 
"I'm not happy to see more development along this bay but it is someone's property and their right to do so and they seem to be doing it in a reasonably good way," said Hocking. 
Councillors Fast and Wynen opposed the DVP. 
Tax decisions to come
It looks like there are some tough decisions in the works. A resolution released from a closed Finance Advisory Committee meeting reveals that all of the program requests for the 2020 budget process would require a 15.5 per cent property tax increase. 
There will be a committee of the whole meeting (a committee meeting composed of all of the members of council but without the formality and authority of a council meeting) to delve into matters of capital renewal cost and funding and budget constraints. Councillors voiced interest in having the public see BIM's budget constraints. The date is yet to be set.