While he's never owned a grocery store before, new Ruddy Potato co-proprietor Tony Davis grew up in one. 
Davis' parents owned and lived above a grocery store in Newcastle-under-Lyme in Staffordshire, England.  "As a child, I'd be in the store all the time, sitting on the counter and singing to the customers and things," he laughed, "I don't know what I did…I was pretty young."
While islanders probably won't find Davis singing to customers at the Ruddy Potato, they'll see the fruits of decades of business and industry experience from Davis and his two partners.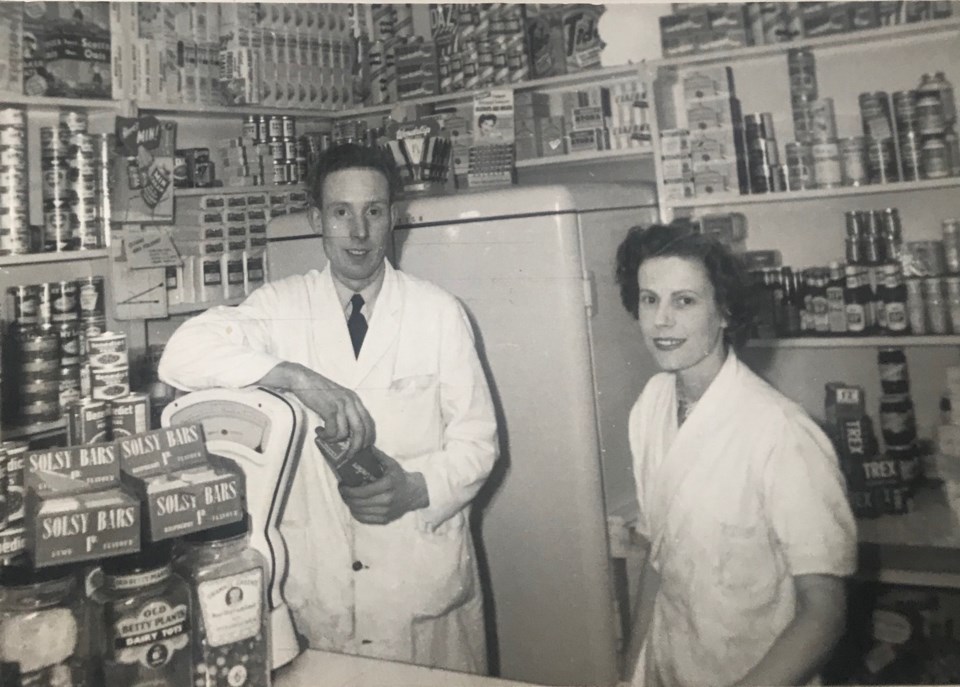 In August, Summer Equinox Fine Foods Inc. purchased the Village Square grocery, Sunset Rd. commissary and trade name. Davis, who also owns Bowen Island Beer and Wine Cellar, is majority owner. (Davis owns the Cellar alone whereas the Ruddy business is a partnership). 
One of Davis' business partners is Drew James, the day-to-day manager of the Ruddy Potato. 
James, a former chief financial officer of a hospitality group in Vancouver, and Davis met some 30 years ago when Davis had just moved to Canada and James had just moved to B.C. from out east. Davis owned an insurance agency in Vancouver and James was the accountant for a transportation company Davis insured. The two struck up a friendship and have done business together for years.
For James, the move from hospitality to the Ruddy Potato isn't as big as one might think – both come down to customer service, he said. 
The new manager describes the transition from Daniel Heald's ownership as relatively seamless. "It's been a well-managed business," said James. "So it's made things relatively easy for me to step into it, because everything was in place."
Buying in a pandemic
Of course, business in 2020 isn't like business in other years. 
"The deal [to purchase the Ruddy] certainly went on hold for a while," said Davis. "We didn't want to go and take on a business whereby all of a sudden there was no cash flow and we ended up with a white elephant."
But of course, grocery stores are essential services and the financial piece remained fairly robust in those first few months, said Davis. It gave them the confidence to complete the deal. 
They've continued the COVID-19 protocols put into place under Heald, while also moving to a mandatory mask policy and a traffic light system that's in place at both the Ruddy and the Beer and Wine Cellar.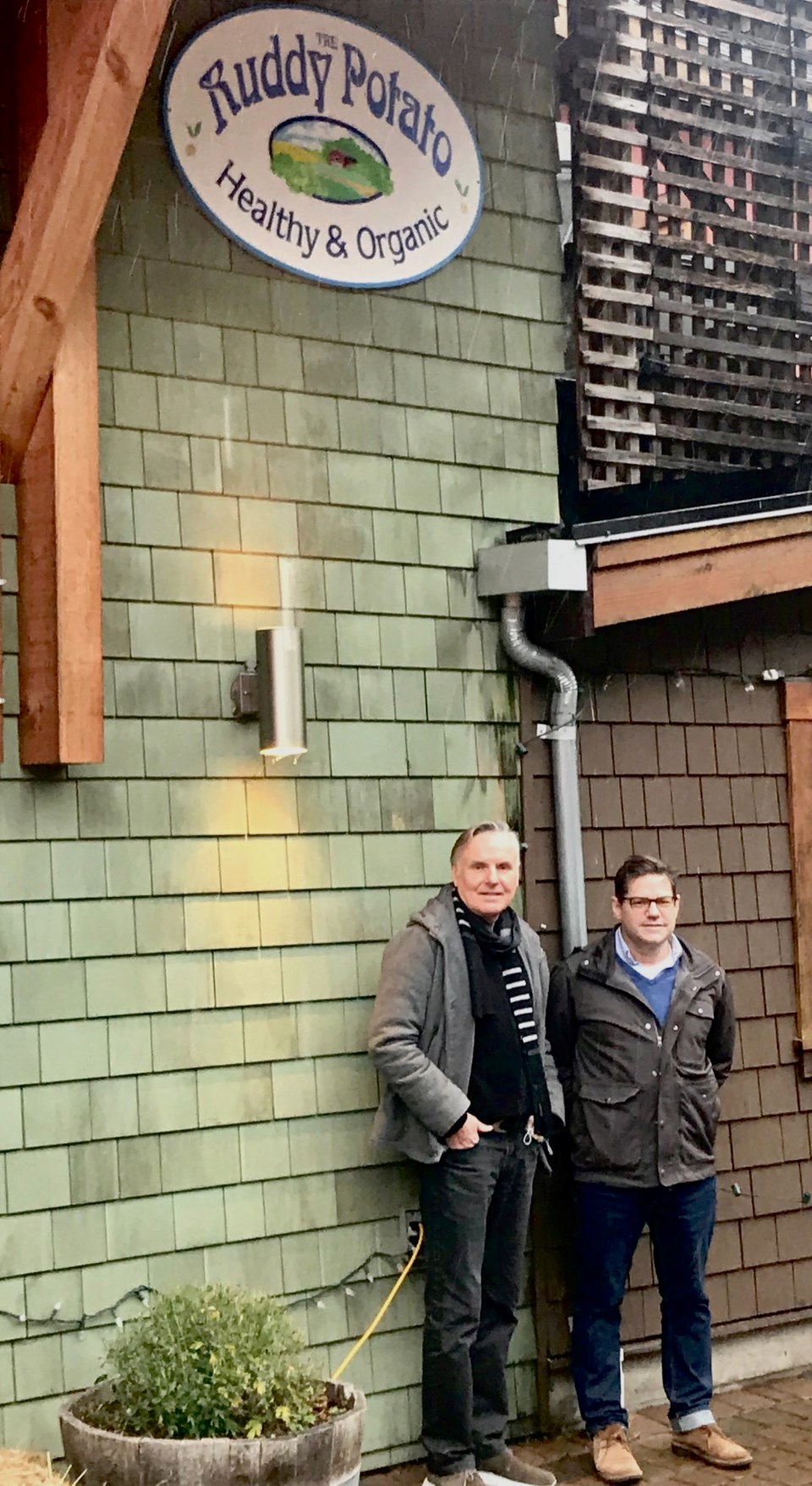 "We still live in fear of someone getting sick and then we've got to close a store and do, obviously, a cleaning, and make sure that there's no possibility of more transmission," said Davis. With the high volumes of holiday season around the corner, the Ruddy is reinforcing its regulations and protocols.
Reinforcing organic mandate 
The Ruddy Potato is known for organic and health food, an aspect Davis said they hope to strengthen. "[Continuing] to focus on the real whole foods, organic foods, wherever possible and local wherever possible," he said. 
The new owners are hoping to improve the supply chain and feature more consistent accessibility of product, rather than being well-stocked at the beginning of the week and sparser toward the end of the week, said Davis. 
They're also looking at using the Ruddy kitchen on Sunset Road to generate more food. 
When it comes to product, Davis has brought in a sort of ringer. His other partner is Yves Farges. Farges is too second generation in the food business – his parents started a fine food company in 1957, importing foods from around the world. That foundational experience drew Farges into building his own business of importing specialty foods, Qualifirst, which has grown into a country-wide wholesaler. 
"He is quite a profound name in the in the business," said Davis. "We're lucky, the Ruddy's got the Bowen connection, and obviously is based on Bowen, and we want to maintain and strengthen the tradition of the store by partnering with someone who's very much an institution in his own right."
"Our plan is to develop some more products that are high-quality and yet, we plan on being able to provide them at a better cost because we've got the ability to go directly, in some cases, to suppliers rather than using wholesale distributors," said Davis. 
Fate of the deli
The Ruddy deli that was suspended at the beginning of the pandemic could make a comeback but it's difficult with the geography of the store as it is now, said Davis. "We're trying to make some physical changes in the store. We've hired a consultant to help us organize it better, so that the flow is better."
"To make the shopping experience a little more user-friendly without taking away from [the Ruddy's] uniqueness," said James. "It's got a bit of a rustic barn, very Bowen-ish-type feel to it. [That's ] kind of sacred. We don't want that to change or go away."
"Once we've [made the physical changes]…we will attempt to bring the deli back in some sort of capacity," said Davis. "We're not there yet." 
"A lot of people come into the store, they just want to buy a coffee and a pastry or something, and if they're preventing people from coming in to purchase groceries, then that can be kind of a conflict," he said.
In the long term,  the new owners are looking toward online purchasing and having the capacity to ship unique Bowen Island products off-island. 
Bowen Island Municipality's 2019 Community Economic Development phase one report placed the Ruddy Potato as the second largest employer on the island after Doc Morgan's/Union Steamship Company. "We're aware that there are a lot of people from the island that we employ and we want to make sure that we can continue to provide them with good, interesting and challenging careers and obviously we want to develop and grow the business accordingly," said Davis. 
While James is a mainlander, Davis and his wife moved to Bowen nearly a decade ago. 
They had long lived on the North Shore and would come over for weekends or a wander. "But as we used to explore more and more on the island, we got to really like the atmosphere here," said Davis.
The couple bought out at Cowan Pt. in 2011 and in 2017, after selling the insurance business, bought the Beer and Wine Cellar. 
But while plans for the Ruddy are exciting, Davis hasn't had an easy few months. His wife, Noreen, died just days before the sale closed. "It's been a bit of a difficult time for me," he said.
From delivering groceries with his father decades ago to the Bowen businessman of today, Davis still holds onto some of those early lessons. 
"I saw the service that [my father] provided, and how he created some specialty products," said Davis. The elder grocer used to boil his own hams and developed quite a following.  
"So I can see how the specialty products [can be used to] create an awareness of the store, then driving people to the store and then obviously selling them more products.
"The service that [my father] provided was above and beyond, I think, and that's what we want to do. We want to improve and become the local brand," said Davis, acknowledging too Snug Cove General Store. "It's understood that we've both got to have our own identities, I think."
"Our plan is to become very community based and provide some really high service," said Davis. 
"We're not the type of people who are just purely interested in profit," he said. "We recognize that it is a community store and we have a sense of responsibility and we want to maintain that and be good community citizens."