World Gymnaestrada was a success!
It is so inspiring to be a part of an international event celebrating the joy of movement and gymnastics. We were once again wowed by the creativity, skills, passion, and great vibes this event embodies.
Our team Sea to Sky performances were enthusiastically received with packed audiences at all our performance venues! The crowds were amazing!
A part of our routine (the SUP-board part of our routine) was even featured on the Netherlands National News!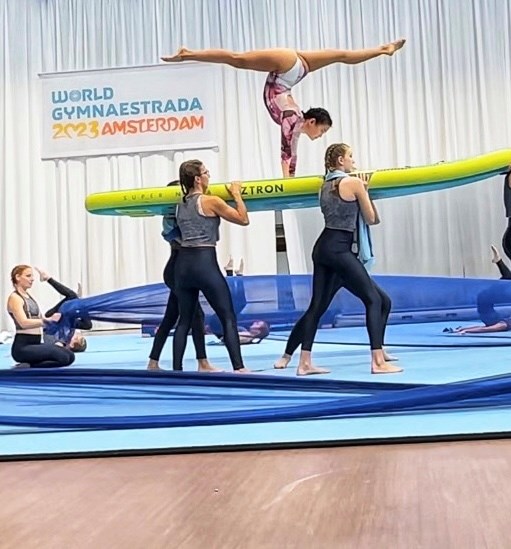 Beyond performing our routine three times and participating in the Canadian National large group routine at the Olympic Stadium, we managed to put our Canadian ponchos to the test and did some canal stand-up paddle boarding, stopping for a pizza lunch on the canal. We also went biking to check out the windmills and local historical sites and were able to watch the Canal Pride Parade.
Huge congratulations to our team and parents for our successful performances and the years of hard work it always takes to attend a World Event.
Athletes: Makayla Toews, Sophia Toews, Mischa LaRoche, Maeve Sheppard, Kiana Cooke, Olive Tourand, Nalani Moulton, Clara Patterson, Natalie Tichopad, Riley Baxendale.
Coaches/Athletes: Kasha Konaka, Callie Brougham, Lisa Brougham.
Parent Chaperones: Inga Toews, Kevin Toews, Cheryl Tourand, Joseph Cooke.
We are already looking forward to World Gymnaestrada 2027!