Bowen Island's new golf course requires no clubs. 
"You don't need to book a tee time. It's free, and it's available whenever you want," says its creator Sam Nosek. 
All one needs is a disc. 
The grand opening of Bowen's first and only disc golf course is Nov. 3. The 5.7-acre nine-hole course in Veterans Park came to fruition through sponsors, donations, grants, volunteer time and Nosek's tenacity.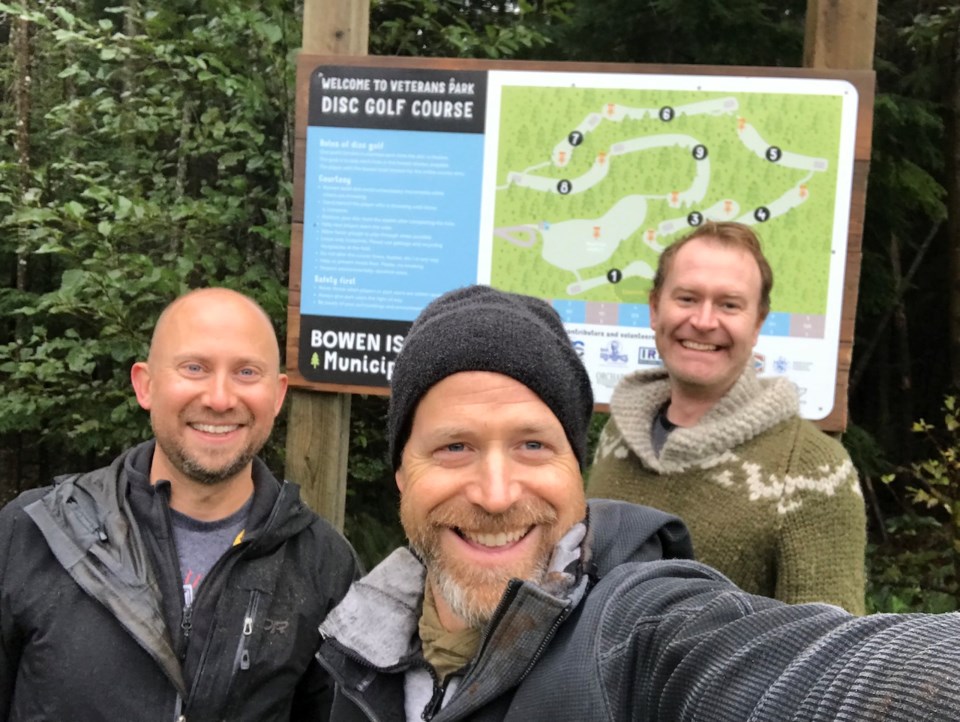 A few years back, some friends introduced the Bowen-raised Nosek to the game while he was living on the mainland. However, in 2012, he moved back to Bowen and found it to be disc deficient. 
"I just started getting into it and then we moved to the island and there was no disc golf course," he said. "I made a makeshift course around the yard but it just wasn't quite the same."
So began Nosek's mission to build Bowen a disc golf course. 
"I thought it'd be a good fit for the island," he said. 
Nosek's initial proposal was a Crippen Park course, but when that didn't work out the plan was shelved for a few years before the hills behind Bowen's other golf course beckoned. 
Council approved the current project location on the north side of the municipally owned Veterans Park in summer 2018 and volunteers got to work. Over the winter the course received funding from BIM, the Community Foundation, and Knick Knack Nook and organizations and businesses sponsored holes.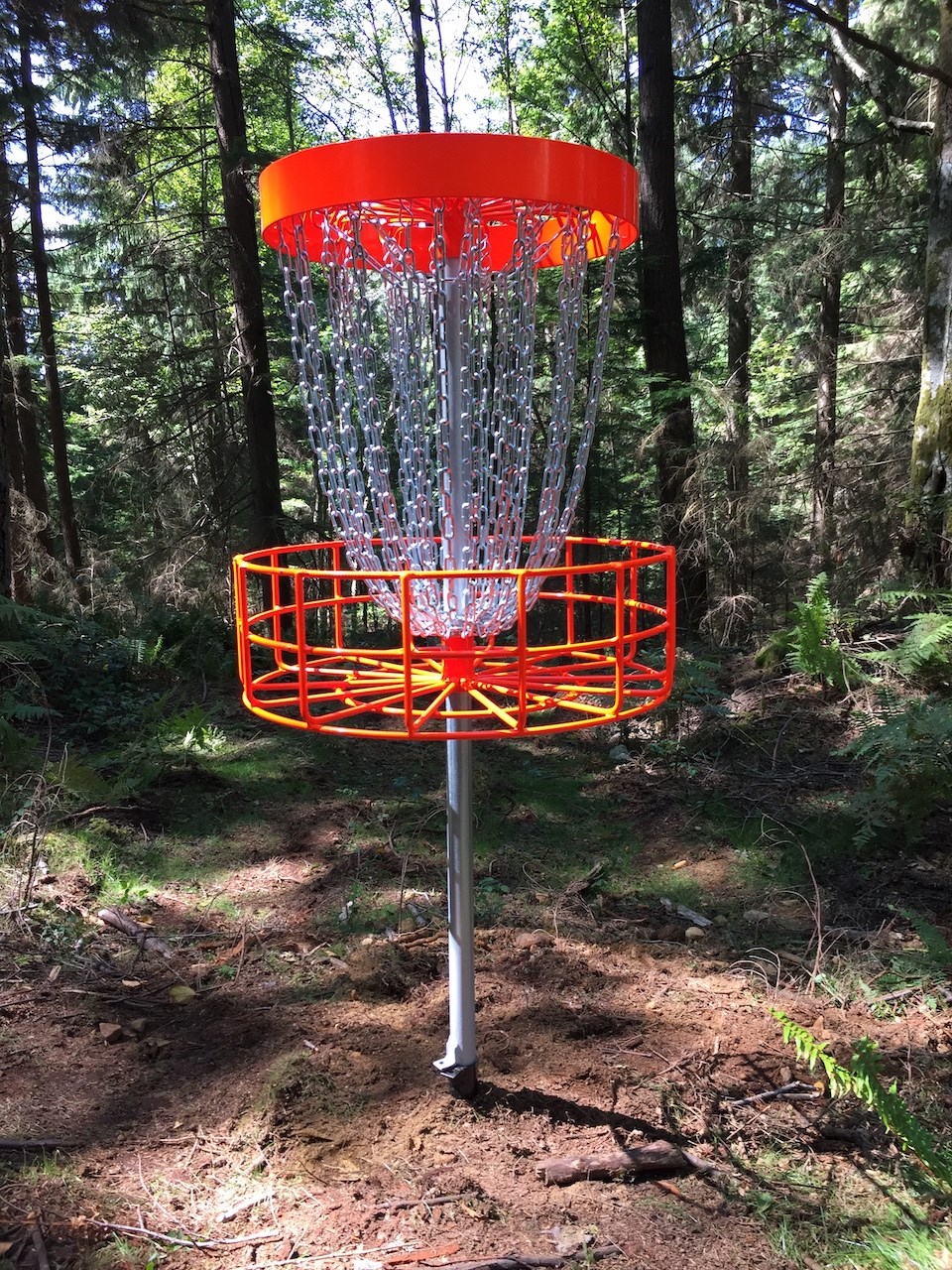 The course and holes themselves ("holes" are baskets mounted on a metal pole) were largely built through volunteer work on the part of Nosek, Tobyn Ross, Gareth Holden, Matt Ritchie, Dan Roden, Scott Bassendale, Steven Young, Bronwen Young, Jesse Milstead, Colin Mahoney and others. 
The game, played with frisbees (discs) is basically the same concept as golf: one throws the frisbee from where it landed last, trying to get the disc in the "hole" in the fewest throws. Like in the other kind of golf, there are putters and drivers, they're just discs with rims of various thickness. 
While not even officially open yet, the course has received some official recognition. 
Premier John Horgan sent a letter to Nosek in September commending the islander for his hard work creating the Veterans Park Disc Golf Course and promoting healthy outdoor education.
"As one who enjoys disc golf, I was very happy to hear of the success of your project," wrote Horgan.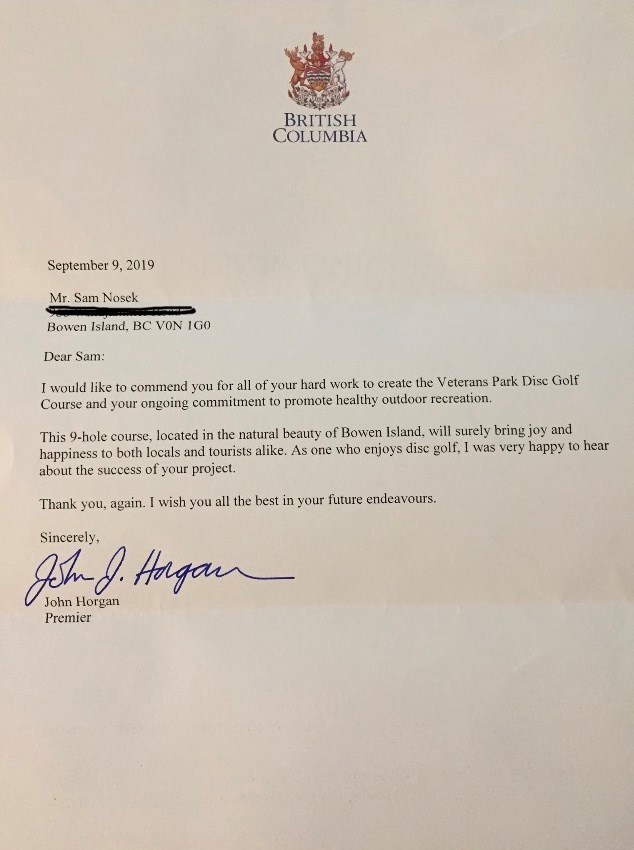 Nosek said that the letter came as a happy surprise. 
"I was really appreciative," said Nosek. "It was a nice gesture." 
For islanders who want to try their hand at disc golf, the course is fully operational. But this weekend the grand opening will have coffee, hot chocolate, cookies and discs for people to borrow if they just want to try out the game. In a nod to the municipal contribution to the course, sets of putters, mid-range and long-range drivers with the Bowen mascots will be for sale at the grand opening.
The opening starts at noon Nov. 3 and professional disc golfer Leanne Fulton will be providing lessons.