Islanders will no longer need to resort to mini-putt championships in the backyard to satisfy their golf cravings––the Bowen Island Golf Course is reopening, sort of. 
[Editor's note: the Undercurrent hasn't actually received reports of backyard mini-putt championships but would dearly like pictures if they're happening.]
The Bowen public can once again book tee times but with strict rules for COVID protection:
Hours are Wednesday and Sunday 9 a.m. to 3 p.m.  and Thursday, Friday, Saturday 9 a.m. to 5 p.m. (closed Monday, Tuesday for maintenance).
Reservations must be made online and green fees pre-purchased.
Twosomes or singles only and six-foot distance must be maintained always.
Tee times are at 15-minute intervals (again, a max. of two per tee time).
Show up within 15 minutes of tee-time, not early, as the previous golfers must be teed off before you enter the parking lot.
No playing without reservations.
The pro shop, range, practice greens, vending machines and washroom are closed. No garbage cans either.
No rentals of any kind (though you can buy balls online and they'll be waiting for you at tee-time).
No flags (a sign is posted each morning of where the holes have been cut on the greens in lieu of a flag) and ball cups are upside down (so balls rest near the surface). 

No rakes, ball washers, flags or garbage cans at the golf course and the washrooms are closed too.

No bunker rakes or ball washers and players must dispose of their own broken tees at home.
No alcohol allowed.
Leave a car's width between cars when parking.
And don't go if you're showing COVID-19 symptoms or have travelled in the last two weeks.  
Golf courses across the lower mainland are reopening with similar measures in place. 
Pro Shop manager Les Meszaros says that the Bowen course been running a two-week test of these measures with members, which has been a success. With the limited tee times and hours, capacity's been at 90 to a hundred per cent and golfers have self-enforced the rules.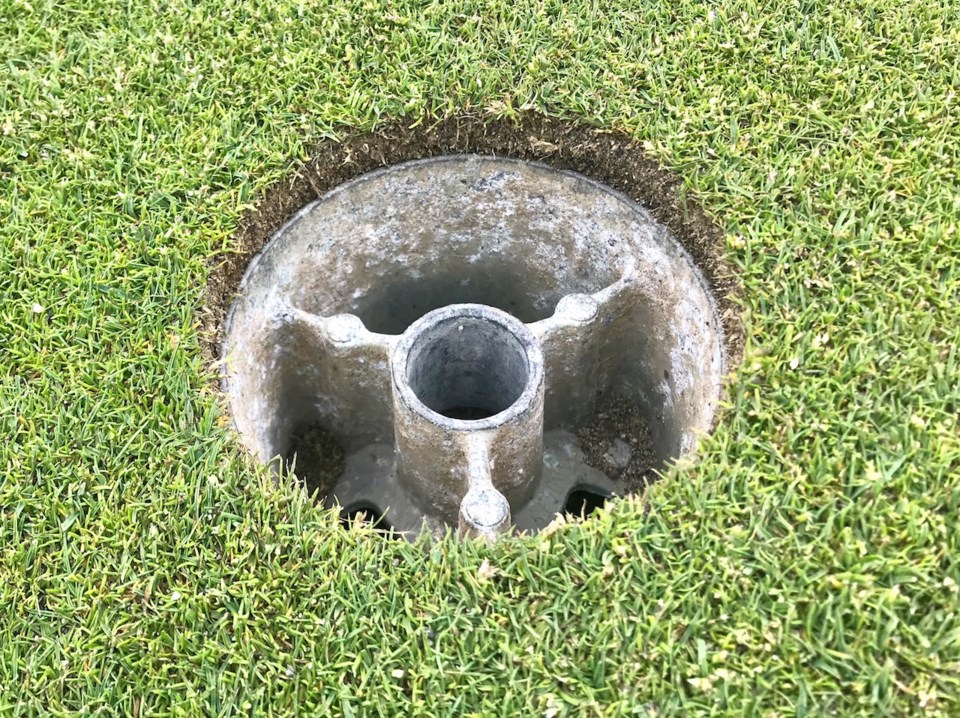 "People took it seriously," said Meszaros. "They understood what we're trying to do."
Golfers noted that with so few people on the course (eight in an hour) it's like having your own private golf course, Meszaros relayed. While some have asked about raising the number of people allowed in a tee time, Meszaros said they're taking it slow and going with what they know works. 
"Could we have more people on here? Probably, but I'm in no hurry," said Meszaros. "We'll get to the right time with the right number of people."
Meszaros said that Vancouver Coastal Health approved golf course operations under their current COVID rules. 
Whereas there's usually a golf course staff of eight to 10 people, it's been just the superintendent Frank Griffiths and Meszaros running the course, working seven days a week. However, Meszaros did get funding to hire a couple of students for the summer season––a season that's sure to look different from any before it. Golf tournaments are cancelled and the clubhouse shuttered for now. 
"We just adapt and adjust and try to figure out how we keep working," said Meszaros. 
Also to note, the course is opening to islanders only. "This isn't about tourism," said Meszaros.  "This is about providing an outlet for people to do something in a really nice, safe way."