The sixth annual Handloggers Half Marathon brought more than 130 runners to the trails of Bowen Island Aug. 31, making it the largest race to date. The event kicked off with the drop of an axe and good tunes. Enthusiastic spectators showed up in droves to support participants as they set out to run up, down and around some of Bowen's best and most challenging trails. There were 112 racers in the open category and seven relay teams of three.
While the event brought a majority of runners from off-island, including the North Shore, Squamish, Vancouver, Coquitlam, Canmore, Courtenay, Brazil, England and even Australia, it was nice to see a strong contingent of Bowen Islanders. 
Thirty-five islanders partook in this year's race. This increase in local runners really livened up the trails as families cheered from the sidelines. Kids with musical instruments and big smiles created music in the forest, while bells ringing made for an encouraging atmosphere at some of the most challenging stages of the race.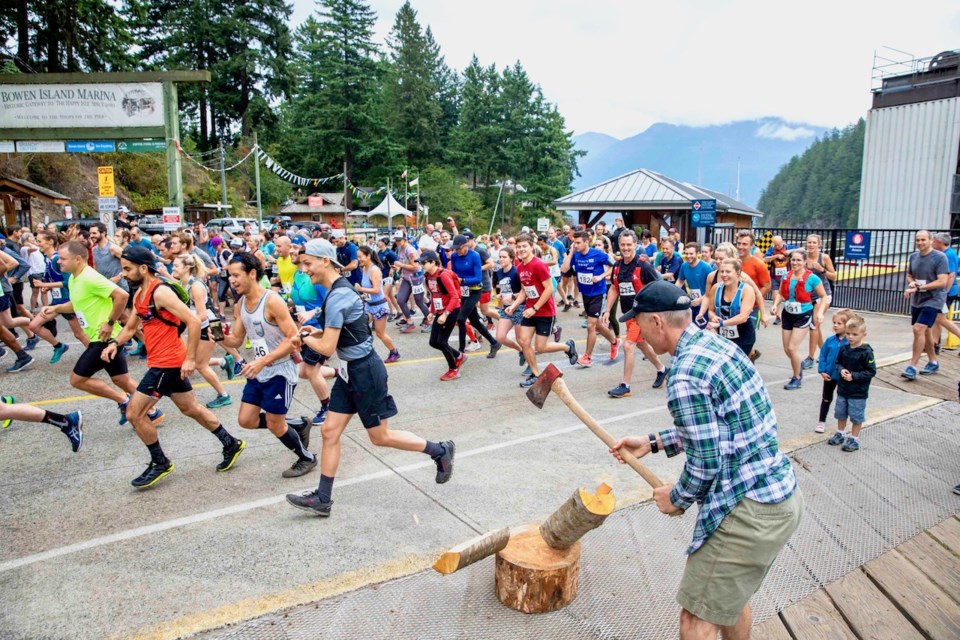 The course is certainly not for the faint of heart, taking runners from the ferry dock in the Cove, through Crippen Memorial Gardens and the Meadow Trails out to and around Killarney Lake. The course is then routed up and around the north side of Mount Gardner on the Handloggers Trail, returning back to the Cove along the Mid-island Trail via Grafton Lake, through Camp Bow-Isle, back through Crippen Park, to Deep Bay, and finally to the stunning finish on the causeway. 
All finishers earned something a little extra special this year as they crossed the finish line: a handcrafted Cocoa West chocolate bar with a customized Handloggers Half Marathon finishers label. In addition to the chocolate awards and other prize donations, the top finishers also earned custom-made axe-head medallions crafted with Bowen-sourced arbutus wood by local artist Bob Schultz. The effort and energy contributed by all organizers, families, friends and the community volunteers is so greatly appreciated in making the event a success.
The event would not be possible without the amazing support of our sponsors and volunteers. We sincerely thank Artisan Eats and the Snug, The Village Baker, The Ruddy Potato, McTaggart Water, Cocoa West, The Bowen Island Pub, Edward Jones, Bowen Island Massage Therapy, Positively Fit, Irly Bird Building Centre, Bowen Events & Rentals, Bowen Island Fire Department, Gary Anderson, Kintec, Jon Hoerhauf of Arcteryx, Downunder Travel, and Lambert Intellectual Property Law for their kind donations of equipment, prizes, financial support and services.
We would also like to thank our amazing team of trail marshals, aid station support, medical support persons, Bruce Steele and the Bowen ECT radio team, traffic marshals, registration support, set up and take down support, course marking, food preparation, photography, RMT services at the finish, and race timing and officiating. These include the following: Sue and Gerry Hurn, Judith Maclaren, Brenda Louie, Sue Sinke, Lucy White, The Cormier Family (Malcolm, Harrison, Karen and Chris), Robbie Watson and Taylor, Susanne Herrington and Deanna Adams, Courtni McGillivray, Jana Ogdenova, Andy Hoppenrath, Ted Benson, Mateo Everitt, Helena Hoppenrath, Lissy Allan, Reidun Van Kervel, Jane Osborne, Jenny and Tony Lambert, Ali Osborne, Ryan Lecluyse, Nicole Winstone, Julie van de Valk, Kim Howden and Mary McDonagh, Bev and Richard Attfield, Hilary and Robin Butler, Jewall Maxwell and Les, Jes and Scott Slater, Aiden and Alex of Camp Bowen, and Bob Schultz.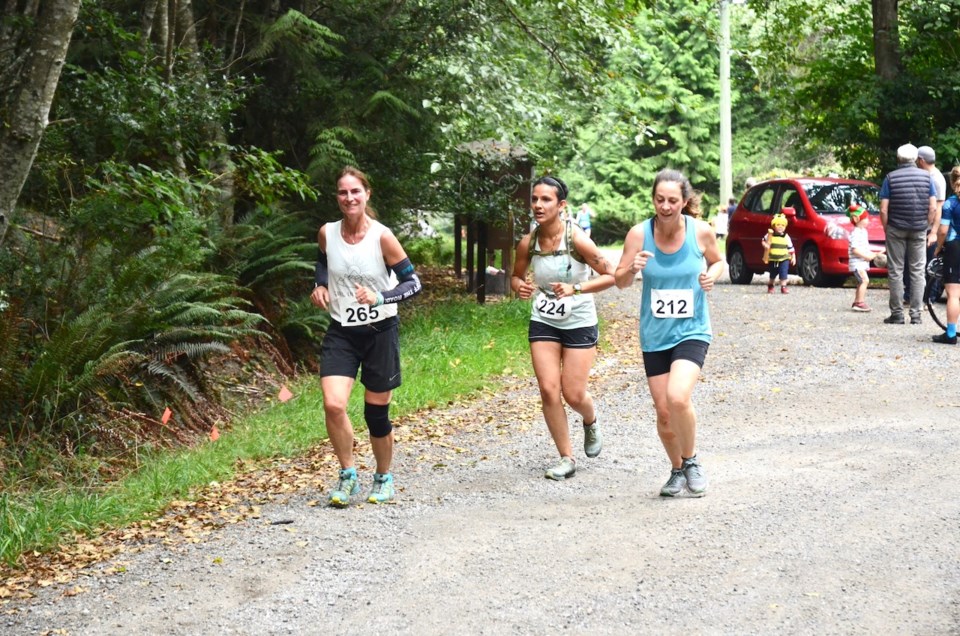 Approximately $4000 was raised this year towards the Bowen Island Trail Society and Akili Preparatory School.
We would like to thank everyone for coming out and joining the fun this past weekend as we've watched this event go from a few dozen keeners to competitors from afar
The top three women: Laurel Booker 2:05:06, Nicki Seaborn 2:07:25, Laura Wright 2:20:17. The top three men: Matthew Dorton 1:44:47, Ryan Johnson 1:45:35, Charles Perrot-Minot 1:48:31. Top three Bowen Island men: Colin Kerr 1:52:30, Ben Hart 2:01:12, Rob Leadley 2:14:51. Top three Bowen Island Females: Jo Quarry 2:29:48, Alicia Hoppenrath 2:30:04, Christine Hardie 2:32:15. Top relay team: Alexia Jeangrand, Benjamin Vaughan and Hannah Richardson 2:24:04. Top Masters male and female: Scott Prager 2:06:53 and Diana Helen Dubelaar 2:38:05 Youngest runner: Wyatt Edwards (15) 2:44:14
Well done to you all.