"This is my happy place," Harry Green says while standing on a grass pitch with a soccer ball in hand. "When I'm out on the field, life just stands still."
He's speaking into a video camera. The man holding the camera is Tim Hardy, a professional filmmaker who has credits directing, shooting and producing content for the likes of the Discovery Channel and HGTV. This is different though.
Harry and Tim met a decade ago when Harry started coaching Tim's son Ben in soccer. They grew close, and got a whole lot closer four years ago when Harry came to the filmmaker with a request.
"He came knocking on my door, tears in his eyes, saying that he'd been diagnosed with cancer and wanted me to make a team video," says Tim. "A video for his team, not knowing how long he was going to live. Totally selfless – he didn't want me to document his death, he didn't want me to document his life, he wanted to make sure that these kids had a memory of the season."
Tim agreed, but as soon as he started filming he realized that this was not going to be an ordinary team video of quick pep talks, spectacular saves and big goals. That wasn't the story. The story was Harry.
"He selflessly didn't want this to be a video about himself, but my hidden motivation was to show the community that didn't know him just how great he was, his approach to coaching," says Tim. He pinned a microphone on Harry, backed away and watched in awe as one season turned into three, as boys turned into young men all the while guided by a coach who always put the players first.
"He wears his heart on his sleeve and he's truly motivated by making these players better human beings first and better soccer players second," says Tim. "As a professional (filmmaker) it was wonderful because he was unaware of the camera and unaware of the microphone on him. He just kind of forgot it was there, not knowing my intent, so that allowed me to get a true sense of him. I loved it because I got this kind of unique perspective into who he is and how he works. I get to hear him mutter to himself, and whisper to the kids. He walks over to the parents on the sidelines and chats with them about their lives, encourages the kids and praises the kids to the parents. I get to hear all that. I'm sitting 50 yards away watching and listening in. It was amazing." 
The connection between the players and the coach shines through. Tim asked this group of teenaged boys – a demographic not known for sincerity and introspection – if any of them wanted to record a message about Harry, and the response was overwhelming.
"There was a lineup," says Tim. "Every single one of them wanted to say how great this guy is, and just the impact that he has had on them personally and as soccer players. … They were genuine. Many of these kids play other sports with other coaches. Harry is not their first coach, not their only coach, so these kids, the common thread I had between all of them was that they truly believed that he loved them and wanted them to become amazing human beings first and excellent soccer players second."
This shines through in the video.
"I think he really, really cares about his players," says player Matthew Campbell. "That's something special."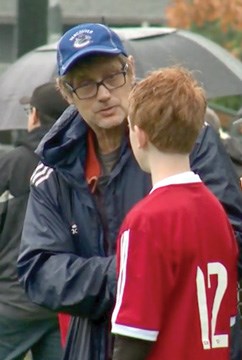 "He's not your typical soccer coach," adds Ben Hardy, Tim's son. "He's like a friend to the players and the parents. He's definitely a different type of guy, he's not like anybody else you'll ever meet. He makes soccer even more fun than it already is. I wouldn't have played this much soccer if it wasn't for Harry."     
On March 15 of this year Harry beamed as he was honoured at the North Shore Sport Awards. He was given the Spirit of Sport Award for his coaching with the North Vancouver Football Club as well as a tournament he created.
"The club used to put on a jamboree at the end of the year and bring all the teams in and have a day of short games," says David Porter, a fellow soccer coach who met Harry through coaching his son Curtis. "For whatever reason they stopped doing it, and so Harry took it upon himself."
The event the coach created, which simply became known as Harry's Tournament, was geared around getting as many players involved as possible in a year-end celebration.
"If your team wasn't going, it didn't matter," says Porter. "You could come and catch on with a team that was on the field. And if a team was short players, somebody who had just come off the field could fill in. You had a mishmash of teams and players, and it was great."
It wasn't about winning, says Porter. It was about playing.
"He truly had the players' interest at heart. … There was a good vibe to it. It was very informal, very impromptu and it was pretty much what it should have been."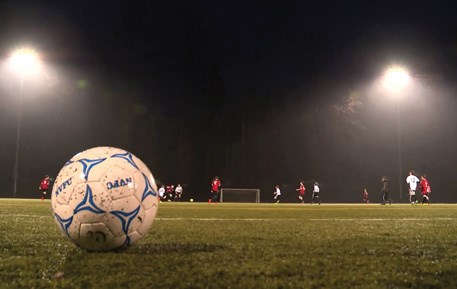 It wasn't just the tournament that put the players above all else. That was Harry's whole philosophy.
"I think coaches today feel like perhaps the best way to get through to a kid is to instruct and to point out faults and weaknesses. Harry did the opposite," says Tim. "He started and ended with encouragement. When you listen to him on the sidelines it's praising the kids for what they're doing well and privately pulling them aside to tell them what they can improve. … There are so many negative stories you read about. Soccer moms and crazy hockey dads, intense coaches that forget about the fun and the joy of sports. I just love the fact that he was able to provide my kid, and hundreds of other kids on the North Shore, a true sense of what sport is all about."
About six months ago Tim and Harry met to record the final monologue for the video. Harry had just learned that his cancer was back, worse than ever. Sitting again on a soccer field, Harry looks much more frail than the man he was when Tim started filming, racing around the field in scrimmages with his players. That was Harry's choice, says Tim.
"Harry was well into chemotherapy and radiation at the time and did not look well. He has this signature hair, this amazing hair, and all of a sudden does this chemo and radiation and the hair is falling out, he's lost a ton of weight. He arrived to shoot that final interview with me and he pulled off his toque – I had assumed that he was going to keep it on to hide the hair loss and the signs of the sickness, but it was quite the opposite. He wanted to take it off and show people, 'Hey, this is who I am, this is what I'm going through. I want to be real.' There was no hiding."
Harry opens his statement by calling himself the "most blessed and luckiest man in the world" because of all the support he's received from the community. He talks about his love for his family, how proud he is of his son Curtis and daughter Kaylia, how lucky he is to have his wife Christine.
There's a message for the players and their parents as well – the coach still coaching.
"It's unfortunate what we do sometimes to a lot of kids," he says. "They have so much pressure these days trying to find their way. If I could make one smile and make one come out to practice instead of spending their time in front of a computer, to me I've done my job. That's what's important to me. But I would like to ask the parents to spend more time with their kids and being able to talk to them."
Life can change in a minute, he says. He knows better than anyone.
"If this is my last message, you're the best," he says to end the video message. It's not clear exactly who he is speaking to at that moment. I like to think he is speaking to all of us.
"See you on the field again sometime soon buddy," he says.
Harry Green passed away on Monday, April 23.
Thanks to him, there's a new generation of North Shore players who have grown into young men who all see the soccer field the same way Harry did. It's their happy place.
• • •
A Celebration of Life for Harry Green has been planned for June 16. Location and details will be posted at facebook.com/coachharrygreen.
To see Tim Hardy's video visit vimeo.com/timghardy/coachharry.