What a difference a year makes.
Bowen Island Golf Club's annual Community Challenge Golf Tournament on May 18 was a sold-out event again this year. Armed with their golf sticks, teams representing Cowan Point/Fairweather, Valley/Sunset/Josephine, Tunstall Bay/Sealeigh Park, Bowen Bay/Bluewater, Mt. Gardner/Woods Rd., Cates Hill/Valhalla, Snug Cove/Miller's Landing, Eagle Cliff, Hood Point, and Hood Point West fought for neighbourhood bragging rights in a 'mixed scramble' format. 
The 2019 winners of the Gwyneth Rogers Community Challenge Trophy, with a net score of 24, are the team from Cates Hill / Valhalla: Shane Fitzpatrick, Alice Jennings, Terry Boss, and Michael Cornelissen.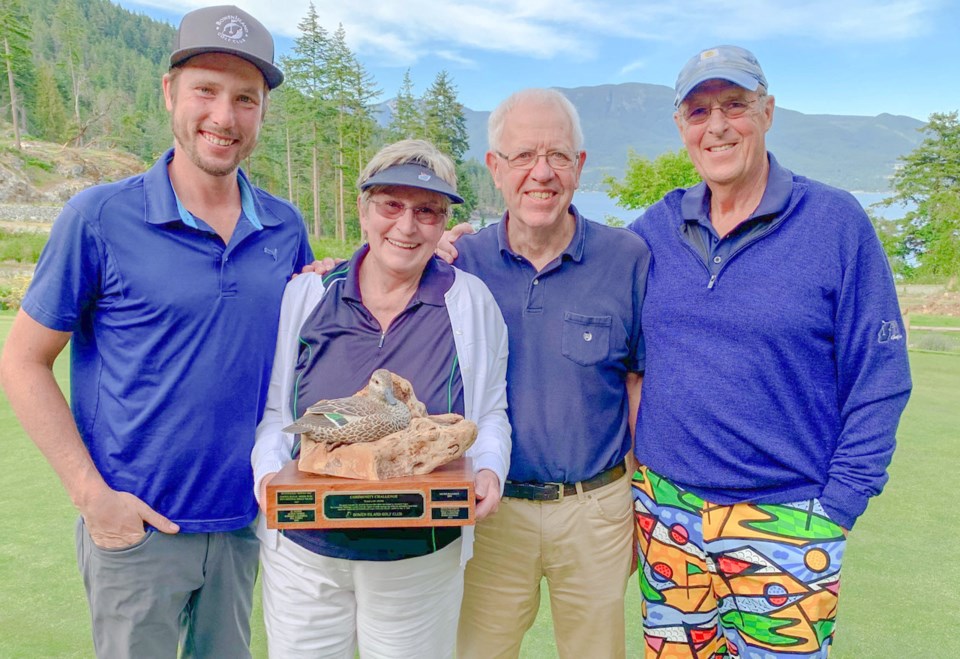 Tied for first place but losing by an arcane scoring trick called retrogression (performed by the club's local shaman Peter Clarke) was the team of Rich Anderson, Will Anderson, Kristina Pearkes and Shaun Kaiser representing Sealeigh Park/Tunstall Bay. 
And there were prizes for individual skills: women's closest-to-the-pin was won by Melissa Roocroft; women's long drive by Lisa Avery; men's closest-to-the-pin by Shane Fitzpatrick; men's long drive by Ross McCorquodale. 
The Bruce and Dorene Russell Community Spirit Award for the neighbourhood with the highest level of participation goes to Cowan Point/Fairweather, which fielded five teams this year.
Setting what may be a club record for gross score in this event was the team of Colleen O'Neill, Peter Moir, Rob Purdy, and Keith Burrell from Sealeigh Park/Tunstall Bay who shot an impressive seven under par (28) without handicaps factored in.  
As usual, the golf was a whole lot of fun. But what was different this year was the addition of Chef Jamie Smith's "Montgomery's Grill," Bowen's newest bar/restaurant. While not officially open until May 23 (Thursday to Sunday, noon to 8 p.m.), Chef Jamie catered a fabulous lasagna dinner from his new pond-side outdoor grill.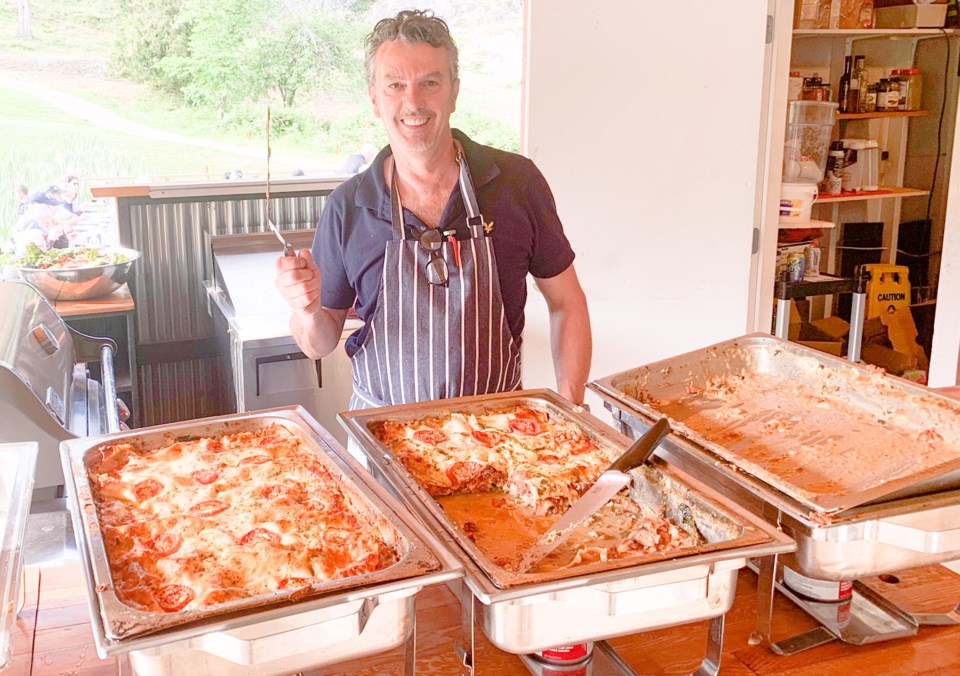 The Bowen Island Golf Club lost its restaurant more than a year ago due to a shortage of available employees caused by a lack of housing for workers, by now a well-known Bowen scenario. But thanks to the efforts of our new Pro Shop manager and neighbour Les Meszaros, Islander and renowned chef Jamie Smith is bringing a new dining experience to the golf club and the south shore. And now the future's so bright, we have to wear shades - while we eat and drink on the best deck and patio on the island. Join us! (No golfing required.)
Congratulations to the winners of the 2019 Community Challenge, and many thanks to all who participated this year.