It was about a month ago that it fully hit me just how important Dr. Bonnie Henry has been to our province during the COVID-19 pandemic.
It was obvious through the early part of the pandemic that she was kind and compassionate, brilliant and brave, but the full force of her power didn't hit me until a rare moment when she was not in control.
It was a press conference announcing, for the first time, concrete plans for the reopening of the province. Nearly two months earlier, the COVID concern had become a full blown COVID crisis basically overnight, shutting down the entire province, country and much of the world. There was a lot of anticipation about this press conference and the reopening plan.
For two months we had been given daily updates from Dr. Henry and Health Minister Adrian Dix about coronavirus outbreaks, drastic measures to curb the spread of the virus along with mournful tallies of lives taken by COVID-19. Then, at last, a faint light at the end of the tunnel. This media update promised not to be instructions on how to stay alive, but a plan for how we could start living again.
Except, it wasn't the reassuring, comforting, exciting press conference I was expecting. I didn't quite understand immediately why, but as I processed that particular media update, it became clear. The reason it was odd for me was that Dr. Henry wasn't the lead voice, even though she was there on the stage. She was on one side, Dix was on the other (he's been great through all of this too), and in the middle was the man who did most of the talking: Premier John Horgan.
I don't have strong feelings one way or another for John Horgan. He seems a decent and caring enough fellow, and I appreciate his unwavering commitment to dad jokes.
But he's not a public health expert, he's a politician, and in that press conference he started talking about, just for a few moments, what a remarkable job his cabinet had done in coming together and formulating plans and this and that. And I don't begrudge a politician talking like a politician, but also, at that very mid-pandemic moment, I didn't care one tiny bit about a politician congratulating other politicians.
After that press conference I spoke to some friends and colleagues and many were also confused about what we'd just seen. There were questions. That Sunday was Mother's Day. Should we hug our moms or not? Horgan had a folksy answer to the question, but we didn't want folksy, we wanted facts. Most of all, we wanted Bonnie.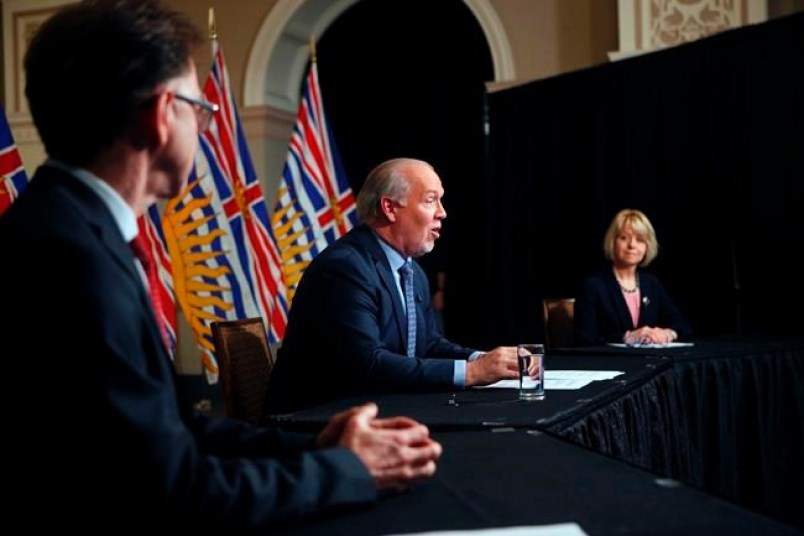 I didn't fully grasp that feeling until the next day, when Dr. Henry was once again centre stage, leading the information session. The answers were clear, my anxiety receded. That one voice is what I needed to hear.
Credit should go to Horgan and the B.C. government – they, for the most part, have let Henry be the face of the pandemic response in almost every regard. So many other places across the country and around the world have had their message confused by multiple voices coming at them, often with multiple agendas at play. In the United States, for instance, highly qualified public health experts have shared the stage with a politician who has, among many other baffling things, mused about treating COVID-19 by the "injection, inside" of "disinfectant," a treatment that "would do a tremendous number on the lungs." Yikes.
I feel bad even mentioning President Orange Supremacy in the same sentence as Dr. Bonnie Henry, because they are basically the perfect examples of someone who scores 0% on a test and someone who didn't just ace the test, but also led study groups and tutorials so that everyone else in her class could pass, with honours, as well.
The proof is in the numbers. By any measure, B.C. has been remarkably successful in suppressing COVID-19. As of Friday our death rate was 3.34 per 100,000 people, in comparison to the rest of Canada which has a rate of 20.45 per 100,000, or the United States, with a rate of 34.14. And our death rate is set to drop – we had no new deaths over the entire weekend.
There are many reasons for this, but I am convinced that Dr. Henry's calm, kind and concise leadership is No. 1. Contrast that with Ontario, where cases have spiked again, there were dozens of deaths in recent days, and people are griping about the confusing way information is getting to the public.
Not here. Our one voice has been remarkably consistent and remarkably inspiring. The world has noticed – in the last week both the Toronto Star and New York Times have run glowing features about our Bonnie.
She deserves every word of praise. This past weekend I played physically distant but socially awesome baseball in a park with friends, then a couple of days later I hugged my mom and dad for the first time since March. My little bubble is slowly and safely expanding, and I felt incredible happiness, and confidence, doing those things because of the way Dr. Henry led us all here. This voyage is far from over, but we can all feel safe knowing that our captain is literally one of the best in the world.
We are spoiled by Dr. Henry, and it's hard to fathom anyone speaking an ill word of her.
Look around you and see how our province is healing, faster than most any other place in the world. That is leadership.
That is Dr. Henry, and I will never forget what she has done for us.
Andy Prest is sports editor for the North Shore News. His humour/lifestyle column runs biweekly. aprest@nsnews.com