I have been encouraged, and even inspired, over the years by the high level of awareness and activism of the citizens of Bowen Island on environmental sustainability and climate issues – more than I see on that other island, Manhattan, where I have lived. Many New Yorkers still don't even separate out organic waste or recycle as seriously as on Bowen.
I therefore write to report on outcomes from the recent UN Climate Conference in Glasgow, Scotland (the 26th 'Conference of the Parties' or 'COP26') with implications for Bowen, British Columbia and Canada.
My overall assessment of COP26 is that, relative to where we were, the world community made significant strides. But relative to where we need to get to, agreements at this COP will not protect our planet from unacceptably severe climate impacts.
Who can forget how last June 27 the town of Lytton, BC registered the highest temperature in the history of Canada – and a few days later burned to the ground due to a wildfire? And the countless other examples of devastating fires, floods, droughts and extreme weather events we witnessed around the world last summer. Now, right after COP26, destructive floods in BC are causing enormous suffering. And this disruption is happening at our current temperature of 1.1° Celsius warmer than pre-industrial times. Imagine what the 2.4° future we are headed towards will bring?
COP26 was a tale of two cities, a story of a glass half empty and half full.
These annual UN Climate Conferences feature both multi-nation negotiations and associated civil society engagement. In COP26, the dynamism, creativity and impact of civil society activities – including powerful new partnerships, commitments and announcements, in and outside the Glasgow negotiating area – was beyond anything I have seen before and was amplified by new opportunities for virtual participation and social media outreach. The voices of youth, women and Indigenous peoples – as well as religious leaders and faith communities – stood out and were stronger than ever in Glasgow.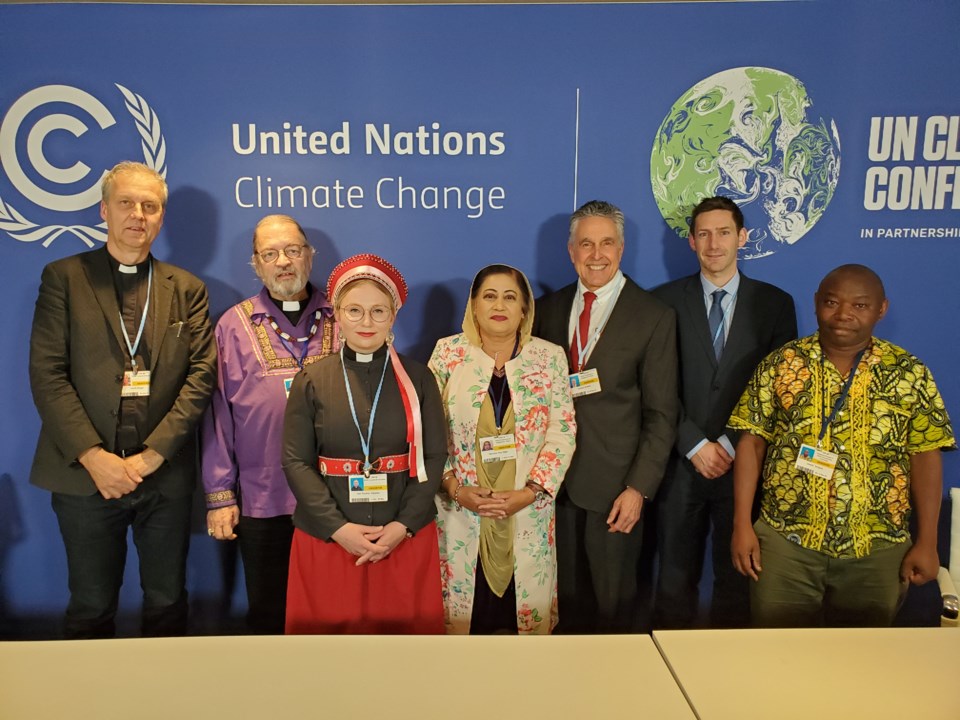 Progress made
Countries (including Canada in each case), companies and investors announced major plans to shift away from coal power, dramatically cut methane emissions, halt forest loss and align trillions of dollars of private investments to net-zero emissions.
All 197 governments at COP26 re-asserted and strengthened a global commitment to keeping temperature rise within 1.5 degrees Celsius above pre-industrial levels. This agreement is critically important even though the sum total of national climate action promised to date takes us to a 2.4° C rise – a disastrous future that must be avoided at all costs. COP26 bent the curve in the right direction but by no means far enough.
In Glasgow, the first-ever references appeared in a COP decision about fossil fuels (as in "phasing down" coal power and phasing out oil and gas subsidies). This, I hope, signals the death knell of our fossil fuel-based economy. My former organization, the UN Development Program, estimates that fossil fuel subsidies are at a level of $423 billion/year – an amount that would go a long way to help vulnerable low-income countries actually address climate change. Instead, as a negotiator from a Pacific island lamented, "fossil fuel subsidies are actually paying for the destruction of our country." How perverse that Canada and many other nations are subsidizing the very industry that is causing the climate-induced suffering that we are seeing all around us? At last, this dirty little secret of the outsized damage caused by fossil fuels and their subsidies is out in the open.
This COP decision has serious implications for Canada's energy policy and certainly argues for phasing out the tar sands industry as quickly as possible for the sake of all life on the planet.
This new global commitment to move away from fossil fuels forecasts a short lifespan for other Canadian – and BC – industries that are highly subsidized and polluting, such as proposed liquified natural gas (LNG) projects in Howe Sound and elsewhere and the forest biomass industry that burns wood for electricity – neither of which should be considered as a climate solution.
I believe that Canada – and BC itself – should join with Denmark, Costa Rica and many other governments and stakeholders in the Beyond Oil & Gas Alliance (BOGA) to facilitate the managed phase-out of oil and gas production.
Another important advance at COP 26 was the agreement that all countries should report again next year on their climate plans instead of waiting for the five years stipulated in the Paris Climate Agreement. Since this 2020-2030 decade is truly the make-or-break period for climate action, we can't wait until it is half over to ratchet up collective commitments – and Canada should take a lead in increasing ambition.
The call for doubling of industrialized country financing to developing countries for adaptation – to about $40 billion/year by 2025 from 2019 levels – was also a positive. Canada and the U.S. announced their first-ever contributions to the Adaptation Fund. Developing countries' access to finance and technology was improved slightly but not nearly enough to empower low-income countries to participate fully in the clean energy transition or protect vulnerable people on the frontlines of climate hazard and harm.
I was particularly encouraged by the Glasgow Leaders Pledge on Forests and Land Use. It was agreed by 137 countries, including Canada, to halt and reverse deforestation and land degradation by 2030. It was underpinned by $19 billion in public and private funds, including $1.9 billion to support Indigenous peoples. I am personally gratified that this pledge – which covers more than 90 per cent of the world's forests – builds on, and goes far beyond, the New York Declaration on Forests that I coordinated in the 2014 UN Secretary General's Climate Summit.
This Forest Pledge makes a strong case for BC to immediately stop all cutting of Old Growth forests. I believe it also argues for Bowen Island to support the creation of a substantial new park on the remaining Cape lands, and to prevent logging on Bowen's Crown lands.
The federal and BC governments should use this Forest Pledge as an incentive to transition away from extractive practices towards more sustainable economic activities. And let's remember that removal of forests increases the frequency and intensity of landslides and flooding and is surely linked to the tragic flooding events of the past few weeks.
In fact, my time in Glasgow began with a very unexpected call at 2:30 am on the first day of the COP from the BBC asking for a comment on this Forest Pledge for their live broadcast. I strongly endorsed the commitment by Canada and 196 other countries, explaining that there is no way to reach the Paris Climate goals without protecting and restoring tropical and other forests, but cautioning that now the countries and companies need to actually keep these promises.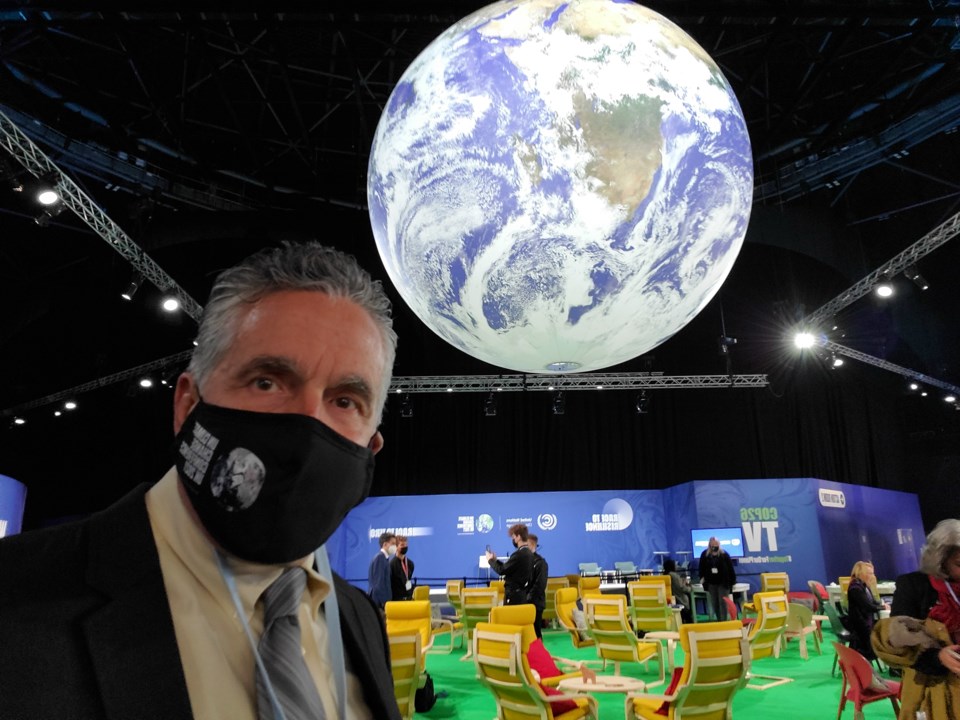 What didn't get accomplished
Although we saw the first-ever reference to "loss and damage" (referring to the call for compensation for the destruction of lives and livelihoods already caused by climate change), it was disappointing that in spite of industrialized countries' historic responsibility for the climate crisis there were no firm commitments nor a mechanism to channel those funds to developing countries. The UN High Commissioner for Refugees reports that a person every second is already being displaced by extreme weather, driving the immigration crisis, too.
Overall, countries' announcements emphasized "net-zero emissions by 2050" (a necessary component of reaching a 1.5 C limit) but were light on concrete action in the near term.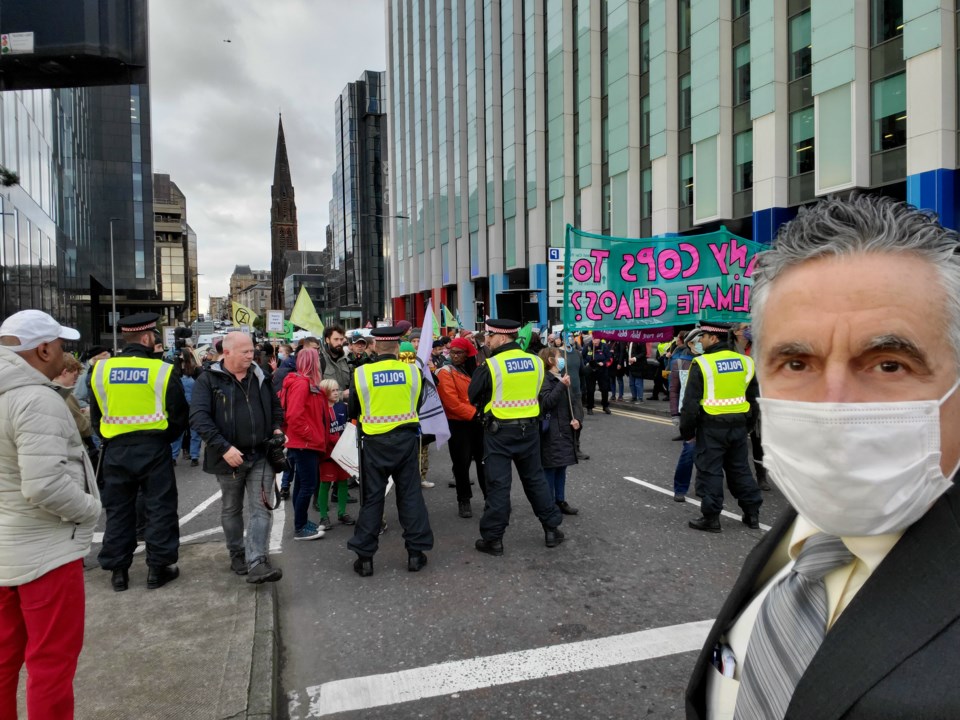 Next steps
Canada and other countries need to be followed up and supported to deliver on all their commitments – including the significant ones on forest and land use, on methane, on coal – as well as their pledges to fund adaptation measures in developing countries. Industrialized countries need to be more forthcoming with finance for climate change action since dealing with the symptoms rather than the cause of climate change is already extraordinarily costly. To give one example, a response to a single flooding event this year in Germany is costing $30 billion.
All industrialized countries need to push for the phasing out of coal and of oil and gas subsidies and a transition to clean energy, domestically and internationally. The trillions of dollars spent on propping up polluting technology can be directed to stimulate growth, innovation and health. This may be particularly challenging for Canada given its extensive tar sand, LNG and forest bioenergy initiatives that can't be part of the future.
British Columbia should be rightfully proud of its success – environmentally and economically – and global leadership in putting a price on carbon emissions with its innovative and effective revenue-neutral carbon tax. It's the first North American jurisdiction to implement such a tax. Establishing a carbon tax everywhere is urgently needed and BC offers a viable model for states and countries all over the world to follow.
On the other hand, Canada, and BC in particular, really need to get serious about stopping the loss of the last one per cent of Old Growth! This is long overdue.
Since Canada is part of that group of countries that comprise 12 per cent of the world's population but are responsible for 50 per cent of all greenhouse gas emissions, Canada should provide thought leadership and funding for adaptation, loss and damage.
And since Canada and the U.S. have the same sky-high levels of per capita greenhouse gas emissions (14.2 tons CO2/per person compared to India's 1.8 tons), Canadians need to actively reduce its carbon footprint. Reducing consumption of meat and other animal products is an important action each of us should take.
Religious leaders were particularly active and influential at COP26, a sector I have focused on over the past four years through the Interfaith Rainforest Initiative (www.interfaithrainforest.org.) In fact, the event I organized in Glasgow highlighted evidence of an exciting and historic new cooperation between religious leaders of all faiths and Indigenous leaders from all regions – including Canada – to protect forests and Indigenous peoples' rights. The event entitled "Making Peace with Nature: Heeding the Call of Indigenous Peoples" can be found on YouTube. This kind of reconciliation between religious and Indigenous leaders must continue.
Personally, it was exciting to be in Glasgow, just 50 miles from where my father was born and where our McNeill ancestors came from. I was also intrigued to chance upon Glasgow's Fossil Grove – remnants of one of the oldest forests on earth, at 330 million years old. How ironic that these forests were the source of the coal in the Glasgow region that sparked and drove the industrial revolution that created the climate crisis we have today! It was somehow appropriate that Glasgow would be the site where plans were made for a future of clean energy and healthy ecosystems.
It is clear that the focus must now urgently be all about implementation, follow-up and follow-through on everything agreed in Glasgow. Significantly, the timeframe of the COP26 commitments is by necessity short and within the "watch" of mayors, parliamentarians and CEOs so there is a greater chance of accountability than under the previous longer-term goals.
In the meantime, Mother Nature will keep reminding us of the urgency of this task and politicians, at their peril, will oppose or delay this agenda.
So to ensure we have a chance to avert the climate catastrophe we are still headed toward, Bowen citizens will need to continue their progressive tradition of walking the talk and exerting strong political pressure at all levels.
Charles McNeill is a senior advisor on forests and climate with the UN Environment Program. He lives on Bowen Island.