Behind the strength of the McIntosh apple, Christine Hardie has created a cider that is captivating tastebuds – and claiming awards – around the globe.
Sip & Tell, concocted by Hardie last year, is fresh off a Bronze medal finish at the Portland International Cider Cup in May. It's a single varietal, which means one type of apple is used. In Sip & Tell's case, this is the McIntosh. "With that particular cider you really get the nose of fresh McIntosh apples, which is really nice," says Hardie.
"With that particular cider you really get the nose of fresh McIntosh apples, which is really nice."
"That smell brings a lot of childhood memories for people," she adds, saying people have triggered memories of their childhood lunchboxes.
Hardie says she's a fan of the Portland competition for its rigorous selection process, including trained judges, blind taste testing, and 240 different entries. "I like that it's quite strict… and there's a lot of interesting categories as well," says Hardie.
Sip & Tell's category was Single Varietal Cider, under the dessert/culinary apples classification. This was one of the more popular categories, with some significant competition. Judges commented Riley's entry featured "aroma notes were rhubarb, green apple, and pear. Overall, dry, green apple, clean balanced cider."
"It was really neat to medal with some really big cideries from the Pacific Northwest," says Hardie. "Seattle Cider Company won the gold, so it's neat to be even in the running with some of those bigger guys. It was awesome."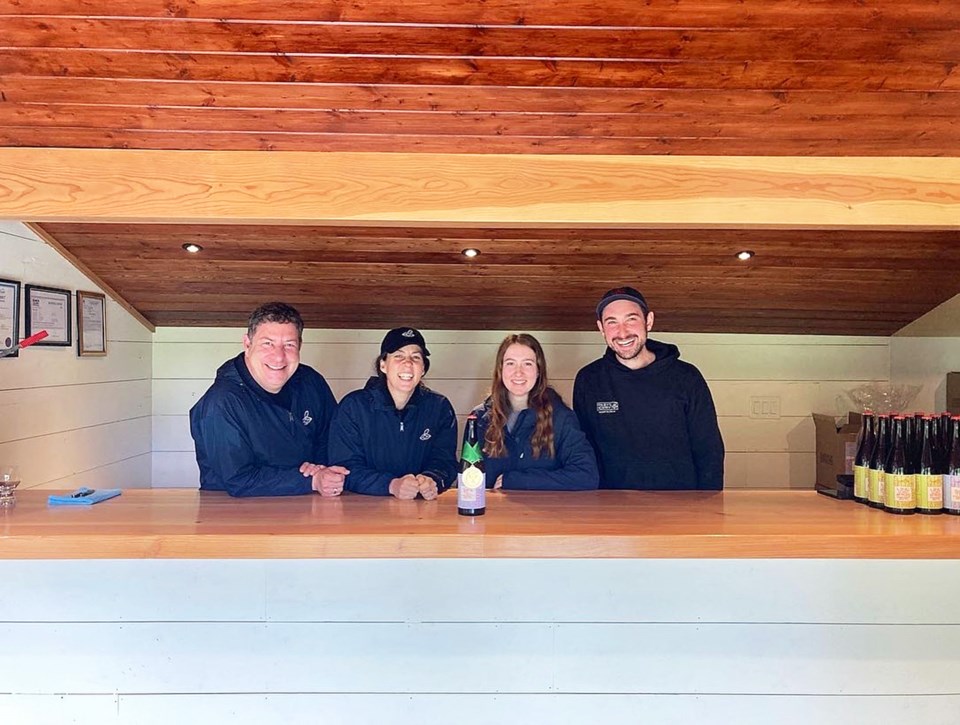 The Seattle cidery won with 'Honeycrisp', while 2 Towns Ciderhouse from Corvallis, Oregon won silver with 'Cosmic Crisp'.
The medal is not the first for Sip & Tell either – at the end of last year the cider won gold at the International Brewing and Cider awards in the United Kingdom. Hardie travelled across the pond in April this year to accept the award at Guildhall in London.
"I'm really passionate about making dry cider because I think just from a health perspective it's so much better for you," says Hardie. "So we don't add any sugar or anything, it's just pressed apples."
"I was really proud of that cider and I thought it fit that category really well. So that's why we entered it into the UK in that competition and did really well there, so we thought why not try a competition locally. It was neat to get that recognition not only in the UK but also here in the Pacific Northwest," she says.
Hardie considers herself relatively fresh on the cider scene, having crafted the drink for around five years now. She says this kind of international recognition is incredibly validating for both herself and Riley's.
"I honestly entered just because I'm a new cider maker and I think what I'm making is great, but I was really hoping to just get feedback from the judges. So it was such a bonus to actually win an award because I'm new to it and just kind of learning as I go," says Hardie.
"To win some awards is encouraging and just kind of reinforces my value in using full apple juice and low intervention and doing all the things I've been doing. It gives me confidence that I'm making a good cider, and I'm proud of what I'm making," she says.
Anyone interested in trying the award winning Sip & Tell will be happy to hear it's entering its prime season. "It's a very light refreshing cider, so food wise it's great with seafood or any kind of fish. Just as a nice sunny day porch cider, a nice refreshing drink," explains Hardie.