As the wildfire season heats up every summer you can now set your watch to this image of the Manning Park Gallows being shared on social media. It generally appears sometime in August.
It's an interesting and somewhat shocking sign, which actually gets some people nodding in agreement as emotions run high. But what's the real story behind it? The author of the book British Columbia by the Road, Ben Bradley, filled us in.
As Bradley tells it the sign was put up in 1950 by the Parks Division, which was part of the B.C. Forest Service. It was erected after a wildfire ripped through a large part of the park, and originally it read "One Camper Made This 5,700 Acres Look Like Hell! Don't YOU be careless."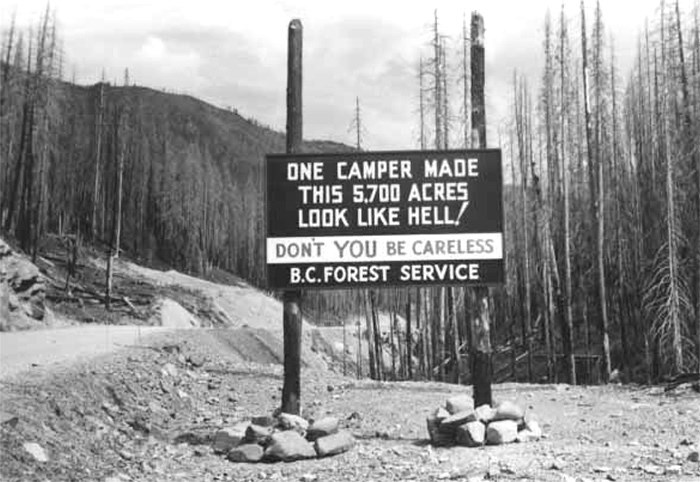 After the sign went up The Department of Highways strongly objected to the word "hell" being on a sign everyone drove by, so planners in the Park Division and also the Manning Park superintendent came up with the Gallows idea.
The gallows sign originally read "The Guy Who Dropped It…" but then after a year or two they changed it to "The One Who Dropped It…" in order to be more gender inclusive.
Ironically, the 5,700 acre "Big Burn" (as it had come to be known) was caused by a campfire left unattended by copper prospectors, not by a cigarette or by a motorist.
One other thing that Ben notes is that the Parks Division kept erecting the Gallows each spring against the objections of the Department of Highways, which complained that it was an unapproved structure within its right-of-way. But the sign proved so popular that higher-ups in Parks supported it, even though they officially feigned ignorance as to who was putting it up.
You can learn more about this story and many more concerning the roadways of B.C. in British Columbia by the Road, published by UBC Press.