Of all the places to spend Christmas Eve – relaxing at home, playing in the snow, or doing some last minute shopping – diving into the sea likely wouldn't appear on any Canadian's activity list for December 24. But that's exactly where Amber Spitkovski was. Underwater in Mannion Bay in fact, attempting to save a local boat owner from an unwelcome, and costly, holiday surprise.
The boater, who was off-island, had received a call that his vessel was starting to sink. He got in touch with fellow Bowener Ivor Kerr, whose barge would be necessary for any hope of a rescue. It took a few days for the barge to free up, but luckily the boat continued to float during that time. "It was amazing that his boat stayed floating. It stayed floating for three days," says Spitkovski.
"You can still recover it if it's gone straight down, however it probably wouldn't have been usable."
Spitkovski works a variety of underwater jobs including boat cleaning and maintenance, mooring and dock repairs and inspections, and item recoveries. (She notes the majority of phones she's found on the sea floor miraculously still work.)
But this was more of a unique challenge, especially because the boat was upside-down by the time a rescue could be attempted. A perfect rigging plan would be the key.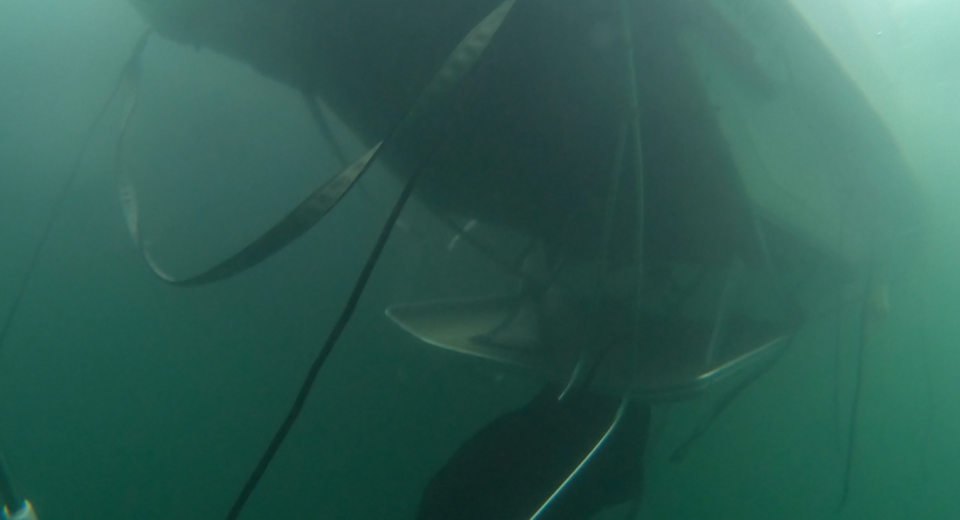 Initially the idea was to attach a pair of straps to each end of the boat and use a crane on Kerr's barge to hoist it upright. Spitkovski dove down and looped the straps around, but when it came time to lift they kept slipping off.
That's when the idea to add a pair of bights – and even an extra line to secure them – turned the tide in the rescuers' favour.
"We rigged it perfect. And once we had it rigged he (Kerr) just pulled it up and it turned over awesomely. It was really smooth. It was a big joint effort for sure by everybody," says Spitkovski.
In addition to keeping the boat in relative working order, avoiding a full sinking also saves boat owners a lot of money, both in retrieval and disposal costs. But most importantly, says Spitkovski, is the negative impact a sunk boat has on the environment. When non-gutted boats go down, oil, gas and other chemicals and fluids, along with garbage, seep into the area.
"Especially with all the work people are doing with the eelgrass and putting it in there, we want to make sure that it's worth something and doesn't get destroyed," says Spitkovski of this specific instance in Mannion Bay.
"Also if people want to keep swimming in the bay – keeping it clean," is another reason to prevent a boating graveyard from forming.
"Responsible owners are really important," says Spitkovski. "This person acted right away. Some people are just like 'Meh, I'll leave it.'
"He actually did get it out of the water."
With plenty of help from Spitkovski and Kerr, of course.