No matter where you live on Bowen, if you don't know his name, you definitely know his work. 
James Tuer, architect of Cove Commons, the Bowen Island Pub, the First Credit Union-Ruddy Potato expansion and the Buddhist International Society Retreat (if you've circumnavigated Bowen you'll have seen its swooping cedar outline) received the Wood Design Awards in B.C. 2019 Architect Award March 4. 
The award recognized his career portfolio of wooden buildings, many of them on Bowen, where Tuer's lived since 2004.
"The jury was impressed with the portfolio of wood buildings, both residential and nonresidential, that have inspired other designers to take advantage of BC's extensive and beautiful wood resources," read out presenter Hardy Wentzel, CEO of Structurlam, at the awards gala at the Vancouver Convention Centre.
At the @WoodWORKSBC_CWC Awards Gala: The Architect Award was presented by @Structurlam's Hardy Wentzel to James Tuer, principal at @JWTArchitecture on Bowen Island. pic.twitter.com/ame3XhvFjg

— Tree Frog Forestry News (@TreeFrogNews) March 5, 2019
"I didn't think I was going to get it, I'm a small firm and I'm doing smaller projects and the work is just so beautiful there," said Tuer, who runs a one-man firm, JWT Architecture and Planning, based on the island.
"The Wood Design Awards is really the preeminent design awards that we have in B.C. now," said Tuer. "And there's just so many people entering it. There's such amazing work." 
This is Tuer's third Wood Design Award. 
Congratulations to James Tuer, Principal at @JWTArchitecture for being named "Architect of the Year" at the @WoodWORKSBC_CWC Wood Design Awards! We worked with him on the Bowen Island Buddhist Temple - a great guy, extremely talented & very deserving of this recognition! pic.twitter.com/JojG3fwRlO

— Kettle River (@KRTimberworks) March 6, 2019
He received the Western Red Cedar award in 2016 for his design of the Buddhist International Society retreat and the Interior Beauty of Wood award n 2014 for his design of a Bowen home. 
A dozen other awards and accolades for the architect include 2015 Eco Designer of the Year for Western Living and the 2009 AIBC Emerging Firm Award. 
Tuer's first professional award was in 2005, for another home on Bowen. It was an excellence in concrete design award at the now defunct Connies.
But these days, Tuer's focus is on wood and strategic use of concrete. 
"Wood is beautiful and it's cutting edge and it's an advancing technology in B.C," said Tuer. "The building code has really embraced wood all along but now [it] is really being designed around using wood for midrise and high rise projects as well."
"And then wood is the major export from B.C., so it's a huge part of the economy," he said. "So we really want architects in B.C. to use wood as their primary material." 
"It's also highly sustainable. It sequesters carbon," Tuer noted. "[Carbon]'s getting stored in buildings…unless the building gets recycled or something. So  it's a great way to fight climate change as well."
Tuer said that a great deal of his focus is on sustainable architecture, in part an inheritance from his grad school days at the University of Oregon in the '90s. 
"It was the birthplace of sustainable architecture," he said.  "A lot of the profs I had, their careers started in the '60s in the '70s, and it was all based around sustainability and green building practices."
"So when I approached my first projects, I didn't really have to research sustainability or even think about it, it was just what I did."
The awards jury also noted Tuer's sustainable slant, noting his use of passive heating and cooling. 
"Passive heating and cooling is using the sun and the wind and the earth to shape the environment inside your building, rather than using electric heaters and gas heaters and gas boilers," explained Tuer to the architecturally plebeian Undercurrent. "The sun's a very powerful thing if you know how to harness its energy." 
Tuer explained that use of south-facing windows and using the thermal mass of concrete to store heat are tricks of the sustainable architecture trade. 
But beyond sustainability, there's also beauty and function. Tuer's work in Snug Cove is a prime example. 
"The Bowen Pub …it's really about the heart of the village," said Tuer.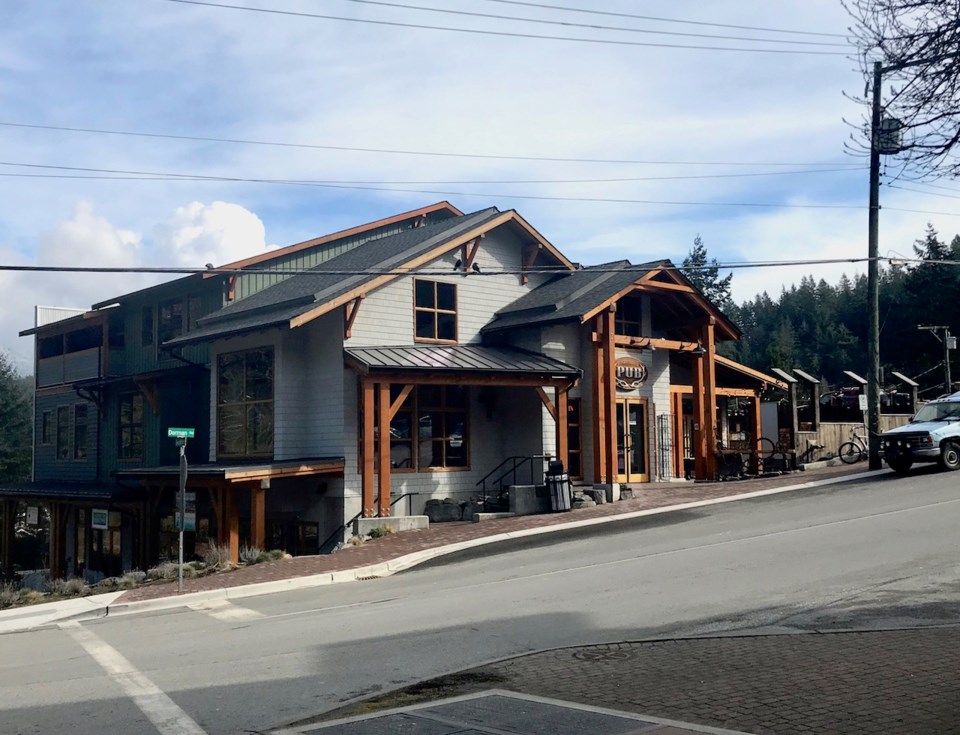 Tuer's signature cedar shingling and exposed beams feature heavily on the crossroads building but he also designed its surroundings. 
With his background in landscape architecture and inspired by his time living in Whistler and his experience drawing up the master plan for Sun Peaks ski resort, Tuer designed expansive covered walkways for the pub. 
"[Pedestrians], now they have this beautiful way of walking through the village under cover when the weather's bad," he explained. 
Tuer spent some time studying cove architecture for a cove master plan during Bob Turner's tenure as mayor. Tuer said that the addition of the First Credit Union, Cove Commons and Pub buildings add a robust element to cove architecture. 
"Larger windows, a heavier structure, more durable, it just looks a bit more timeless and it looks like it's been thought through more than some of the original buildings," he said. "I don't want to bash the original buildings because I think they're really beautiful and quite pleasant.
"It's just when you start getting into design and you start taking it to the next level… you do raise the level of awareness for design."
As Tuer's cove buildings settle into their landscapes, as if they'd always been there, he delights in seeing new cove developments, like the distillery. 
"It's nice to see other people working in the cove," he said. "Villages need lots of different flavors. They shouldn't be just done by one hand."
"I've been very fortunate but probably fortunate enough."
As for the future, Tuer said he's working on a once-in-a-lifetime project, another house on the island, which he hopes will be on the cover of a magazine in the coming year.  
He also hopes inspire young people in wood design and architecture. To this end, Tuer has taught at UBC and University of Guelph, is often a guest critic for architectural students' final reviews.
"It's great to see the young people getting inspired by what us older guys and gals are doing and to see that succession as well."
"At the end of the day, I want to make an impact. I want environments that people live in to be beautiful."