The number of business licences issued on Bowen last year jumped by a third as the program entered its fourth year on the island.
The total licence number for 2022 was 676, up 34.1 per cent from 2021's mark of 504. This resulted in total revenue for the municipality of $73,525, a new annual high since business licences were introduced on Bowen in 2019, and up 61.8 per cent from the previous year's total of $45,450.
The types of businesses seeing the largest jumps were residential guest accommodations (+49), non-resident businesses (+49), bed and breakfast (+31), and contractors (+23).
Manager of planning and development Daniel Martin was the non-resident business jump is likely due to a more proactive position taken by the municipality during the past year to make sure professionals working as subcontractors on a project, such as plumbers or electricians, are also fully licenced.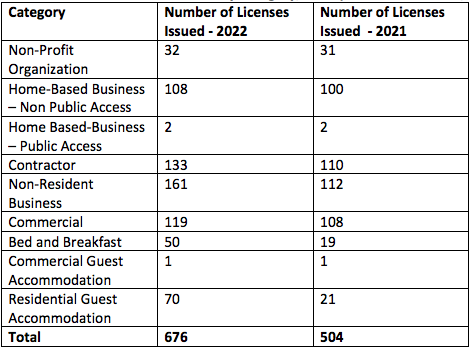 While it certainly generated more business licence revenue, the increase of 80 short term rental (STR) licences has Martin concerned however. The 2022 additions continue the rising STR trend on Bowen which began in mid-2021. At that time there were fewer than 80 such licenced operations – today there are more than 180 active.
"Our permission for STR was done in 2020 and I think it is quite permissive if you look at the rest of the province," said Martin in a response to Mayor Andrew Leonard asking if he felt the rapid rise in STR was a problem for Bowen's rental market.
"You can look at examples like Sechelt and Gibsons recently, they've done quite extensive outreach on their STR market, and the result of that was they ended up with more restrictions. Previously when we had done the STR work, Sechelt was one of the examples of more permissive STR. They've since become more restrictive," continued Martin.
"And I do think through 2022 we have seen an impact on our housing market. When we watch the new listings go up it's incredible how many times a new house sale is a new STR listing. So yes it is something I would say we are concerned about," he added.
But while the total number of STR remains a concern for the municipality, improvements in making sure they're licenced were significant. At the beginning of 2022 it was estimated more than 70 STR were operating without a licence. Martin says following a partnership with STR monitoring company Harmari – which uses a variety of methods to track online listings – he believes this number is now in the low single digits.
Harmari data shows the average nightly rate for an STR is $256, and that Bowen's STR industry generated $1.14 million in revenue last year – its highest ever.