Erik Miller has been in charge of Meadowbrook Market for just four months now, but he's wasted no time in envisioning a grand future for the butcher shop tucked into the side of Meadowbrook Farms.
"I really want people to recognize there's a spot on Bowen Island for quality meats, and there's a meaning and a purpose behind it. It's not just to feed you," says Miller while showing off the shop. Naturally a customer comes to enquire about the best way to prepare duck confit, to which the chef has a delicious sounding answer prepared.
Miller, who has doubled as a caterer at many events around the island, arrived from Southern Ontario five years ago, where he honed his skill as a butcher. He continued learning in Port Moody, but was surprised to find Bowen didn't have a dedicated space for locally sourced meats.
So when the opportunity to take over at Meadowbrook Market arose, Miller jumped at the idea. In addition to providing a butcher shop, its convenient location on 7.5 acres of farmland open up a whole world of possibilities to pursue.
"We're trying to build a reputable farm of rotating vegetables, and then using the animals on the property to build the soils up and help the natural cycle continue," says Miller, stressing the importance of regenerative farming practices. "I'm not here to say I'm food for the grocery stores. I'm here to say I'm food for what we can manage on this property… You can literally see it, it's an open book, you know what you're getting, and that's the most important part. Because the food world is scary, and there's a lot of things out there that just aren't true practices."
Miller says many people are turned off of meat due to the conditions of large scale factory farming, which he agrees are often cruel to the animals involved. "I believe there's so much negativity toward the process – and it is a bad process if you look at it… It's because of the poor treatment of the animals. And I don't believe in that either. I would rather never see any of that horrific stuff you see in those documentaries," he says.
But Miller says that's not the case with a smaller scale, locally processed approach. "If you bring in an animal here and you do all the butchery here, then at least you're seeing the whole process and it's being handled well and treated well.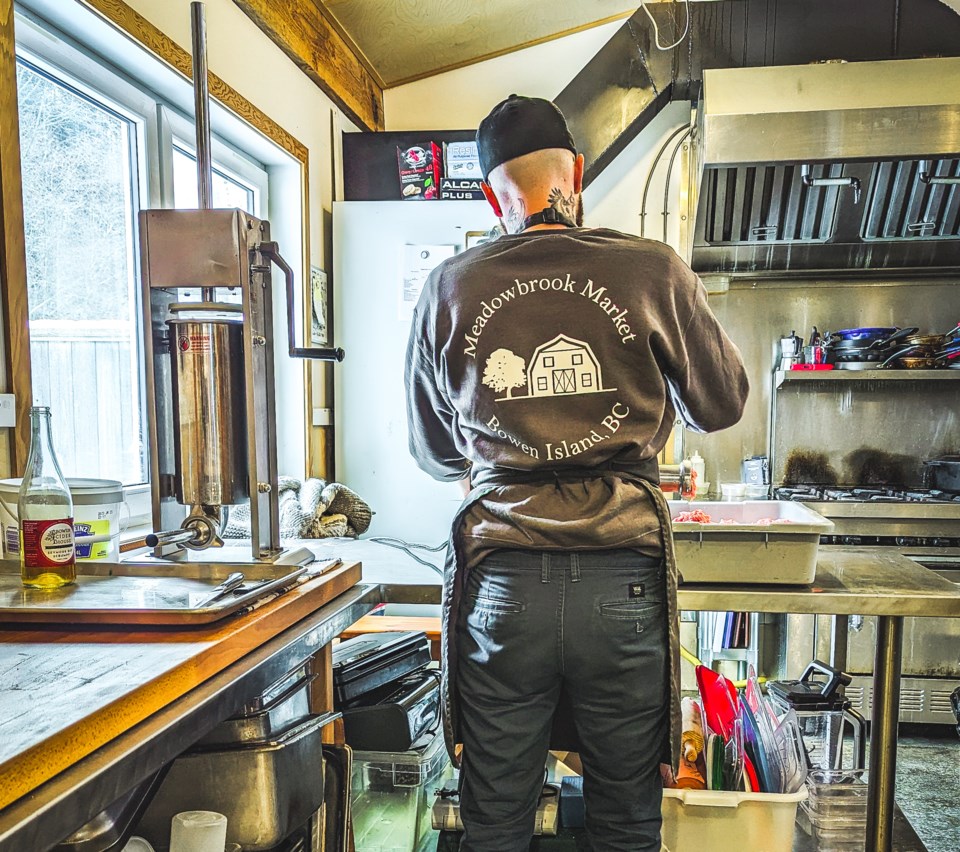 "If I can go to a farm and say hey this is a cow named Betsy, Betsy's going to be your dinner – yes there's a connection of, Oh my God we're going to eat Betsy. But there's also the need to treat it with respect from start to finish. Otherwise that animal died for no reason," he says.
In addition to respecting the animals involved in our food choices, Miller explains non-factory foods are better for our diets as well. "It is a cheaper commodity (factory foods), but cheaper commodity means poorer diet. And that's just the way our food system has gone – it's how fast we can produce this, we don't care about the cost. We'll make it as viable and as fast and cheap as possible to feed people, and that's ultimately what's the downfall of anybody's diet, or the reason why people become vegetarian or practice veganism," says Miller.
The market currently gets most of its products from off-island farms, which Miller picks up from the mainland every week or two. This is another reason to stress food sustainability, he says, especially on Bowen. "It's more important to try and have as much as we can on the island, and try to have smaller purveyors of good quality food on the island, so then we're not reliant on the ferry for absolutely everything when it comes to that," he points out, noting last month's slew of cancellations and also the stress the ferry ride puts on the animals. (It's not currently possible to process animals on Bowen due to numerous regulations and abattoir issues.)
Right now Meadowbrook Farms has sheep and chickens, but Miller hopes to one day see pigs, ducks, and hens join the flock. And a hobby cow too.
"Having a counter that is small enough, but maintainable with fresh pork, fresh beef, lamb (when it's in season), chickens, eggs, duck every now and then," is the chef's goal for the indoor space. He'd also like to source animals from other Bowen farms when possible.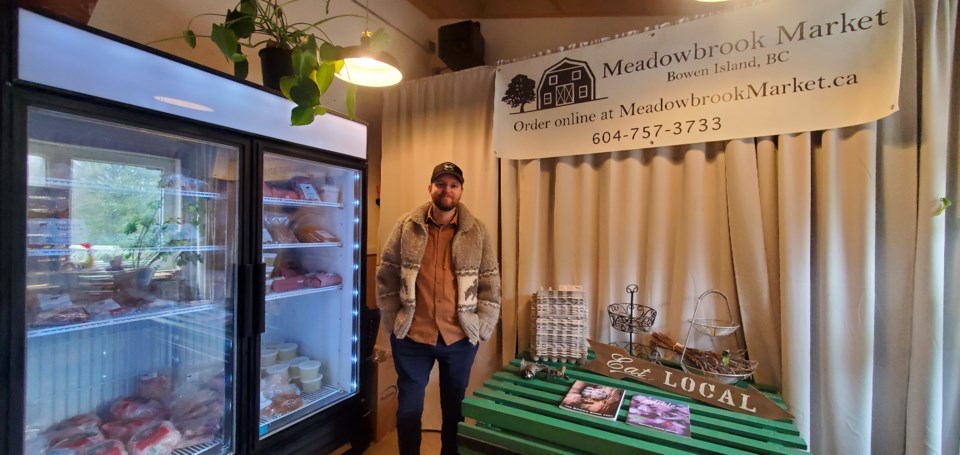 The ultimate vision is a long-term one, but Miller says it starts with awareness that there's a space on the island tackling regenerative farming practices head-on, a value he believes is shared by many on the island.
"Everything marries well into this concept of having good products either grown or sourced on property… and just putting out good food. And for the west side of the island. Away from the Cove where you don't have to travel 15-20 minutes from the end of your road at Bluewater," says Miller.
"The more people that recognize that we're here is better for us and better for the island, because that solidifies the change that we can start to make from this property, and spreading out to other people on the island who have the same systems and the same beliefs… it's a bigger picture than Meadowbrook Market."
Miller is also working on sharing his vision through a partnership with Bowen Recreation where he invites people to the market for butchery classes. After a successful class last year, he signed up to teach a pair of courses this winter - whole pig processing which took place Jan. 26, and a sausage making course in February.