One of the newest recipients of the Order of Canada – one of the highest honours in the nation – is Dr. Lynn Beattie from Bowen Island. And while it took a little while for her to be recognized in person, the pioneer in geriatric medicine says it was well worth the wait.
"I made up my mind at the very beginning of it all that I was appreciative of receiving the notice of the honour, but that I was going to wait until I could actually go to Rideau Hall to go to the investiture," says Beattie. The reason this was ever a question was because she found out she'd be receiving the honour in March 2020, days before pandemic lockdowns brought in-person events – including the medal ceremony with the Governor General in Ottawa – to an indefinite halt.
But last winter the opportunity came back around, and, along with her daughter, son, and grandson, Beattie made the trip to the nation's capital to receive her recognition.
"It was very special to go to Rideau Hall. It's a happy occasion, everybody is very welcoming. They have nice staff there that look after everybody. Many of the staff, in the process of getting people there, get to know individuals, and then they actually meet them in person," says Beattie.
As for her special guests, who journeyed from Washington, Virginia, and Texas, "I definitely wanted them to be there. It was important for them and it was important for me. And it was important that we didn't have a Zoom investiture… We all wanted to be in Ottawa for it, so we waited."
The current Governor General is Mary Simon, however Simon was ill during the November 17 investiture. So, former Governor General Michaëlle Jean stepped in to perform the ceremony. Beattie says meeting Jean was a wonderful experience, along with the staff involved and other recipients.
In a serendipitous moment, one of the fellow recipients that day was Dr. Roger Wong from the UBC Faculty of Medicine – a doctor who Beattie trained during her accomplished medical career.
That career began back in 1971 when Beattie began her work in geriatrics at the University of British Columbia. Following a speciality in internal medicine, one of her advisors in Toronto suggested pursuing the field of geriatrics full-time. Before long, Beattie had returned to UBC to develop and head the university's new geriatric medicine program.
"There was a saying in those early days: 'Remember one equals zero.' If you're the only person, it's practically like there's not anybody there," says Beattie of the program's origins. But it wasn't long before things started to take off.
"We recruited one or two people to our training program and then we started training more people. Right now it's quite rich relatively, but we still need more because the population continues to age," she says.
The field of geriatrics evolved rapidly, thanks in large part to Beattie's efforts, and soon became a speciality discipline with the Royal College of Physicians and Surgeons of Canada. Beattie also served as medical director of UBC's Clinic for Alzheimer Disease and Related Disorders – a disease which intertwines heavily with geriatrics due to the results of aging – for 30 years before retiring in 2013.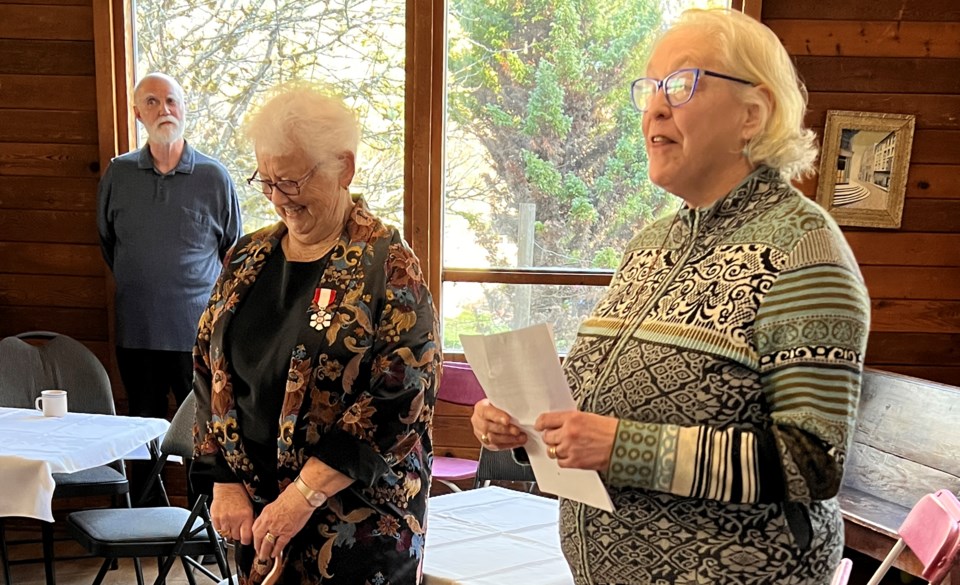 Beattie's retirement was really in-name only though. She remained as a Professor Emeritus at UBC, and continues to edit journal articles and craft textbooks through the university. Here on Bowen the doctor has been extremely active in the Garden Club, including a stint as the group's president (under her alter ego of Lynn McArthur).
Earlier this month a tea party was held at Collins Hall to commemorate Beattie's achievements. She proudly bore the medal she waited two long years to finally receive.
"It's a very special honour. There are other people that have been so honoured and it's been very wonderful to meet more people that have had the honour," says Beattie.
And, is Beattie glad she waited? "There's no question about that – we couldn't have missed it. For my 12-year-old grandson it was an amazing experience," says the Order of Canada recipient.