When the McDougall Creek Fire broke out in the Okanagan last month, volunteers from around the province stepped up and travelled to the Interior to help with the response effort.
Among them was Jayne McMillan, volunteer coordinator with Bowen Island Emergency Support Services (ESS), the group responsible for helping residents manage any potential disaster on the island. Local ESS director Carolyn McDonald said it was the first time she can remember the province calling for volunteers. ESS in the area had become overwhelmed with evacuees, and many of the volunteer members had been forced to leave their homes themselves. Evacuation orders began Thursday, Aug. 17, and led to around 30,000 people being forced to leave the West Kelowna and Lake Country area.
After McDonald asked the Bowen ESS team if anyone could make the trip, McMillan immediately volunteered. "I'm coming home and getting my stuff and turning around and going right back up," she said, having been on the mainland at the time. Jayne came home, grabbed her go-bag, added some essentials to her car including a fire extinguisher, water, clothes, and bedding, and by 4:30 pm on Sunday, Aug. 20 had arrived at the West Kelowna reception centre.
McMillan worked until 10 pm that night, and then proceeded to put in nine more days of double shifts to help process the thousands of evacuees. By midweek Jayne had been elevated to a supervisor role, responsible for seeing what each person or family needed, from a place to stay to food to clothing or any other help while they waited to return home. Lodging for example was determined by equipment available, if people had a trailer they were directed to a nearby campground, while anyone else was booked into a hotel room.
"By the time they sat down they were relieved to finally be able to talk to someone who could help them," says McMillan. "Just saying we've got a hotel for you, we've got food for you, they were just so grateful that this service was there for them in this time of need. The amount of hugs I got was just unbelievable," she says, adding many people were sleeping in their cars while they waited for assistance from ESS.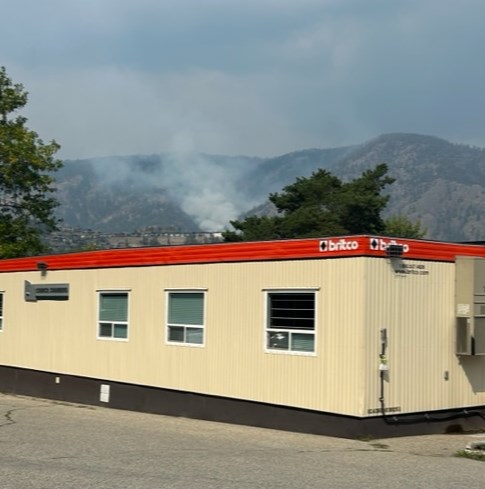 McMillan says she noticed several themes talking to people who were forced to evacuate, including beliefs that the order wouldn't last very long or surprise the fires moved as fast as they did. This left many people who either didn't bring much with them, or had to leave their homes quicker than expected. Other people were away from their homes completely, and unable to retrieve anything when the orders came out.
Jayne says she hopes a takeaway from the terrible blaze can be an emphasis on emergency preparedness, particularly in future cases of sudden evacuations. A Grab 'n Go bag with necessities is especially important, along with pillows and blankets in case you need to sleep in your vehicle. Pet food and supplies are also key items to have on-hand.
While the fire is still not fully out, most families have now been able to return to their homes. Sadly about 200 homes were destroyed in the fire, but no lives were lost. Officials are hoping the fire will be fully extinguished this month.
"It was exhausting," says McMillan of the unexpected 10-day effort, but adds it was "totally rewarding that I could help. Seeing what these individuals go through is devastating."
She also is eager to bring the lessons learned back home. "The experience that I gained to help Bowen and other communities is instrumental," says Jayne, who has been sharing her new knowledge with Bowen's ESS and community groups such as Seniors Keeping Young.
While Bowen Island has fortunately not experienced a major disaster recently, interim emergency program coordinator Tess Taylor says plans are in place to help people should anything happen. This includes five trailers which would act as reception centres, group lodging, and a pet services trailer too. The latter two were made possible this year through the provincial Community Emergency Preparedness Fund, a grant through the Union of BC Municipalities.
General reception centres are also located across the island in case one area is cut off during an emergency. McDonald says the ESS team is always looking for more members, as each person brings their own unique skillset to the job. Training is available, and Taylor says there are many different levels of involvement people can choose.
There aren't any prerequisites for joining, but McMillan says "It's got to be somebody who really has a desire to help others. It's not a self-serving type of role, because we displace ourselves. The majority of people that volunteered in West Kelowna were evacuees themselves. So even though you're going through all this personally, you're there to help the masses through something like this."
Jayne recalls seeing an evacuee later working as a volunteer during her time in the Interior. When she inquired, the young woman told Jayne if she could come all the way from Bowen Island, then she could help too. McMillan says it's important to feel like you're doing something when disaster strikes, and adds she'd be more than willing to head off again if called upon.