It was a trying day for travellers to and from Bowen Island last Saturday after BC Ferries cancelled a dozen sailings on the Snug Cove – Horseshoe Bay route.
The ferry company put out a service notice the morning of May 20 warning that 12 sailings, beginning with the 3:30 pm from the mainland, were at risk of being lost due to a staff shortage. By early afternoon the cancellations were confirmed, leaving hundreds of passengers on both sides without their expected route home.
Fortunately, a pair of sea taxis were announced to take the place of the ferry runs, initially two but thanks to the efforts of Bowen company Cormorant Marine this grew to half-a-dozen. While the efforts of those ships managed to clear a massive backlog of visitors looking to leave Bowen Island, and bring many Islanders back home as well, there was no vehicle capacity following the last ferry run off the island. This forced people on both sides to find parking for their cars and go back to retrieve them the next day, or in some instances here on the island, spend an unexpected night sleeping in the car.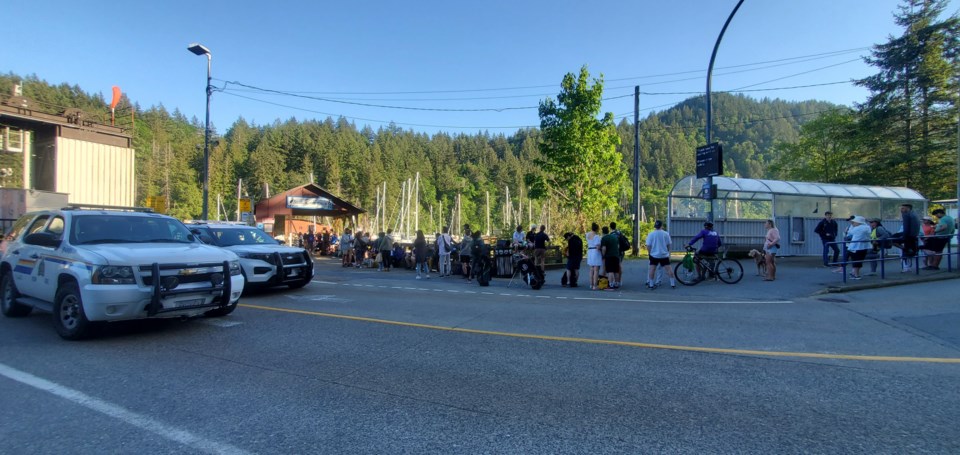 It's an experience Bowen Island Mayor Andrew Leonard says should not be happening.
"It's a very unusual circumstance," says Leonard, noting there were cancellations on a pair of days in November last year, but not to this extent.
But in spite of the uncertainty, there was no shortage of groups or individuals who stepped up to help manage the situation. Public works staff and ferry marshal Peter King were among people performing traffic control, as many visitors who hadn't heard the news continued to enter the ferry lineup to board a vessel that was not coming.
Tourism Bowen Island helped inform pedestrian traffic of the development, and all three officers of the Bowen Island RCMP were on scene to help coordinate lineups for the water taxis, and hand out water bottles to people working and waiting in the heat.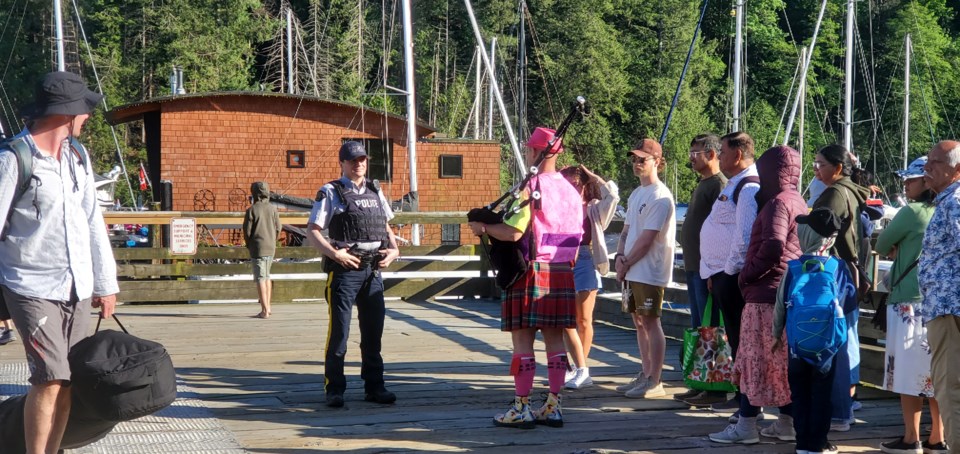 There were also many people who opened up their homes to anyone left on the island, including Camp Bowen, where the effort was coordinated by Alex Jurgensen, and several private residences. Leonard says this speaks to the island's community spirit, even during a difficult situation.
"When people are trapped on the island and they need shelter and they need a place to stay for the night, we have this come-from-away moment where people step up and take people in. Camp Bowen took in 32 people, people had folks in their bedrooms, people were checking on those that were stranded and sleeping in their cars to see if they wanted shelter… I think our community really stepped up and demonstrated its care to the residents of the region who were trapped here," says Leonard.
Following the incident Leonard spoke with the CEO of BC Ferries, Nicolas Jimenez, earlier this week. The mayor said Jimenez offered a genuine apology for what happened, and the pair proceeded to discuss possible solutions for avoiding more mass sailing cancellations in the future. These included a visitor surcharge, assured loading for Bowen residents, upgrades to the Snug Cove terminal, and also increased participation on the issue from Metro Vancouver and Translink, particularly given the former's current proposal to build a regional park on the island.
"Given that we are being increasingly seen as a regional amenity, whether it's passenger service or water taxi service or something else, something that will help ensure the reliability of service as well as the liveability of our residents to access the mainland and be able to return on a regular basis," said the mayor of what he'd like to see from the regional bodies.
"In many respects given the proximity (to Vancouver), given the commuter culture, given the need to access amenities, medical appointments, sports, grocery stores, the ferry really is public transit," he added.
Leonard says the Bowen ferry really acts like a highway system, and the cancellation of sailings is comparable to a highway being washed out. "It caused a whole lot of stress and ultimately led to people sleeping in their cars, people seeking shelter at Camp Bowen, people seeking last minute Airbnb accommodations, which is just exceedingly challenging for an island with a small infrastructure like ours," said Leonard.
The Victoria Day weekend was the first of several summer long weekends which are expected to bring large numbers of visitors to Bowen, in addition to general increased summer ferry traffic itself. Leonard says the events of last weekend will weigh on Islanders moving forward.
"I know that it cannot become the new normal, because it's happened twice already in the last few months and it's been really, really challenging. That said, I don't have optimism. I feel it's anxiety provoking, and I feel like it's going to leave myself and the residents of the island to feel like we're always waiting for the other shoe to drop. What's going to happen during the next long weekend, and what's going to happen during the busy summer weekends?"
"How much longer do we have to deal with these ferry issues before we see investment and commitment from BC Ferries and from the province ensuring reliability for our ferry service to the island?" says Leonard.