The new Community Centre marked an important milestone this week with a traditional land blessing ceremony.
Tuesday morning's event was presided over by S7aplek and Spakwus Slolem (Bob Baker and the Squamish Eagle Song Dancers). Baker explained during the ceremony he and other members would be using "cedar boughs to spread water on sacred ground to neutralize anything that's not supposed to be there so we can have a clean slate to work with.
"And to acknowledge that our ancestors have been doing this from the very beginning, with totem poles, canoes and homes. To begin in a good way. It also keeps everyone focused on what we're doing," said Baker.
Several dozen people attended the event, as well as the students from Bowen Island Community School, the Community Centre's neighbour. Mayor Gary Ander and Patrick Weiler, MP for West Vancouver–Sunshine Coast–Sea to Sky Country were also in attendance, along with representatives from Golden Globe Construction – winners of the $14.4 million tender to build the centre.
"It's a momentous occasion here, I have a hard time believing that it's actually happening," Ander told the crowd.
"This Community Centre will become the heart of Bowen Island. It will be our island place of gathering, of celebration, and of community, creating traditions for generations to come."
Construction is expected to begin in a few weeks and last about 18 months, with a completion date in the latter half of 2023. The project – decades in the making – was given final approval by council at the end of last year.
"Today is an incredibly amazing day to see that we're finally at this stage in the project," says chief administrative officer Liam Edwards. "To be standing here today with all of you and be able to recognize all the work and effort that's gone into it is remarkable."
Weiler, also representing Dominic LeBlanc, Minister of Intergovernmental Affairs, Infrastructure and Communities, noted Bowen Island's recent population rise – up to more than 4,200 in last year's census. "Growing communities need community infrastructure to keep up. It's especially true for island communities where access to services can be even more difficult," said the MP.
"This new facility will create a culturally rich space for all islanders to access art, exercise, social events and programming… I'm particularly excited about today's announcement because I know it's going to be a game changer for the community, creating much needed facilities and services that will greatly enhance the quality of life of everybody on the island, as well as add to the vibrancy of the community," said Weiler.
He also noted the significant community contribution to the project, more than $6.5 million. A $7.9 million grant from the Community, Culture and Recreation portion of the federal and provincial Canada Infrastructure Program also helped the centre come closer to completion.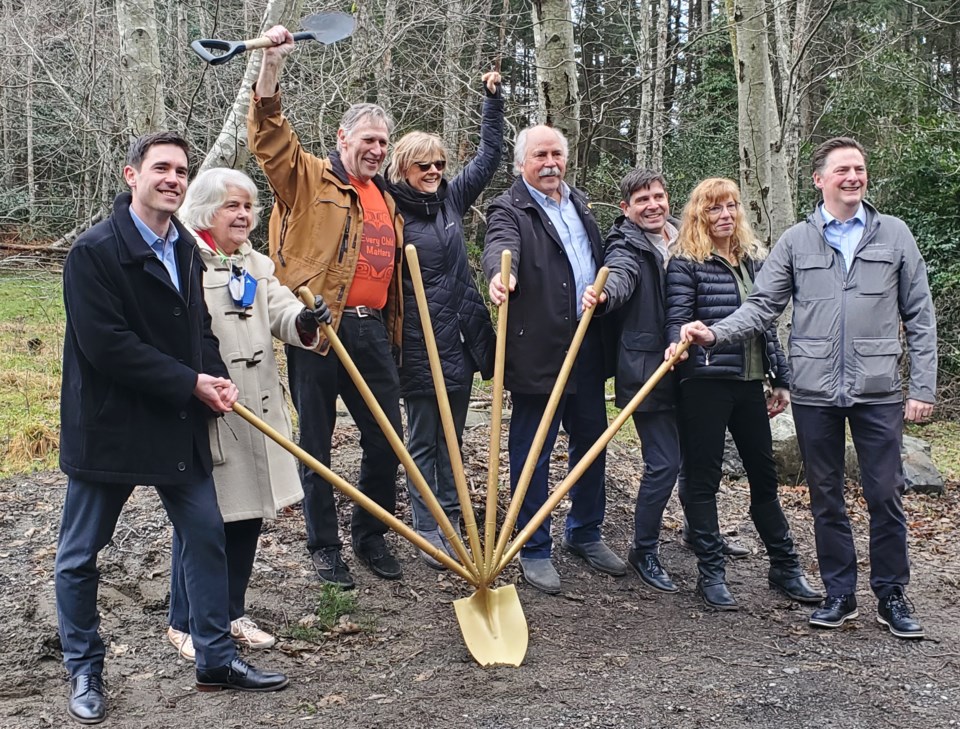 There is still work to be done on the financing front as the total cost of the project has risen to $18.7 million. But Weiler says the results of the 2020 referendum show the community is behind the centre.
And so is the municipality. "It's been a seven year operation since we decided this Community Centre was going to go ahead," said the mayor. "There was nothing that was going to stop us and we gave everything we could to it. We never gave in, and this why we're here today."
B.C. Minister of Municipal Affairs Josie Osborne couldn't make the event, but provided a statement read by Ander. "This land is a beautiful space for the future Community Centre. The new building will serve as a gathering place for the Bowen Island community, bringing to life a long-awaited vision of togetherness, community building and physical and cultural activities. Together with the federal government, we are investing in community infrastructure that will serve residents for years to come," wrote Osborne.
There was a brief tour of the grounds after the ceremony, which soon will be overtaken by construction equipment for the next year-and-a-half as the centre is built. Baker says the positive impacts will be lasting.
"This marks an occasion where things are going to change. Everyone is going to benefit… That's our future over there (BICS kids), and their children are going to benefit from this work. So therefore we're very honoured to be a part of it," said Baker.