A bylaw revision could bring some significant changes to the way secondary suites are operated on the island.
Council heard a presentation from Daniel Martin, manager of planning and development, on May 24 which proposed eliminating the minimum lot size required to build a secondary suite on a property. This is currently set at 0.36 hectares.
The bylaw would also prohibit the use of any accessory residential use – which includes both attached and detached suites (DSS) – for short-term rentals. This would only apply to new builds, owners who already operate a short-term rental on a yearly basis could continue to do so.
Potential changes to secondary suites were discussed earlier this year as the municipality searched for ways to expand the number of long-term rental options on Bowen. Between 2016-2021 just 14 detached suites have been built, along with 32 attached suites.
And, at a meeting of the Housing Advisory Committee (HAC) on May 30, Martin pointed out many of these suites are not being used for the municipality's desired purpose – to alleviate Bowen's long-term rental issues.
"The rationale for permitting it was that these were dwellings where people occupied part of the time… and it's empty the other times, but it's never going to be a long term rental," said Martin regarding Bowen permitting short-term rentals, also known as residential guest accommodation (RGA), starting in 2020.
"What we have seen as staff is the challenges of implementing that, in particular in the secondary dwellings on a lot, where people are potentially building the DSS or something where it's clear it's not occupied as a resident – they're building it and using it as a RGA unit, and there's not an occupant of that dwelling beyond that use," explained Martin.
Council asked staff to work with the Housing Advisory Committee (HAC) to develop some ideas, which Martin outlined in his presentation. Eliminating the minimum lot size would theoretically offer every property on Bowen the option of a secondary suite – though owners would still have to satisfy the other requirements of constructing such a structure, which won't always be possible.
The proposal also comes with a change to rules around the maximum floor area for a detached suite. Currently it's set at 65 square metres plus .625 per cent of the total lot area, up to a maximum of 115 square metres.
This would jump to a 140 square metre maximum with the revised bylaw, or the equivalent of what a 1.2 hectare lot would be allowed under the current rules. The maximum floor space for attached suites would remain at 90 square metres.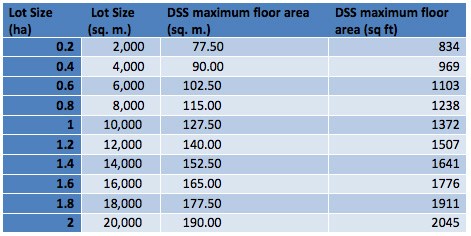 This had some councillors concerned about what larger detached units could mean for the island environment.
"What I see with the smaller lots in Vancouver, looking at what happened when they allowed laneway housing, is they lost a lot of trees. And they gained more impervious surfaces… to me that's not the character of a rural community," said Coun. Sue Ellen Fast.
"I think this is rural sprawl, by allowing it everywhere in all lot sizes, that doesn't seem to me to be careful land use planning, and I think it will erode the character of rural communities," added Fast.
Coun. Rob Wynen agreed, saying "I generally support more density, but I think it needs to be done in the right spots where we can service it, it's affordable, it meets our other objectives with climate change, and is not sprawling."
Coun. David Hocking says he's "also concerned about the sprawl idea… But I want to speak about rural character. Affordability is an important part of rural character; just as important as the trees."
With objections from Fast and Wynen, council voted to send the proposal to several committees for further input. The first of these was the HAC, which met on Monday.
HAC members were supportive of eliminating the minimum lot size, but the idea of scrapping short-term rentals in secondary suites encountered pushback.
"I can see people that like the idea of revenue, but don't necessarily want to commit to something that's more permanent," said vice chair Frits de Vries.
Committee member Ron Chalmers echoed the concerns of multiple letters to council from homeowners, who say they don't want to be told what to do on their property.
"I don't think that short term rentals should be regulated in order to achieve some other purpose… However it may be a good public purpose, how does it become that property owner's responsibility to further that aim of making long term rentals available?" said Chalmers.
HAC chair Robyn Fenton did express optimism the change could support long-term rentals, but also wanted more time to look at unintended consequences, such as people not building secondary suites at all if they can't use them for short-term rentals.
Martin says "If council or the community isn't comfortable with this greater prohibition, an option could be to not allow it in a DSS, or to not allow it in a DSS on a lot size that's smaller. So places where we've opened up permission (lots under 0.36 hectares), it could just be that those places aren't permitted."
Consultation will continue with the Advisory Planning Commission and Islands Trust. There's also a pair of public open houses scheduled, by Zoom on June 15 and in-person at municipal hall on June 23.