The first sailing is still several years away, but work is well underway on a future passenger ferry between Bowen Island and the mainland.
Greenline Ferries and its CEO Callum Campbell announced last month their intention to establish the service on routes from Vancouver to Bowen, and also Gibsons on the Sunshine Coast. Campbell was on Bowen last week to provide local council with more information on the project.
"They want reliable service at an affordable price," answered Campbell to a question he posed to begin the presentation: what do people want in a transportation service? This concept will be especially appealing to Bowen Islanders after they saw a dozen or more BC ferries sailings cancelled on December 18 due to staff shortages, the second time in just over two weeks this has happened.
Campbell listed some other attributes his company is looking for in a ferry service, including the ships being green and clean. The plan is to have both vessels servicing the routes be fully electric, able to travel the longer 75 minute journey from downtown Vancouver to Gibsons and back on a 25 minute charge at the ferry terminal.
Norway's MS Medstraum is the case study for this type of ship, a battery powered ferry that runs between the cities of Stavanger and Hommersåk. The boat can fit 150 passengers and 20 bicycles. Campbell went to see the transport in action earlier this year, and spoke to its quiet ride and lack of vibration.
Campbell says the goals of providing a passenger-only option are to present a faster trip – the Bowen to downtown voyage would take about 45 minutes – and to ultimately keep more vehicles off the road. He adds Greenline Ferries would be "resilient to labour shortages and energy swings," given their battery powered status and smaller crew of about four. It takes around 10 to 12 people to operate the Queen of Capilano, in comparison.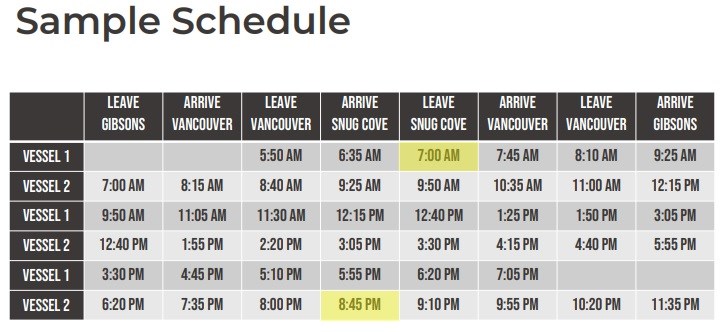 The boat itself is just one part of the equation though – there's also the terminals necessary to make the project work. A necessity for selling the non-motorized angle to travellers will be their location in key transit hubs, such as the New York City Ferry or Water Emergency Transportation Authority in San Francisco.
In a recent survey by the provincial government, 41 per cent of people who took their vehicles on trips said they did so to make it easier to get to the ferry terminal. Three of BC Ferries largest terminals - Tsawwassen, Horseshoe Bay, and Swartz Bay - are located at least a 20 minute drive from the downtown cores of Vancouver or Victoria.
In Vancouver's case, Campbell says this means he wants the downtown terminal in immediate proximity to either the Canada or Expo train lines to allow for ease of access to and from the ferry. A location for the Bowen terminal hasn't been picked yet, though proposed locations at the moment include Snug Cove or Seymour Bay.
Whether either of those berths are ultimately chosen, or somewhere else completely, Campbell stressed it will be crucial for the island municipality to ensure reliable public transportation to the terminal.
It's still early days for the project with many details to work out, including the major hurdle of needing to raise what will be millions of dollars to operate the ships. Ticket prices also need to be decided on. Campbell says there's promise in federal government grants aimed at promoting this kind of electric transport, including the Green Municipal Fund which could cover up to $350,000, given a 10 per cent contribution by the municipality. Carbon offsets are available too.
The current timeline is to have the pair of ships ordered by the end of next year, construction of them (including specifics to meet the environmental requirements of Salish Sea weather) in 2024, and the beginning of passenger runs in 2025.
A public information session with Greenline Ferries is scheduled for January 18, 2023, from 5:30 to 8 pm, at the Bowen Island Public Library.