A west side community group is speaking out on the state of the traffic situation in their neighbourhood.
The Tunstall Bay Neighbourhood Group (TBNG) presented a delegation to council on Monday night outlining their concerns over Metro Vancouver's proposed park and campground at Cape Roger Curtis, particularly on the vehicle front. Led by resident Liz Watson, the members discussed potential impacts to the island including those on ferry and emergency services.
The major focus of the group though surrounds access to the Cape, specifically along Whitesails Drive which is currently the only road to Cape Drive, and perhaps the future park. TBNG says the 30 km/h road, with no sidewalks on either side, is already hazardous even without the estimated tens of thousands of visitors a park would add each year.
"There had been a growing concern about the increasing traffic on our roads. So it was galvanizing when they announced the park," says Watson, a Whitesails resident. She says her and other neighbours have used radar detectors to track vehicles, including logging and construction trucks along with normal vehicle traffic, travelling sometimes double the speed limit along the narrow road.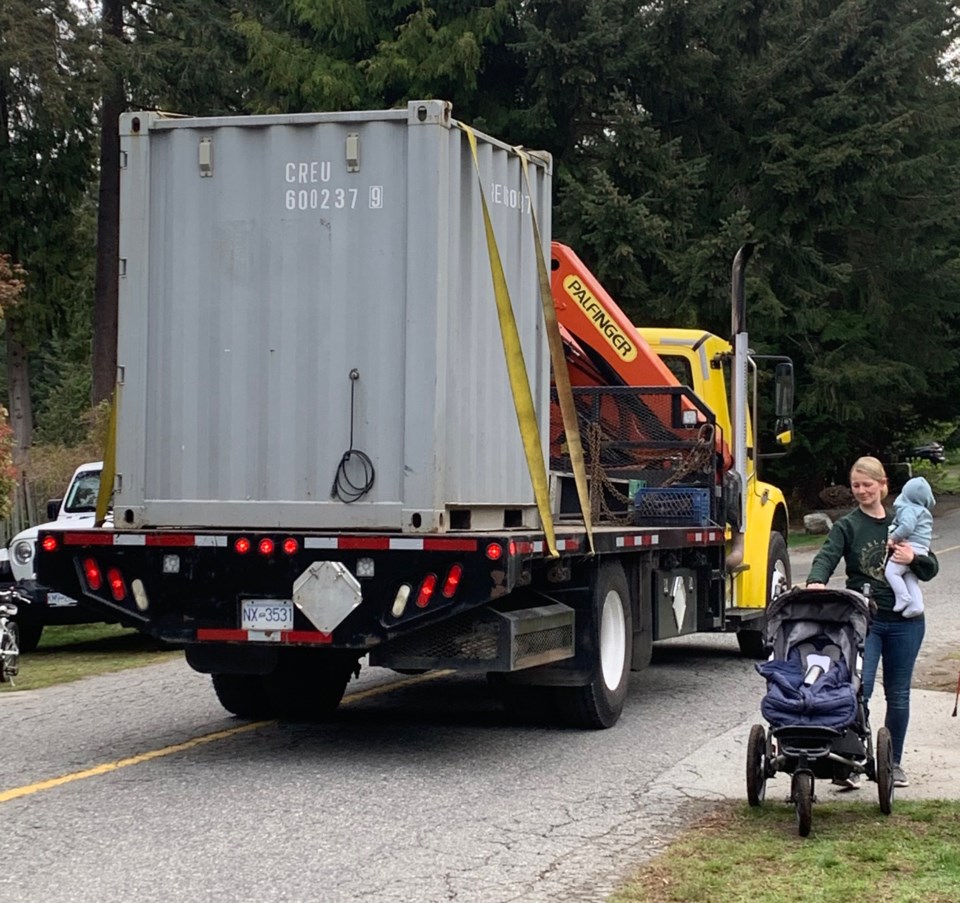 Watson says this isn't a new problem either, and has been going on for more than a decade. Efforts to quell the speeds, including a past petition from fellow delegation member Susan Alexander, haven't resulted in significant traffic calming measures says the group.
"It just got to the point where enough was enough," said Watson of this most recent push for the municipality to take another look at the road. "We're no closer to an alternate access to the Cape after 14 years than we were when we started… It's unbelievable that our road remains the sole entrance and exit."
"To me it's just completely irresponsible planning to come this far and now to be considering a huge development of a park out there without another access," adds Watson, pointing out if Whitesails Drive ever became impassable in an emergency there would be no traditional road access out of the Cape.
Fellow TBNG member Matthew McDonagh says he hasn't seen any studies to suggest the access issue has been addressed. "We haven't seen any reliable data with respect to anticipated traffic impacts or demands from the proposed park and campground," he said.
Metro Vancouver is carrying out a Transportation Demand Management Plan and Transportation Impact Assessment, but neither has been completed yet and neither currently includes a traffic count along Whitesails Drive. Chief administrative officer Liam Edwards says he is working to have Metro Vancouver include this count in their studies. Following the delegation council directed staff to prepare a report on the feasibility of conducting their own traffic feasibility study in the Tunstall Bay neighbourhood this summer.
TBNG made it clear during their delegation that a solution would involve a second access route to the Cape. They suggested several possible paths spanning various parts of the island to help take the pressure off Whitesails. "A big ask that we have is that we turn up the heat on exploring the feasibility of an alternative access route," says McDonagh.
"It's actually not our job, it's actually the job of the municipality" says Watson of trying to find a solution to the traffic problems. "But there's been so little action and interaction on this we're forced into the position of going, okay well we'll go walk that and figure it out."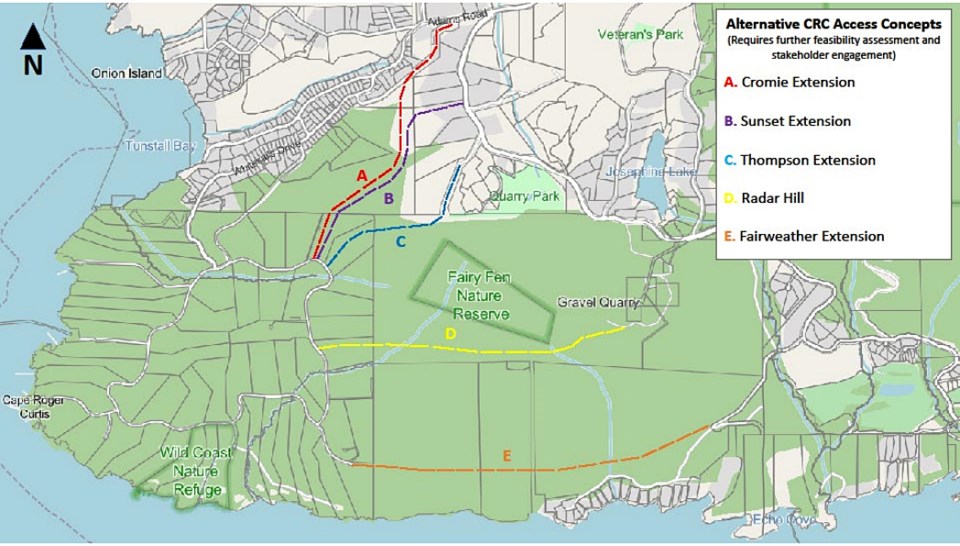 Each potential path TBNG suggested, or another unsuggested route, would include its own issues to overcome, but the group is hopeful that these can be addressed both from an engineering and personal standpoint. "A lot of the conversation to date has been organizations coming out and just saying, no we don't support this. There might be credible reasons for that, but we haven't seen them… It's always easier to say no, it's harder to come up with solutions," says McDonagh.
Watson and McDonagh are personally opposed to the prospect of camping at the Cape given the current access situation, and while they note they don't speak for all TBNG members they say many others in the group are too. TBNG delivered a mailout to all island homes last week detailing what they say are many remaining unknowns about the project.
"There are just too many concerns regarding camping – and these are concerns that affect everyone on the island – but we would be the neighbour in this area… so that is our position on it," says Watson. McDonagh said if another access route was constructed to the Cape it could spark a new conversation among the group on this view, but stressed that whether the park becomes a reality or not the problem still needs addressing.
TBNG is planning future meetings with Mayor Andrew Leonard and other council members to continue discussing concerns over traffic issues along Whitesails Drive and in Tunstall Bay.