A pair of former Bowen filmmakers are using their new show to highlight diversity in the literary world – with some help from a young friend.
Ainara's Bookshelf is the latest project from Cam and Kat Hayduk, who lived on the island for more than a decade before transplanting to Hamilton in 2016. The show stars 13-year-old host Ainara Alleyne as she talks about her favourite book selections by authors of minority and underrepresented communities.
The young host is an avid reader, "literate beyond her years," says Cam. She served as the Junior Librarian in Residence at the Hamilton Public Library in her hometown.
It's the type of project the Hayduks are passionate about, and one of the reasons they made the choice to leave Bowen to grow their production company Turtlebox Productions. Toronto – considered the hub of Canada's kids TV industry, and the most diverse city in the country – is within an hour of their new home in the Steel City.
The Hayduks came across Ainara during the pandemic, where she used her time during various Covid lockdowns to make short videos on her Instagram reviewing books with diverse authors and characters. Ainara, who is Afro-Latina herself, was eager to highlight these various forms of representation.
"She rarely got to see herself in books, so when she did find a book that she was excited about, she couldn't wait to share it with everybody," says Cam.
The Hayduks reached out to Ainara through her parents and, after the long process of development, distribution, creation, and sales necessary to even begin to think about filming, the idea got the green light. Diverging somewhat from their typical do-it-all-themselves approach, Cam and Kat worked with a full crew to make the show come to life, including filming, set building, and editing.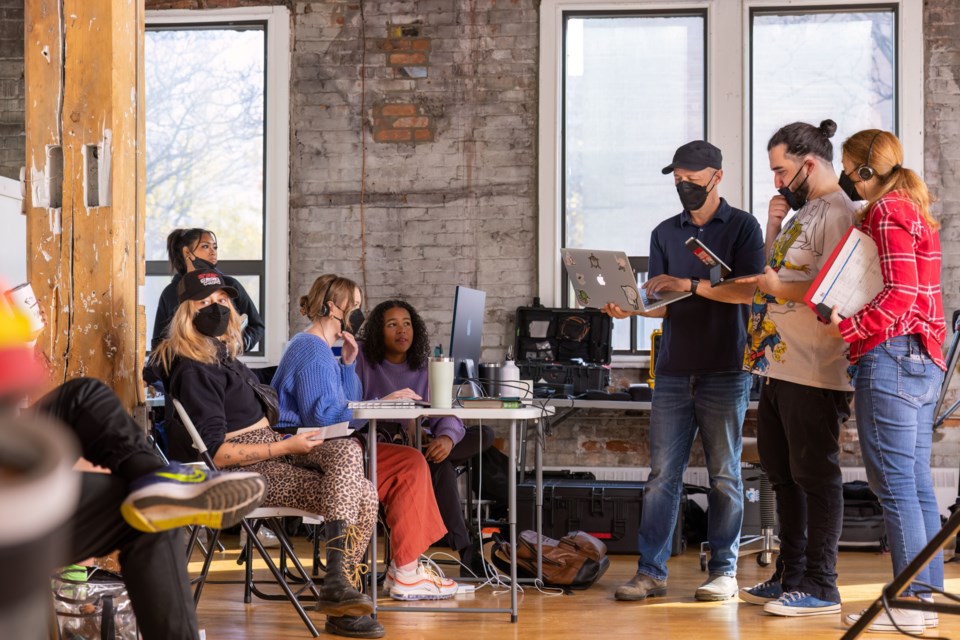 Shows typically begin with Ainara explaining why she likes the chosen book (minus spoilers), and highlighting what makes it unique. Many episodes feature author interviews as well, including chats with high profile figures such as Peter Ramsey, director of Spider-Man: Into the Spider-Verse, or Newbery Medal winner Jerry Craft, author of graphic novel New Kid.
Ainara's Bookshelf debuted in January on the marbleKids YouTube channel, and has its Canadian premiere Thursday, Feb. 2 on TVOntario Kids, part of Ontario's publicly funded broadcast network. TVO asked the Hayduks if it would be possible to have the show ready for the beginning of February to coincide with the start of Black History Month. It meant some long nights in post production, but knowing it was important, they managed to have the content ready.
"Our company's tagline is making meaningful fun. What we love about this project is that we found this amazing talent who has this really important message and passion for creating empathy through storytelling with diverse perspectives. It's meant the world to us to be able to help amplify her voice," says Kat about the show and Ainara.
"We entered into it as a full partnership – it's really important that we understand what it means to be an ally during these times, and to really help get that message and that perspective out there as much as we can," she adds.
Turtlebox Productions roots trace back to Bowen
The Hayduks long filmmaking journey – from making small fundraiser videos for the Bowen Montessori school where Kat was a board member, to working for CBC, PBS Kids, Sesame Street, and being nominated for a Daytime Emmy Award – is one they credit Bowen with launching.
"We've always considered Bowen Island as the incubator for Turtlebox. It's where we came up with the idea for our company, and it's where we were able to, at a small scale, start experimenting and growing," says Cam.
The pair both held jobs in the film industry upon their arrival – Kat with Electronic Arts in Burnaby and Cam as a cameraman in Vancouver – but eventually tired of the daily commutes to the mainland. This sparked the creation of Turtlebox in 2009 (named for a pair of Cam's pet turtles) which focused on making videos for non-profits, usually for children's organizations such as Bowen Family Place.
One of these series many on Bowen may remember is Will's Kids, a music show which ran three seasons on CBC and featured many island children.
It wasn't long after that the Hayduks vision, and workload, outgrew the small island, and they had to leave for the opportunities of the big city. But they've taken their chances to come back to Bowen whenever possible.
Cam journeyed here last month for his birthday (a party was thrown for him at Belterra) and said stepping into the Pub it was like he never left with the number of people coming to say hello. "It just felt like coming home," he said.
"Getting up at 7 am and hoofing around the lake and inhaling that air. I miss the trees," Cam added about some of the local treasures which can't be replicated out east.
"We couldn't be on Bowen anymore," explains Cam. "But I have to tell you I miss Bowen Island with my entire being."