Forget the traditional corner piece, puzzlers can now tackle their Orca-placing abilities thanks to a new creation inspired by local artist Di.
The Bowen talent's painting 'Rise' is the focus of Puzzle Lab's new work. Di's portrayal of an Orca rising above the Howe Sound water – originally crafted for an art show at the Hearth last summer – is now available in 200 unique lazer-cut pieces.
"They did an amazing job, I was really exciting to see that," says Di of the end product.
The cetacean subject of her work was inspired by the resident Orcas that call Howe Sound home. Di, who came to Bowen and began painting in earnest around 10 years ago, says she was immediately inspired when she saw the creatures.
"I saw the whales the first time out on the water and I said 'oh my gosh I've got to start painting these', I loved them so much. They're something to celebrate and behold."
Not only are they beautiful, but Di says her work can help shed light on the struggles they face too.
"It's a really good way to bring awareness to that through art, to highlight their issues and be able to give back to conservation efforts to help support them," she says. "They help me and I try and help them."
These problems include a dwindling of their main food source –Chinook salmon – marine traffic disturbance and pollution. The latter of these is a point she subtlety highlights in 'Rise'.
The background may look idyllic, but Di says the scene displays Port Mellon, a small settlement on the other side of Gambier Island home to the Howe Sound Pulp and Paper Mill.
Di said it was important for her "to put an Orca in front of that, to be able to speak to the connection between pollution from the pulp mill and how that pulp mill actually did clean up their act quite a bit (a few decades ago) and the recovery effects that could be tied to that cleanup."
On her website Di describes 'Rise' as "a celebration of life – a celebration of Atl'ka7tsem/Howe Sound. It is a celebration of cleaner air, cleaner water, cleaner land."
"An Orca spyhops to survey her surroundings. What might she see? A bountiful place to eat? A place to socialize, to work, to play, to sleep safely in quiet waters? What can we do to help make Atl'ka7tsem/Howe Sound suitable for all species to thrive, so that we may too thrive alongside them?"
Following a successful summer show Di was contacted by Puzzle Lab, a Victoria based company founded during the pandemic. Di was excited, not only at how the lazer-cut Orca pieces turned out, but also at the chance to ensure the project gave back to her mighty subjects. Twenty per cent of the sales go toward the Raincoast Conservation Foundation.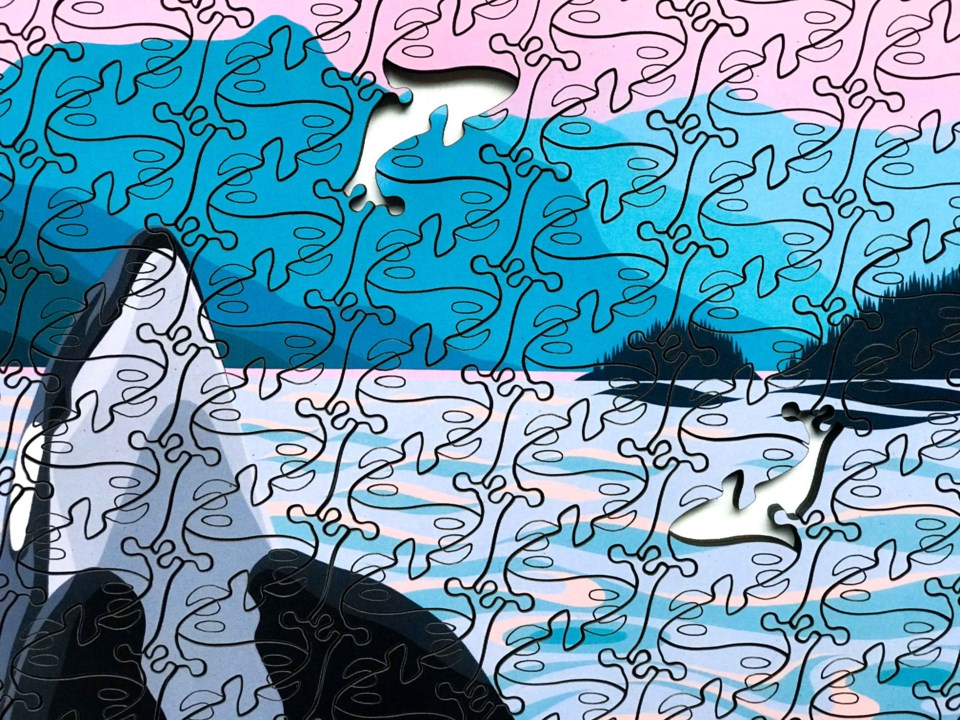 "I'm so excited to collaborate with Puzzle Lab for this Puzzle with a Purpose! It combines all the reasons I make art: celebrating the remarkable natural beauty of the Pacific Northwest, encouraging others to explore the world through the lens of creativity and art, and giving back to conservation initiatives such as Raincoast," she says.
The organization carries out research and conservation efforts in Canada, and recently established a Cetacean Conservation Research Program. "I really love anything that's science based and can contribute data and that can actually go toward making meaningful change," says Di.
She calls the collaboration between herself, Puzzle Lab and the Raincoast Conservation Foundation a "win-win-win."
Di hopes the puzzle might bring some new recruits on board too. She's encouraged by "the fact that it can go off and reach a new population of people… maybe they don't normally think of conservation efforts, but if they love the art and love doing the puzzle maybe they'll start thinking about different themes."
More information on 'Rise' and the puzzle can be found on Di's website. She says feedback has been good and she's eager to start putting it together – once her copy finally arrives.